Company Overview
Headquarter: Atlanta, GA
Number of Employees: 83,000 (12/31/2021)
Fleet Size: 847 (657 owned +82 finance lease +108 operating lease 12/31/2021)
Departures: 4000+ daily (12/31/2021)
Founder and History
Founder: Collett Everman Woolman
Huff Daland Dusters was founded in Macon, GA, and then moved to Monroe, LA, a few months later. Huff Daland's 18 planes were the most prominent privately-owned fleet in the world, and it provided service in the Southern and Western parts of the United States. In 1928, Woolman and local investors purchased Huff Daland Dusters' assets, and the new company was incorporated as Delta Air Service. Passenger service began in 1929, but in 1930 this service was suspended because of the lack of an airmail contract. In 1934, Delta secured an air mail contract and resumed service.
Board of Directors
Edward H. Bastian (CEO): In his previous role as President, Ed focused on leading Delta's commercial and international functions and strengthening Delta's financial foundation through innovation, debt reduction, revenue growth, and bolstering the airline's global network.
Francis S. Blake: Mr. Blake is the non-executive Chairman of Delta's Board of Directors and previously served as the lead director of Delta's Board from May 2016 to October 2016.
Ashton B. Carter: Secretary Carter is Director of the Belfer Center for Science and International Affairs at Harvard University's John F. Kennedy School of Government and an Innovation Fellow at MIT.
Greg Creed: Mr. Creed served as Chief Executive Officer of Yum! Brands, Inc., a global operator of quick service restaurants, from January 2015 until his retirement in December 2019. He also served as a member of the Board of Directors of Yum! Brands from November 2014 to May 2020.
David G. DeWalt: Mr. DeWalt is the Founder and Managing Director of NightDragon Security AllegisCyber Capital. Mr. DeWalt is also the Chairman of NightDragon Acquisition Corp, a special-purpose acquisition company formed to complete a business combination in the cybersecurity, safety, security, and private sector.
William Easter: Mr. Easter was Chairman, President, and Chief Executive Officer of DCP Midstream, LLC (formerly Duke Energy Field Services, LLC) from 2004 until his retirement in 2008.
Leslie D. Hale: Ms. Hale has been President and Chief Executive Officer of RLJ Lodging Trust, a publicly-traded lodging real estate investment trust, since August 2018.
Christopher A. Hazleton: Mr. Hazleton is a Delta pilot and a Captain flying the Airbus 321 aircraft.
Michael P. Huerta: Mr. Huerta currently serves as a transportation industry consultant, acting as a Senior Advisor to Macquarie Capital.
Jeanne P. Jackson: Ms. Jackson retired as a senior strategic advisor to the chief executive officer of NIKE, Inc., effective August 2017.
George N. Mattson: Mr. Mattson is a private investor in public and private companies and was the co-founder and co-Chairman of NextGen Acquisition Corp. and NextGen Acquisition Corp. II, both special purpose acquisition companies before their mergers in 2021 with Xos, Inc. and Virgin Orbit Holdings, respectively.
Sergio Rial: Mr. Rial is the Non-Executive Chairman of the Board of Banco Santander (Brasil), a subsidiary of Banco Santander. He also serves as Chairman of the Board of Vibra Energia SA, a Brazilian energy company, and Vice Chairman of the Board of BRF S.A., a global food processing company based in Brazil.
David S. Taylor: Mr. Taylor is the Executive Chairman of the Board of Directors of The Procter & Gamble Company.
Kathy Waller: Ms. Waller is the Executive Director of the Atlanta Committee for Progress.
Executive Team
Edward H. Bastian (CEO): In his previous role as President, Ed focused on leading Delta's commercial and international functions and strengthening Delta's financial foundation through innovation, debt reduction, revenue growth and bolstering the airline's global network.
Glen Hauenstein (President): Glen was previously Executive Vice President and Chief Revenue Officer. As President, Glen oversees a team responsible for Delta's network, revenue management, reservation sales, customer care, customer engagement, and loyalty strategies.
Allison Ausband (Executive Vice President and Chief Customer Experience Officer): She previously served as Senior Vice President — In-Flight Service for Delta Air Lines, leading a team of 24,000 flight attendants, supervisory and support personnel around the globe, as well as Delta's onboard global food and beverage operation and experience.
Alain Bellemare (President – International): Alain Bellemare joined Delta Air Lines in 2021 as President – International, leading the portfolio of international investments and working closely with partners as they recover from the pandemic.
Peter Carter (Executive Vice President, Chief Legal Officer, and Corporate Secretary): As Chief Legal Officer, Peter oversees Delta's legal, regulatory, compliance, and government affairs groups worldwide and serves on the Delta Leadership Committee. Peter focuses on ensuring Delta's freedom to operate, protecting Delta's brand, and advocating for Delta's interests before policymakers around the world.
Gary Chase (Senior Vice President – Business Development and Financial Planning): Gary and the Corporate Strategy team are responsible for developing and executing the long-term plans and initiatives required for Delta to achieve its strategic and financial objectives. Gary also leads One Delta, an enterprise transformation program targeting more than $1 billion of structural efficiency gains by 2020. 
Dan Janki (Executive Vice President and Chief Financial Officer): Dan leads Delta's Finance organization, which includes financial reporting, the controller organization, corporate audit, financial planning, investor relations, treasury, fleet and TechOps supply chain, fuel management, including our refinery, supply chain management, and corporate strategy.
John Laughter (Executive Vice President and  Chief of Operations): He leads the teams responsible for industry-leading, safe, reliable operations across the globe, with oversight of Corporate Safety, Security, and Compliance; Crew Resources; Flight Operations; Operations Analysis & Performance; Operations & Customer Center; Subsidiary Airlines; and Technical Operations, including Delta TechOps Services Group (DTSG).
Tim Mapes (Senior Vice President and Chief Marketing and Communications Officer): He is responsible for the strategy and coordination of Delta's internal and external communications and the global airline's sustainability work.
Rahul Samant (Executive Vice President and Chief Information Officer):  His work to fortify Delta's IT infrastructure while leading Delta's digital transformation underpins the airline's industry-leading approach to arm employees with insight-driven tools to engage more meaningfully with customers.
Steve Sear ( Executive Vice President – Global Sales and Distribution): Steve Sear is Executive Vice President of Global Sales and Distribution for Delta Air Lines, leading the teams that oversee worldwide customer relationships and programs with corporations, travel management companies, distribution partners, and cargo logistics providers.
Joanne Smith (Executive Vice President and Chief People Officer): She is responsible for preserving the airline's unique culture of positive engagement with its more than 80,000 employees, overseeing talent management and development, recruitment, HR service delivery, diversity and inclusion, HR policies, and programs.
Henry Ting (Senior Vice President and Chief Health Officer): Dr. Ting leads Delta in reimagining our approach to health and wellbeing, utilizing new technologies, artificial intelligence, advanced analytics, and innovative partnerships.  
Product Positioning
Passenger: Continue to Focus on Premium Products and Customer Segmentation 
Reliance on the most price-sensitive customer segment:
    Premium: one-third of passenger revenue

    Delta One

    Delta Premium Select

    First Class

    Delta Comfort +

    Basic: half of passenger revenue

    Main Cabin

     Basic Economy
Customers could buy extra amenities as per their requirements.
Cargo: 
    SkyTeam Cargo

    Increased demand and capacity during the pandemic, and the trend continues.
SWOT Analysis
Strengths:
   

Large fleet size and a high percentage of ownership

 

  

Higher Capacity and lower taxes

   

Brand value and recognition & Customer Loyalty

   

Legacy Carrier

 

Top U.S. Airline of 2021 by the WST, No.1 in the annual Business Travel News Airline Survey

 

Completion factor of 99.4%, with 88% of domestic  flights arriving on time

 

95% of mainline aircraft are equipped with seat-back screens

Cooperation with American Express

Increase revenue streams and promote customer loyalty.

SkyMiles program 

Designed for premium members and frequent travelers

Growing membership

Sell miles to non-airline businesses and other airlines

 increase premium revenues and more resilient cash flows

Faster recovery of capacity from the pandemic enables Delta to increase its control of resources and markets in coastal hubs

 

Strategic alliances through joint ventures

 

SkyTeam

 

Delta Connection

   

Fleet simplification and replacement

   

Cutting future costs of maintenance and fuel 

   

Better travel experience for customers (increased premium seating)

   

Solid financial foundations

  

Monroe Energy & MRO

   Cost reduction measure of acquiring used aircraft
Weaknesses:
Dependence on the domestic market

While the domestic market is rapidly recovering to the pre-pandemic level, international demand continues to lag. This could hinder the global expansion of Delta.

Financials

A significant amount of existing fixed obligations
Opportunities:
 

Expanding MRO to serve other airlines

 

While MRO is currently providing services to several airlines, Delta could continue to expand its services for increased and more diversified revenue streams.

 

Through strategic alliances and the purchase of aircraft, Delta could expand its domestic and international routes (Asia) and meet more demands.
 Threats:
 

COVID-19

 

Travel restrictions

 

Discouraged travelers

 

Permanent change- work-from-home choice, virtual meeting platforms

 

Possible diminishing of liquidity

 

The negative performance of partners

 

Decreased return of investment

 

Reputation

 

Economics and political situations

 

Oil prices

 

Government regulations

 

Routes

 Airport rates and taxes
Delta Airlines Goodwill and other intangible assets (Millions of USD)
| | |
| --- | --- |
| 14944 | 2019 |
| 15764 | 2020 |
| 15754 | 2021 |
| 15752 | 3.31.2022 |
United Airlines Goodwill and other intangible assets: 7319, decreasing since 2010
American Airlines Goodwill and other intangible assets: 6061, decreasing since 2015
Competitive Analysis Globally
US 
| | | | | |
| --- | --- | --- | --- | --- |
| Company | Liquidity Ratio (Current Ratio) | Solvency Ratio(D/E) | LTM Operating Income Growth  | Total of aircraft (Capital and Operating Leased) |
| Delta Airline  | 0.7x | 1,156.8% | 1.5% | 990 (189) |
| American Airline Inc. | 0.8x | NM | (6.8%) | 1,432(470) |
| United Airline Holding | 1.0x | 1,112.0% | (6.8%) | 1,344(161) |
| JetBlue Airway | 0.8x | 132.3% | (2.7%) | 282(62) |
| Southernwest Airline | 1.9x | 117.5% | 3.2% | 722(129) |
| Frontier Group Holding  | 0.6x | 675.3% | (5.5%) | 110(110) |
| SkyWest Inc. | 0.9x | 149.7% | 3.2% | 509(88) |
| Alaska Air Group | 0.9x | 110.0% | 6.6% | 249(62) |
| Spirit Airline | 1.1x | 265.2% | (14.9%) | 173(67) |
| Industry Avg | 0.97x | 464.85% | -2.47% | 645.7(195.4) |
Asia
| | | | | |
| --- | --- | --- | --- | --- |
| Company | Liquidity Ratio (Current Ratio) | Solvency Ratio(D/E) | LTM Operating Income Growth  | Total of aircraft (Capital and Operating Leased) |
| Delta Airline  | 0.7x | 1,156.8% | 1.5% | 990 (189) |
| China Eastern Airlines Corporation Limited  | 0.3x | 381.7% | (26.3%) | 758(491) |
| China Southern Airlines Company Limited | 0.3x | 253.2% | (11.2%) | 878(561) |
| Cathay Pacific Airways Limited | 0.7x | 124.4% | (12.1%) | 160(72) |
| Air China Limited | 0.3x | 336.7% | (29.9%) | 746(446) |
| ANA Holding Inc. | 1.9x | 217.8% | (13.9%) | 293(104) |
| Japan Airlines | 1.6x | 110.0% | (25.7%) | 239(26) |
| Singapore Airlines | 2.2x | 68.8% | (12.5%) | 183(0) |
| Cebu Air, Inc. | 0.6x | 2,996.3% | (127.7%) | 74(48) |
| Industry Avg | 0.96x | 627.30% | -28.64% | 480.1(215.2) |
EU
| | | | | |
| --- | --- | --- | --- | --- |
| Company | Liquidity Ratio (Current Ratio) | Solvency Ratio(D/E) | LTM Operating Income Growth  | Total of aircraft (Capital and Operating Leased) |
| Delta Airline  | 0.7x | 1,156.8% | 1.5% | 990 (189) |
| Aegean Airlines S.A. | 1.2x | 359.1% | 1.4% | 68(NA) |
| Air France-KLM SA  | 0.9x | NM | (14.2%) | 505(333) |
| Air New Zealand Limited | 0.3x | 415.0% | (20.3%) | 111(NA) |
| International Consolidated Airline | 0.8x | 2,318.0% | (24.2%) | 447(NA) |
| Industry Avg | 0.78x | 1062.23% | -11.16% | 424.2(NA) |
Source from mergr.com  
Market Comparison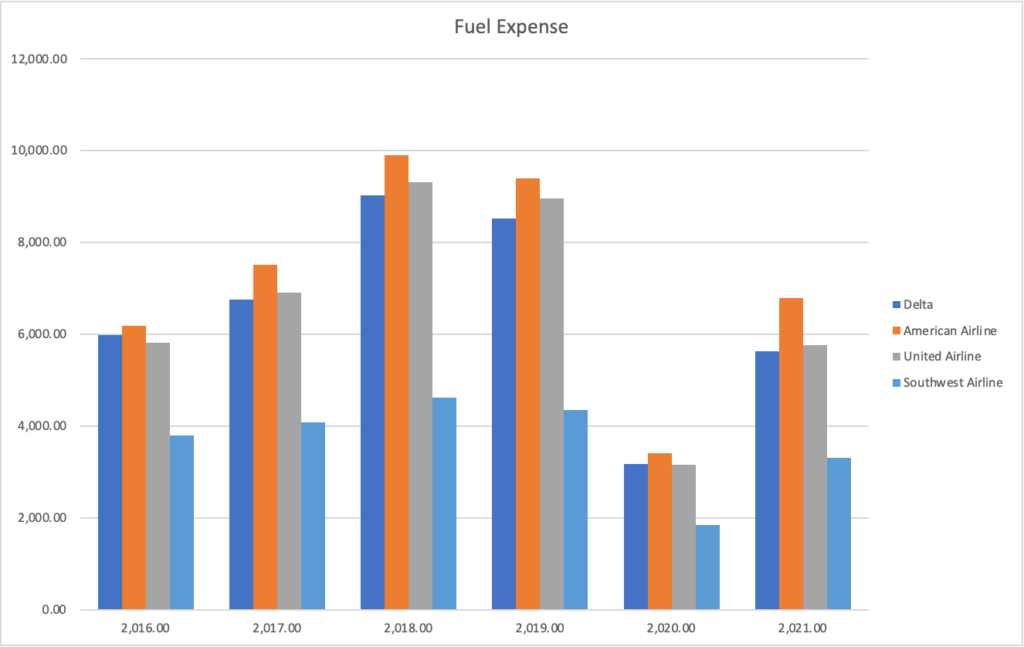 Fleet size: Delta 990; AA 1432, UA 134, southwest 722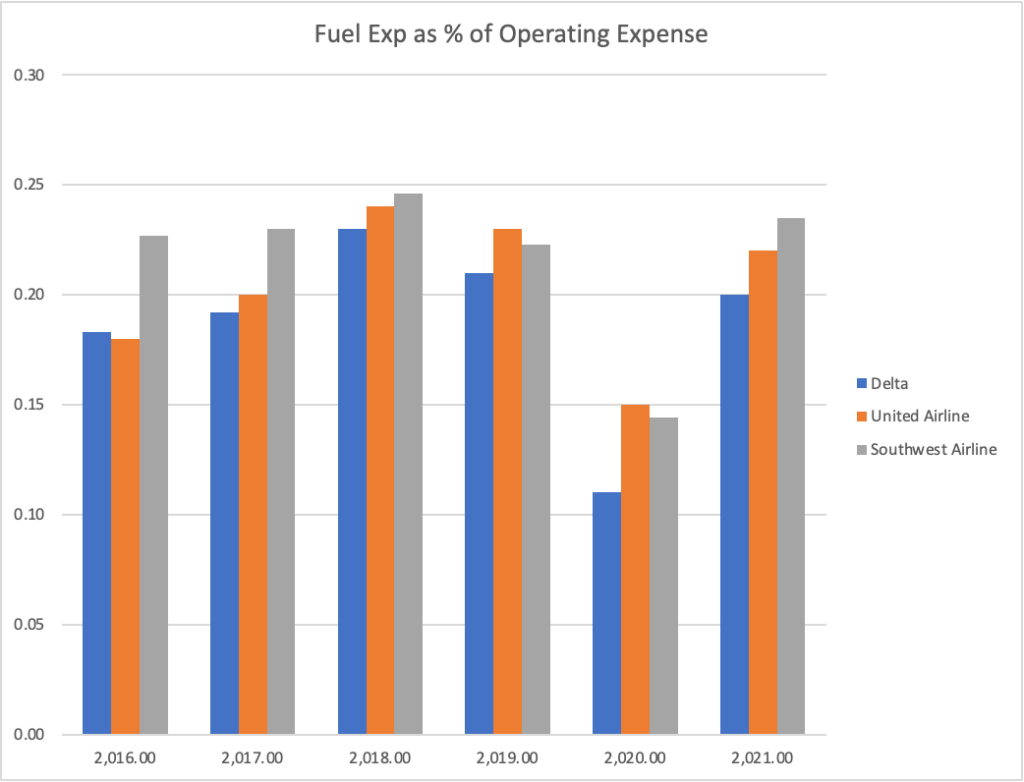 Large fuel exp relative to operating expense indicates the scale of fleets, technological innovation, and flight route efficiencies.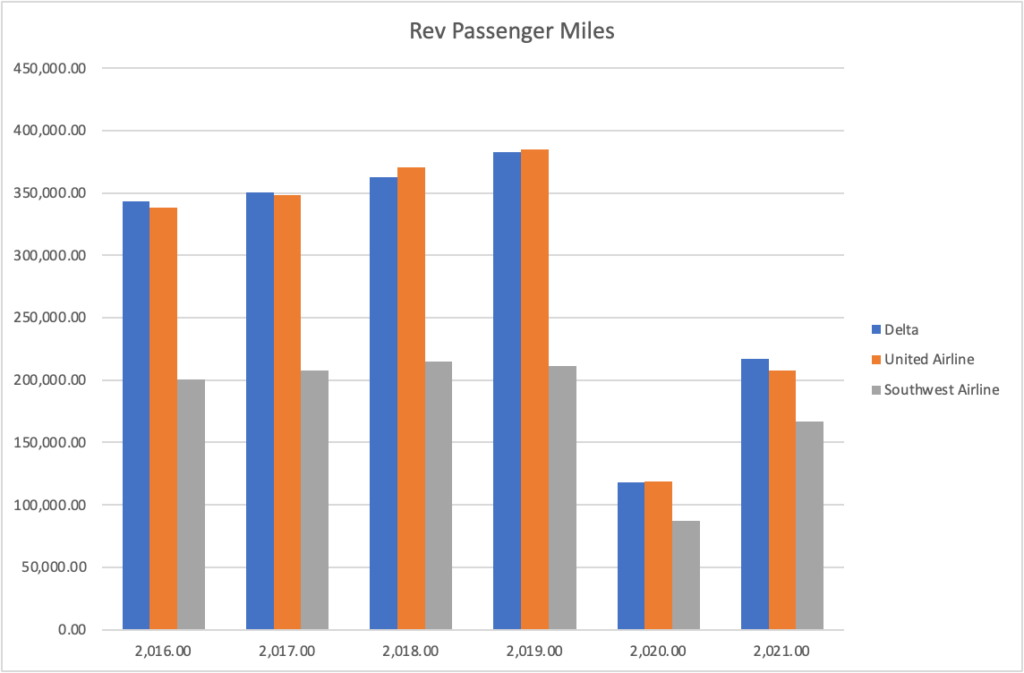 Similar revenue generated passenger miles with United airline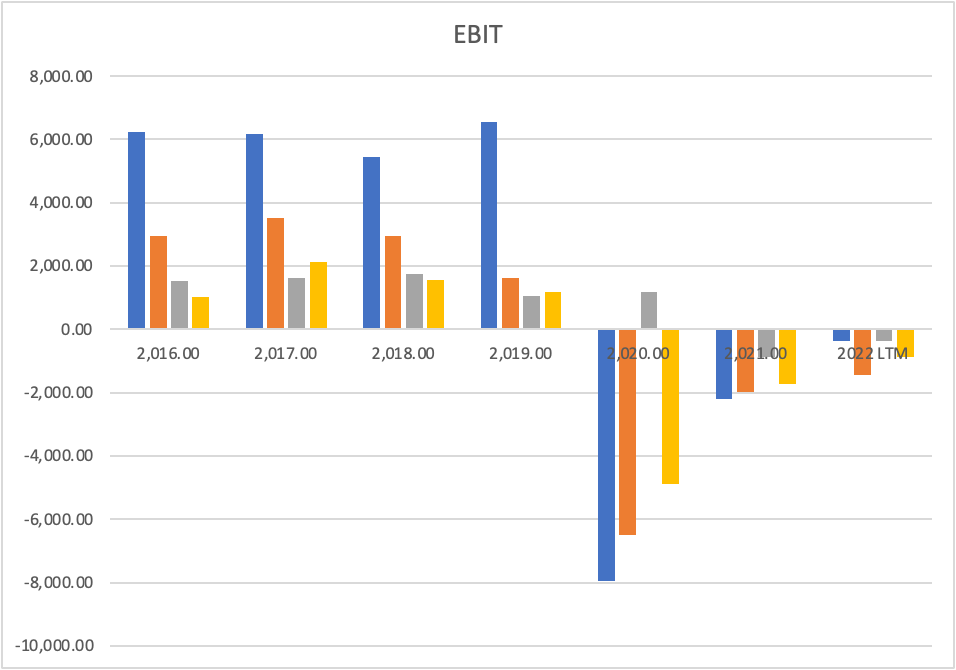 Good performances in Rev Passenger Miles and fuel expense resulting better than others' performance in EBIT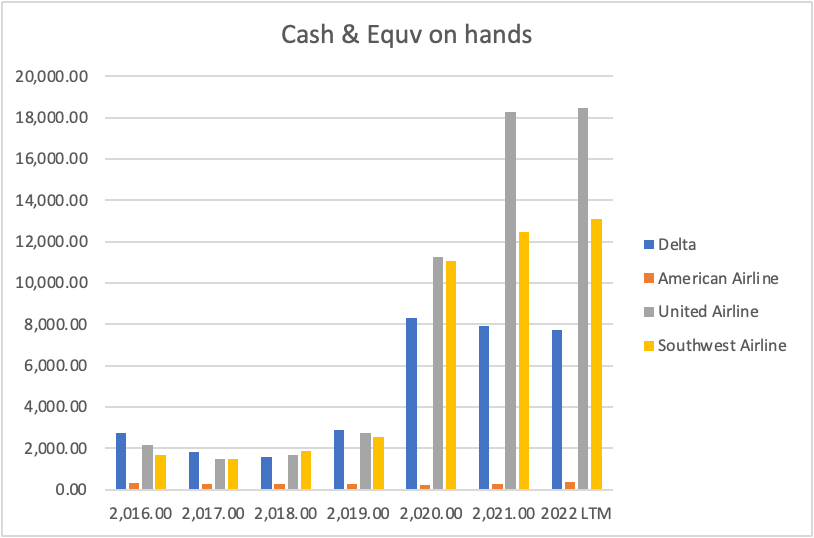 Delta's cash equivalent is 55% and 38% less than AA and UA, which limited its potential of M&As compared to those two airlines
Asian Market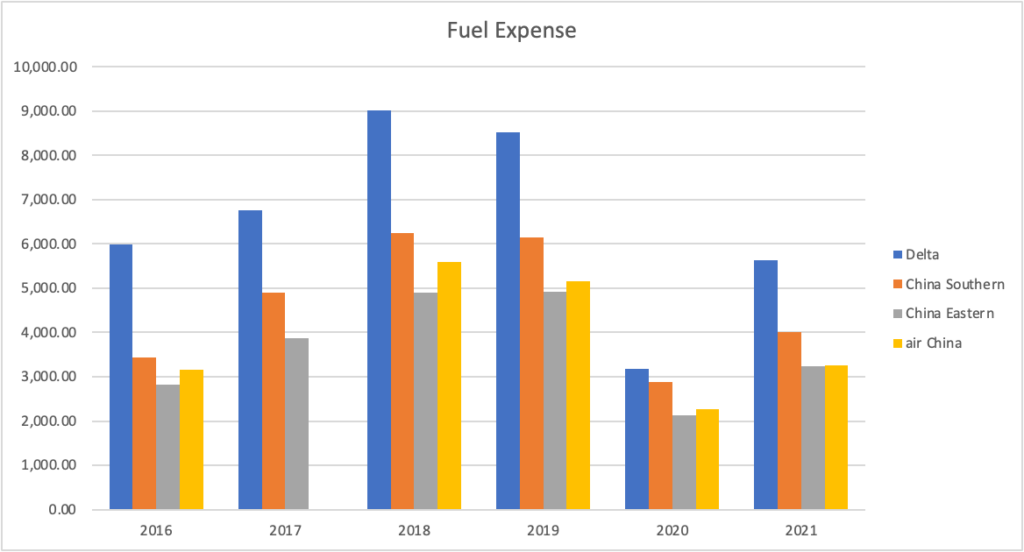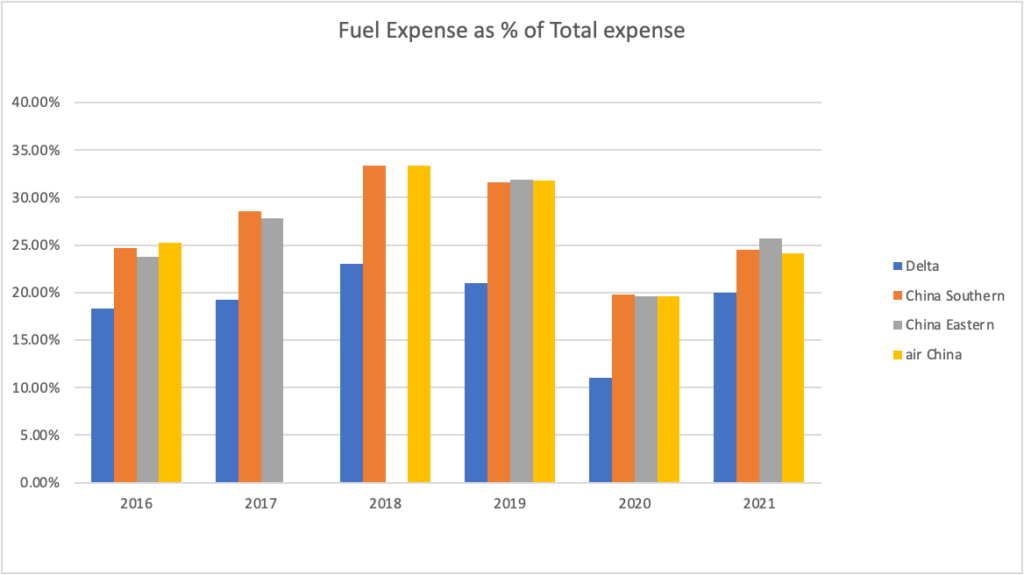 Fuel expense % of the total expense is the smallest among Asian Top 3 airlines, while the amount of fuel expenses are, on average, 1.5 times greater than the top 3 airlines avg in the non-pandemic era.

The discrepancy between fuel expense and Fuel expense percentage may be the result of low labor costs in developing countries.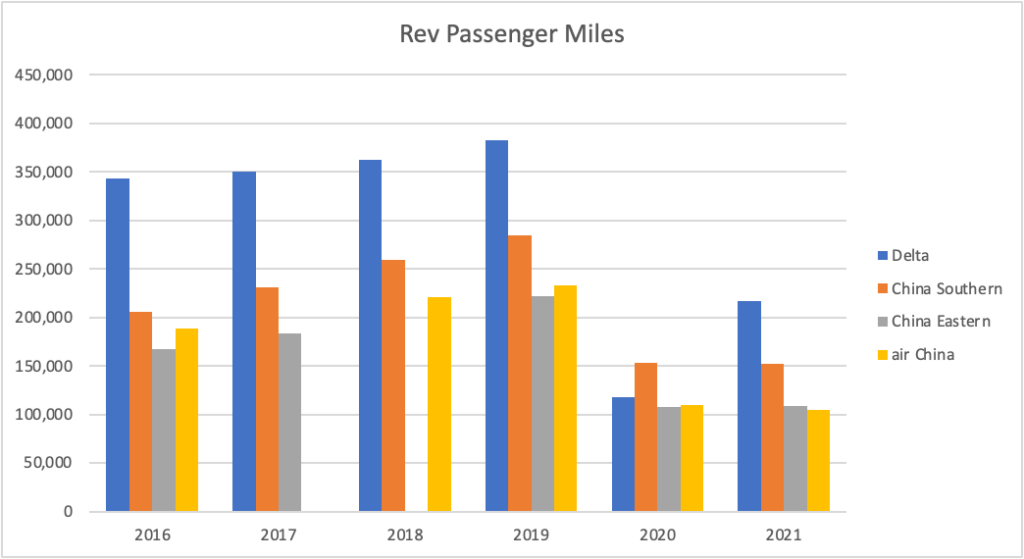 Revenue passenger Miles is about 1.44 times greater than the avg of the top 3 airlines in the non-pandemic era. 

US Flight ticket price level is higher than Asian Market's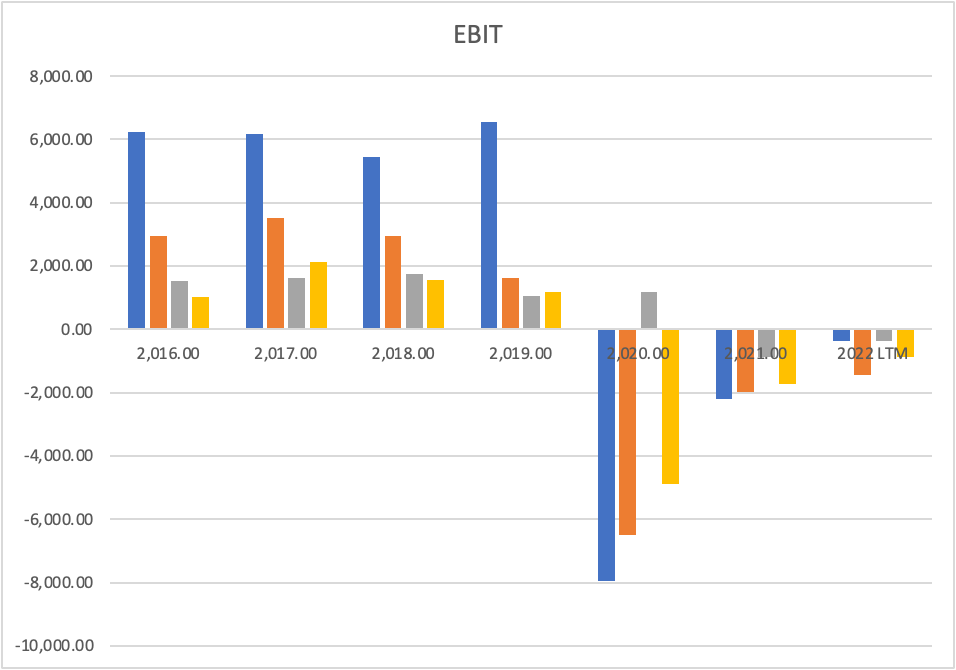 EBIT is 4x as other top 3 airlines before and during the pandemic. In 2021, the loss will be reduced and is expected to reduce further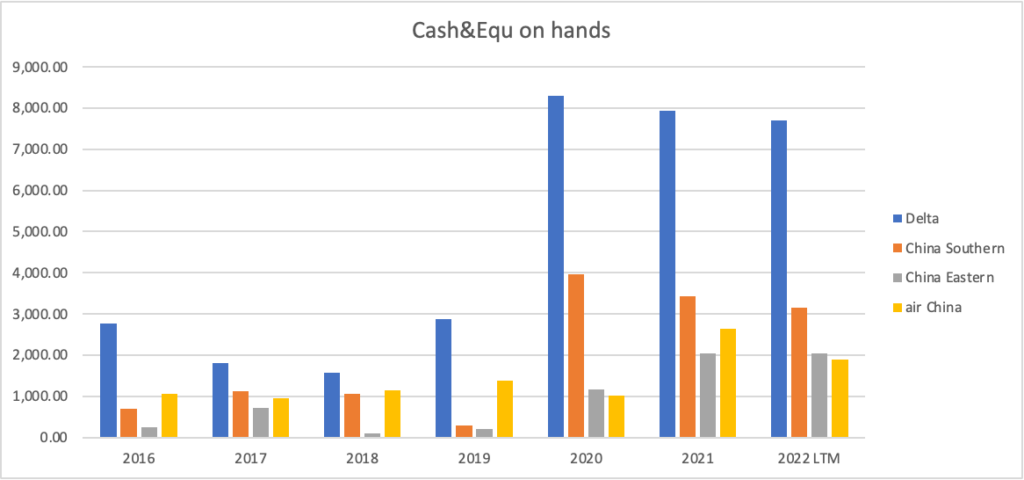 Cash on hands 2.5x as China Southern, the largest cash holder in Asian Market, in 2022
European Market
Largest fuel expense – scale and tech, commodity price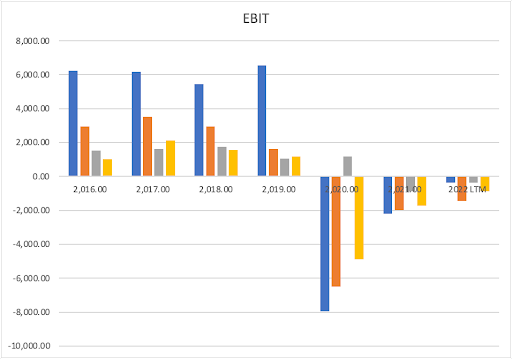 3.3x EBIT as other 3 airlines in pre-pandemic era. Losses quickly reduce to about the same level as the other 3 airlines.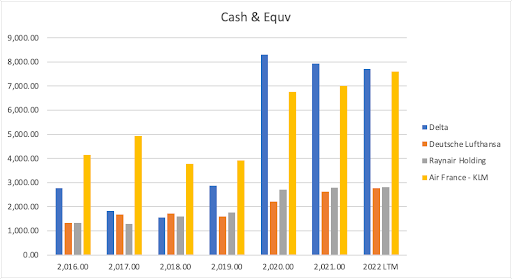 Source yahoo finance 
Cash on hand is the same as Air France's and 1.5x as the other 2 airlines
Quantitative Analysis
10K Research
Major Risk YoY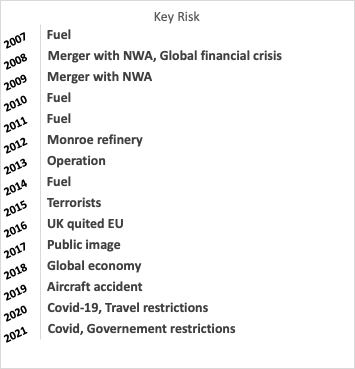 When there was a risk mentioned for the first time, it was the key risk; when there was no key risk, fuel was the key risk; and when even the fuel was also not a risk, the operation was the key risk. Some of these key risks were comprehensive and affected multiple categories.
Risk Level and Factors YoY 
Source Investopedia 
Risks mentioned by the management in financial reports were summarized into 6 categories.

Fuel, as the major expense of operation, is listed separately, along with financial limitations, which can be quantified.

Employee problems and accidents include all surprise risks. 

Operation disruptions and government regulations refer to strategic risks. 
Capitalization Requirements
Cash Holding YOY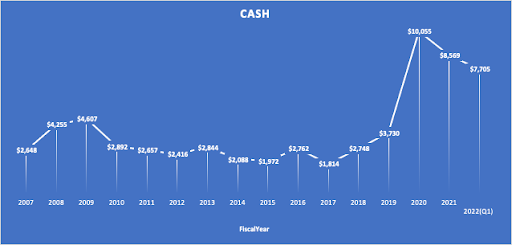 Source Investopedia 
Since the beginning of the pandemic, Delta has held a larger amount of cash.

In comparison, between 2019 and 2020, Delta held 2.7x more cash, and property and equipment value decreased by 15.2%
Capital Structure & D/E Ratio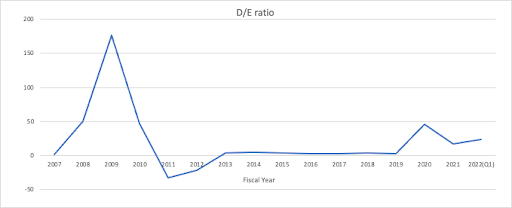 The global pandemic increased debt of Delta. The main section affected was the retained earnings which relate to a company's profit, and the debt-to-equity ratio hugely surged. 

The air transportation industry usually has a higher D/E ratio of about 5-6x for 2021, but Delta even had a relatively higher D/E ratio than its competitors.

At the same time, their cash holding is decreasing, which is risky.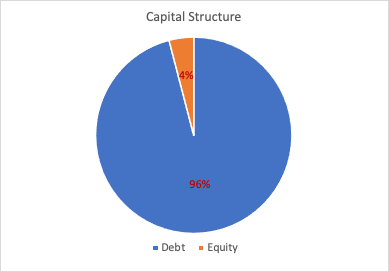 Source Investopedia 
Breakeven Load Factor(BLF)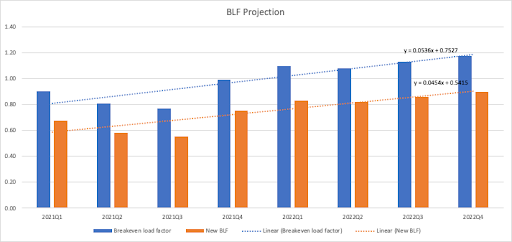 Source Investopedia 
Break Even analysis for the air transportation industry focuses on the load factor, the average percentage of seats that must be filled on an average flight at the current average fare for the passenger revenue to break even the operating expense. 

The breakeven load factor(BLF) function is CASM/PMY; trend functions were used to project corresponding data for 2022. The BLF using this function is 1.22, which is impossible.

Delta also has revenue from cargo and other resources; other revenues should be subtracted from the operating expense to minimize the operating expense passenger revenue needs to cover. 

After adjustments, the BLF is 0.85, which is likely to achieve with the economic recovery, but the BLF is increasing from quarter to Quarter.

Compared with 2019, the best year, the critical factor for lower risk is the lower expense or, in contradiction, much higher revenue.

 
Cash Flow Projection
Cash Flow Before & After Covid
During the pandemic, Delta had an operating loss; the source of their capital was debt, especially long-term debt.
As a company in the air transportation industry most adversely affected by Covid, Delta spent some of its cash on investment and used redemption as a source of capital.
The net cash flow from the operating activities is sufficient to cover the equipment investment before the pandemic. In 2020, the operating cash flow was largely negative and unable to cover the equipment investment due to the pandemic, and it recovered to cover the equipment cost in 2021. During the pandemic, the equipment investment reduced to one-fourth and recovered to 0.66 of the pre-pandemic level. 
The sales of the investment are kept around 500 to 800 million, and purchases were bounded below 220 million before the pandemic. Both metrics soar around 10x and 7x in and after the pandemic.
Investing outflow increases as more money is out in the market in 2020 and will fall back as the money supply is reduced. 
Industry Average Valuation Multiples
| | | | | | |
| --- | --- | --- | --- | --- | --- |
| Year | tev/ ltm rev | tev/ LTM ebitda | tev/ LTM ebit | P/E | P/BV |
| 3/31/16 | 1.02x | 5.06x | 6.4x | 9.14x | 3.38x |
| 6/30/16 | .94x | 4.24x | 5.23x | 7.19x | 2.94x |
| 9/30/16 | .83x | 3.61x | 4.44x | 6.19x | 2.45x |
| 12/31/16 | .96x | 4.24x | 5.26x | 7.4x | 2.72x |
| 3/31/17 | 1.01x | 4.71x | 5.97x | 8.37x | 2.9x |
| 6/30/17 | 1.07x | 5.42x | 7.04x | 8.98x | 2.77x |
| 9/30/17 | 1.06x | 5.31x | 6.92x | 9.8x | 2.71x |
| 12/31/17 | 1.08x | 5.54x | 7.37x | 10.49x | 2.69x |
| 3/31/18 | 1.11x | 5.74x | 7.81x | 11.14x | 2.8x |
| 6/30/18 | 1.07x | 5.67x | 7.73x | 10.75x | 2.95x |
| 9/30/18 | 1.08x | 6.01x | 8.37x | 11.42x | 2.99x |
| 12/31/18 | 1.04x | 5.9x | 8.22x | 10.82x | 2.76x |
| 3/31/19 | 1.09x | 5.x | 9.1x | 8.89x | 2.46x |
| 6/30/19 | 1.19x | 5.15x | 9.66x | 9.4x | 2.83x |
| 9/30/19 | 1.18x | 5.08x | 9.1x | 8.95x | 2.78x |
| 12/31/19 | 1.11x | 4.7x | 8.14x | 7.98x | 2.42x |
| 3/31/20 | 1.x | 4.07x | 7.1x | 6.82x | 2.07x |
| 6/30/20 | .74x | 3.11x | 6.16x | 4.44x | 1.12x |
| 9/30/20 | .98x | 6.76x | 6.77x | 5.01x | 2.01x |
| 12/31/20 | 1.72x | 14.95x | NM | NM | 6.42x |
| 3/31/21 | 2.84x | 16.65x | NM | NM | 17.89x |
| 6/30/21 | 3.95x | NM | NM | NM | 54.81x |
| 9/30/21 | 2.74x | NM | NM | NM | 24.75x |
| 12/31/21 | 2.03x | 255.41x | NM | NM | 11.19x |
| 3/31/22 | 1.68x | 57.49x | NM | 87.92x | 6.95x |
| 6/30/22 | 1.44x | 15.26x | NM | 53.53x | 7.99x |
| avg | 1.38x | 18.96x | 7.2x | 14.51x | 6.91x |
| adj avg | 1.11x | 6.46x | 7.2x | 8.59x | 3.23x |
Source yahoofinance 
Stock Price Analysis
Stock Price Since IPO
IPO on the NY exchange on May 03, 2007, with a $20/share price. Company stock was listed before May 3, 2007. The company canceled or delisted all the previously outstanding shares at original markets and re-IPO at the NY exchange
On 6/1/2007, The market capitalization was 4.741 Billion dollars with 240 million shares outstanding, and the stock price close at 19.7 dollars/ share. Market Cap fluctuated and increased to one of the peaks of 11.488 billion dollars on 3/31/200 with 787.388 million shares outstanding. It reached a market cap of 40.131 billion dollars on 1/31/2018 with 706.91 million shares outstanding.
Index Analysis
The NYSE Arca Global Airline Index ("AXGAL" or "Index") is a modified equal-dollar weighted index designed to measure the performance of highly capitalized and liquid international airline companies. The Index tracks the price performance of selected local market stocks or ADRs of major U.S. and overseas airlines. The Index was established with a benchmark value of 1000.00 on November 27, 2006. The index values are published by the NYSE Euronext Inc ("Index Provider"), and the value of the Index is published every 15 seconds through the Consolidated Tape Association's Network B under the ticker symbol "AXGAL".
Market Research
Target Market Research
Target customers for the company
Path and Destinations:
Domestically, Delta's network centers around core hubs in Atlanta, Minneapolis-St. Paul, Detroit, and Salt Lake City. Core hubs have strong local passenger share, high penetration of customers loyal to Delta, competitive cost position, and strong margins. Coastal hub positions in Boston, Los Angeles, New York-LaGuardia, New York-JFK, and Seattle provide a strong presence in large revenue markets and enable growth in premium products and international services.
Internationally, Delta has significant hubs and market presence in Amsterdam, London-Heathrow, Mexico City, Paris-Charles de Gaulle, and Seoul-Incheon. During the pandemic, Delta continues to serve Transatlantic, Transpacific, and Latin American markets directly and through joint ventures with global airline partners. In 2021, Delta restored approximately 50% of capacity in international markets and is expected to restore to 2019 levels in 2023 fully.
Based on affordability:
In terms of affordability, Delta targets middle-class to upper-class passengers with an average household income of $100,000+, while it also offers the basic cabin to attract customers from low-cost carriers, such as Frontier and Spirit.
Frequent travelers:
Delta introduced a loyalty program named SkyMiles to frequent travelers. The SkyMiles loyalty program allows customers to earn mileage miles" by flying on Delta, Delta Connection, and other airlines participating in the loyalty program. Customers can also earn miles through participating companies, such as credit card companies, hotels, car rental agencies, and ridesharing companies those purchase miles from Delta. The most significant contract to sell miles relates to Delta's co-brand credit card relationship with American Express.
How do they acquire targeted companies?
On April 14, 2008, under the threat of rising fuel prices and believing the merger would bring huge cost savings, Delta Air Lines and Northwest Airlines announced that they would merge to create the world's largest airline under the Delta name. 
As a result of the Merger, each share of Northwest common stock outstanding or issuable under Northwest's Plan of Reorganization was converted into the right to receive 1.25 shares of Delta common stock. Delta expected to issue a total of 339 million shares of Delta common stock, or approximately 41% of the sum of the shares of Delta common stock. As of December 31, 2010, Delta had issued 338 million shares of Delta common stock in connection with the Merger. 
Merger-related items relate to costs associated with integrating the operations of Northwest into Delta, including costs related to information technology, employee relocation and training, and re-branding of aircraft and stations. 
During 2008, Delta recorded $1.2 billion primarily in non-cash, merger-related charges related to the issuance or vesting of employee equity awards in connection with the Merger and $114 million in restructuring and related charges related to voluntary workforce reduction programs. 
During 2009, Delta recorded a $288 million charge primarily for merger-related items and a $119 million charge in connection with employee workforce reduction programs.
During 2010, Delta recorded a $268 million charge primarily for merger-related items and $182 million in asset impairment charges related to the initiative to substantially reduce our 50-seat aircraft and the retired dedicated freighter aircraft. 
What types of marketing does the company do to increase its brand recognition?
Over the past three years, Delta's annual advertising expense dropped from the pre-pandemic level of $288 million in 2019 to $119 million in 2020 and then raised to $198 million in 2021. 
In the first quarter of 2022, total travel national TV ad spends $351.5 million, with Delta Air Lines landing the top spot in travel tv ad spenders of this year with a record of $70.4 million, according to U.S. TV analytics firm iSpot.tv. 
Marketing Alliances with Other Airlines
Joint Venture Agreements.

 
Delta has implemented three separate joint venture arrangements with foreign carriers. The agreement includes sharing revenues, profits, and losses generated by the parties on the joint venture routes, joint marketing and sales, coordinated pricing and revenue management, network and schedule planning, and other coordinated activities with respect to the parties' operations on joint venture routes.
A joint venture with Air France, KLM, and Virgin Atlantic concerning transatlantic traffic flow.

A joint venture with Aeroméxico for trans-border traffic flows between the U.S. and Mexico.

A joint venture with Korean Air for traffic flows between the United States and certain countries in Asia.

Strategic Alliance with LATAM.
In May 2020, Delta signed a trans-American joint venture agreement with LATAM that combines Delta's highly complementary route networks between North and South America to provide customers with a seamless travel experience and industry-leading connectivity.
Enhanced Commercial Agreements with China Eastern.
Delta has strategic joint marketing and commercial cooperation arrangements covering traffic flows between China and the U.S., which includes reciprocal codesharing, loyalty program participation, airport lounge access, and joint sales cooperation.
As a member of the SkyTeam global airline alliance, Delta links its network with the route networks of the other member airlines, providing opportunities to increase connecting traffic while offering enhanced customer service through reciprocal codesharing and loyalty program participation, airport lounge access, and cargo operations.
Environmental Sustainability
Delta increases its brand recognition through its commitment to sustainability. The company plans to invest $1.0 billion toward airline carbon neutrality through the end of 2030 and established a goal of replacing 10% of jet fuel consumption with sustainable aviation fuel by the end of 2030.
Delta focuses on building its fleet to have the longest, most sustainable life possible to make the most of the planet's resources. In 2020, Delta retired more than 200 aircraft and replaced them with 25 percent more fuel-efficient aircraft than the models being replaced.
In 2021, Delta set new medium-term and long-term climate goals to reduce emissions intensity by 2035 as compared to 2019 based on jet fuel emissions of greenhouse gases and achieve net-zero greenhouse gas emissions across the airline operation and its value chain no later than 2050. At the end of 2021, Delta had agreements with multiple suppliers for an aggregate of 81 million gallons of sustainable aviation fuel annually beginning in 2025, subject to third-party investment and timely facility development.
Delta connects employees with the world and commits to giving back to the communities by supporting the environment, equity, education, and well-being. For example, Delta people donated 11,347 pints of blood, making Delta the No. 1 American Red Cross corporate blood drive sponsor for the fourth straight year. Our people helped build the 276th home by Delta volunteers with Habitat for Humanity and two playgrounds with The Trust for Public Land.
Brand Positioning
Delta's high reliability of its operations and high consumer satisfaction have effectively distinguished it from the rest of the airline companies in the U.S.
Delta has been recognized as the most reliable airline for 2021 by the consumer website WalletHub, with the lowest rate of cancellations, delays, mishandled luggage, and denied boardings among U.S. carriers. The airline has also proved its responsibility with pets, reporting no animal-related incidents in 2021.
According to the United State Department of Transportation, Delta was ranked first among four major airlines in the U.S. in terms of on-time rate and the least in terms of cancellation rate, lateness rate, and delay rate.
Delta was recognized as the No. 1 airline in customer satisfaction in North America by J.D. Power after measuring passengers' satisfaction on 8 factors: aircraft, baggage, boarding, check-in, cost and fees, flight crew, in-flight services, and reservation. 
In 2021, corporate travel professionals rated Delta No. 1 in the annual Business Travel News Airline Survey for the 11th consecutive year. Moreover, Delta had one of the lowest rates of consumer complaints, receiving 1.92 complaints per 100,000 passengers, according to WalletHub data.
Mergers and Acquisitions
Date of acquisition
Companies Acquired and importance

5/1/1953

Chicago and Southern Air Lines

C&S's routes brought Delta its first international service—out of gateway city New Orleans to the Caribbean and Caracas, Venezuela. 

Delta also continued to gain popular routes in the U.S.

8/1/1972

Northeast Airlines

The acquisition made Delta the fifth largest airline in the U.S., with routes spanning 33,300 miles. 

Delta added new international destinations to Canada, Bahamas, and Bermuda and frequent service between the Northeast and Florida.

4/1/1987

Western Airlines

Delta and Western Airlines merged in an $860 million deal. 

The acquisition made Delta become the nation's fourth-largest air carrier.

11/1/1991

Pan American World Airways

Delta acquired $1.4 billion in assets from Pan Am. 

Delta became the leading airline across the Atlantic. 

European cities served by Delta and new destinations were added to Delta's route system. 

4/14/2008

Northwest Airlines

$2.6 billion full-stock transaction. 

Benefits from the Merger include more effective aircraft utilization, a more comprehensive and diversified route system, reduced overhead, and improved operational efficiency.

Created a more financially stable company that will be able to absorb the rise of oil and volatility of the airline industry 

In 2017, Delta generated $18.6 billion more in revenue and had $8.8 billion less in long-term debt than it and Northwest combined had at the end of 2008. 

However, IT problems frequently appear while switching from Northwest's system to Delta's. But overall, the acquisition is still praised as the "best-executed airline merger of the early 21st century".
Joint Ventures
Joint Venture Companies 
Details

Air France, KLM, and Virgin Atlantic 

A joint venture concerning transatlantic traffic flows. 

Delta owns a non-controlling 49% equity stake in Virgin Atlantic Limited. 

Aeroméxico

A joint venture for trans-border traffic flows between the U.S. and Mexico. 

Delta owns a non-controlling 51% equity stake in Grupo Aeroméxico, S.A.B de C.V., 

Korean Air 

A joint venture for traffic flows between the United States and certain countries in Asia. 

LATAM

A trans-American joint venture agreement that combines Delta's highly complementary route networks between North and South America. 
Source from mergr.com