Company Overview
Lucid Motors was founded in 2007, based in Newark, with a different name and mission. The company, called Atieva at the time, focused on developing electric car battery technology. It then shifted to producing electric cars and changed its name to Lucid in 2016. Lucid Motors chose a 500-acre property in Casa Grande, Arizona for the factory. Its Vehicle Models include The Lucid Air, Air Touring, Air Grand Touring, Air Dream Edition. The earliest edition will be Air Dream Edition, which is expected in Spring 2021 at a pricing starting from $161,600 USD. The latest is Air, which is expected in early 2022, at a pricing starting from $69,900 USD. In February 2021, Lucid Motors announced a deal valued at $11.75 billion to merge with Churchill Capital Corp IV (ticker CCIV), a publicly traded special-purpose acquisition company.
https://en.wikipedia.org/wiki/Lucid_Motors
Who is the Executive Team?
Title
Name
Experience
Board Member & Co-Founder
Bernard Tse
Bernard Tse has many years of experience with electric vehicles and over 20 years of entrepreneurial and executive management experience in the US and in Asia.

Prior to founding Lucid Motors, Bernie served on Tesla Motors' Board of Directors.

CTO & CEO
Peter Rawlingson
Peter has over 30 years of vehicle engineering experience and is best known for developing the Tesla Model S.

Formerly Vice President of Vehicle Engineering at Tesla and Chief Engineer of the Model S, Prior to Tesla, Peter was Head of Vehicle Engineering at Corus Automotive, Chief Engineer at Lotus Cars, and Principal Engineer at Jaguar Cars. In these roles, Peter developed key innovations for Alcoa, Aston Martin, BMW, Daimler, Ford, GM, Audi, Bentley, Jaguar, Land Rover, Lockheed Martin, and Prodrive.

Peter holds a B.Sc. in Mechanical Engineering from Imperial College, University of London.

VP of Business Development
Henry Li
Before joining Lucid, Henry was Vice President of HiSoft, a leading software and service company in China

Prior to HiSoft, Henry was the General Manager of IP Dynamics, a Silicon Valley security software company, where he built up the Chinese operations from scratch. Henry was also a manager at China Posts and Telecommunication Industry Corporation, where he was responsible for joint ventures and strategic alliances.

VP of Design
Derek Jenkins
Before joining Lucid, Derek was the Director of Design at MazdaNorth America Operations. He was the lead or contributing designer to the 2016 MX-5 Miata, Shinari Concept, CX-5, Mazda6, Mazda3, and the 2017 CX-9.

Prior to his tenure with Mazda, Derek spent nine years as the Chief Designer for Volkswagen North America.

VP of Hardware Engineering
Eric Bach
In 18 years of leadership, Eric has guided numerous vehicles to market for both Volkswagen AG and Tesla Motors.
Investors
Some of Lucid's 500 employees as of 2016 had previously worked at other car companies such as Tesla and Mazda, including Peter Rawlinson, the former VP of Engineering at Tesla, and Derek Jenkins, the former Head of Design at Mazda North America Operations. The company has seen investments from Tsing Capital, Mitsui, Venrock, JAFCO, and others,providing an estimated US$131 million by 2016. Venrock, Mitsui, and JAFCO are still current investors in the company.
Current Investor Lists
Saudi Arabia's Public Investment Fund
Mitsui & Co
Jafco Life Science
China Environmental Fund
Venrock

(sources: https://www.crunchbase.com/organization/atieva/company_financials)
Funding by Saudi Investment Fund
Lucid Motors received 1 billion dollar in funding from Saudi Arabia's sovereign wealth fund, With this fund, Saudi Arabia now owns more than half of Lucid Motors. Saudi Public Investment Fund (PIF). The investment financed Lucid Motor's 2020 commercial launch of its first electric vehicle, the Lucid Air. Under the agreement, Lucid will use the funding to complete engineering development and testing of the Lucid Air; construct its factory in Casa Grande, Arizona; begin the global rollout of its retail strategy starting in North America; and enter production for the Lucid Air.
The Public Investment Fund was originally established in 1971 to facilitate the development of the Saudi Arabian national economy. In 1974, PIF was mandated to hold equity positions in join-stock ventures within its domestic economy.
The ​Public Investment Fund seeks to become one of the largest sovereign wealth funds in the world. To achieve this, the Fund is building a world-class, diversified portfolio through investments in attractive, long-term opportunities at both the domestic and international level.
· PIF acquired an approximate 5% stake in Uber.
· The fund held almost 5% of Tesla stock, purchased through public markets.
Business
Development prototype
The first model from startup Lucid Motors boasts an aerodynamic shape that's functional and fashionable. Its spacious and upscale cabin is covered by a glassy canopy that should help it live up to its atmospheric name.
The Air also mixes practicality with technology, sporting capacious storage options and no shortage of driver assists.
The company says that owners should be able to resupply 300 miles of range in 20 minutes at a fast-charging station.
The Air will be loaded with 32 sensors, a driver-monitoring system and an Ethernet-based architecture all for its advanced driver assistance system, which is designed to support hands-free driving on highways.
Inside, a 34-inch curved glass 5K display sits in front of the driver, and appears to float above the dashboard. Another center touchscreen is retractable, revealing more storage. Meanwhile, a few physical controls remain on the steering wheel and just above the center screen to control volume and activate the ADAS and Amazon Alexa, which is integrated into the vehicle. Below that center touchscreen and moving to the console is a spot for inductive charging, cup holders and USB-C ports, along with additional storage.
Owners of the Air will have an app that will control and communicate with the car, such as locking and unlocking the vehicle. But it will also be equipped with facial recognition that confirms the identity of the owner.
Lucid is collaborating with Amazon to build in compatibility with Amazon's voice assistant Alexa, allowing drivers to use the voice assistant for navigation, phone calls, media streaming, smart home control and more while driving.
Lucid unveiled an electric SUV concept in September 2020 called Project Gravity, but provided only a brief "glimpse of the future" and short video segmen.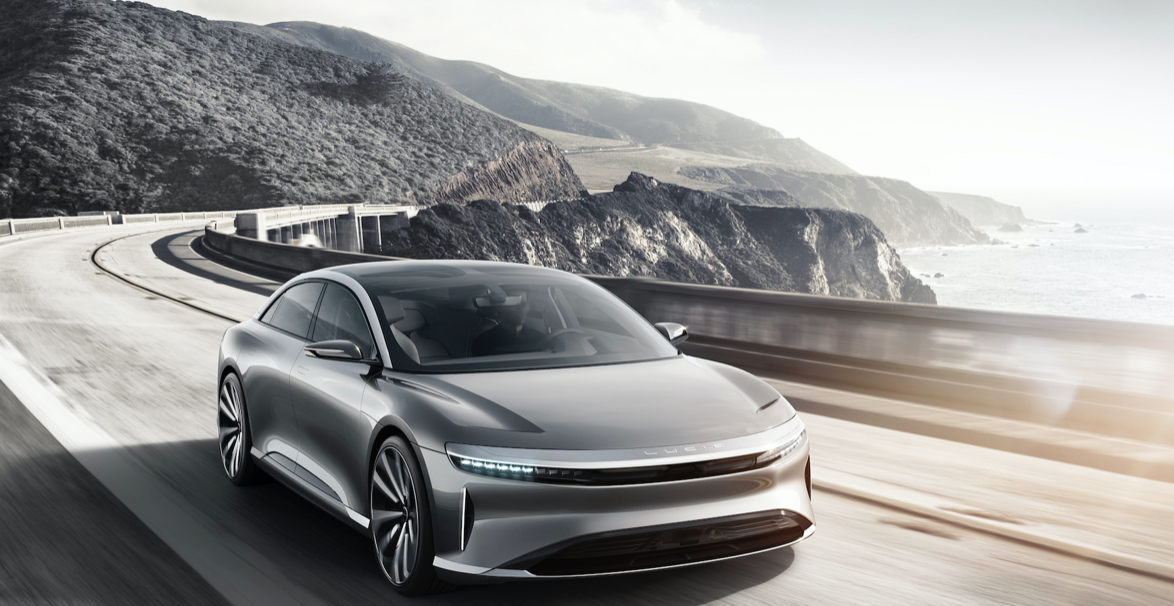 (sources: https://www.motor1.com/news/388957/lucid-motors-prototype-race-proven/)
Competitors
Tesla has established itself as the preeminent EV automaker, Lucid Motors is currently best known for supplying batteries to Formula E race cars. Lucid looks to challenge luxury alternatives such as the Model S and Porsche Taycan with its all-new 2021 Air sedan.
"Tesla (Model S) is premium, it's beautifully engineered and it's super disruptive, but it is not an S Class Mercedes replacement in the EV space and that's what we're offering," Rawlinson said in a recent interview
With up to 517 miles of EPA-estimated all-electric range and as much as 1080 horsepower, the 2021 Lucid Air aspires to be much more than a Tesla rip-off.
https://carbuzz.com/news/lucid-ceo-on-tesla-batteries-and-our-ev-future
Technology
Lucid began as Atieva, a company founded by former Tesla VP and board member Bernard Tse and entrepreneur Sam Weng that focused on developing electric car battery technology. That early work would be critically important for the Lucid Motors of today because of the early research, development and eventual progress in the components and overall electric architecture, Rawlinson told TechCrunch. Atieva would go on to become the battery supplier to Formula E, which would also help the company make gains on the design and performance.
Lucid mainly developed battery technology in its early years, but began development of its first car in 2014.
The company initially used a Mercedes Metris van, named "Edna", to develop the powertrain.
A prototype of the Lucid Air fully electric car was unveiled in December 2016, with production expected in 2017; it was designed with a 400 hp (300 kW) front motor and a 600 hp (450 kW) rear motor for a combined 1,000 hp (750 kW). Lucid later planned to start production in 2020, but at the production unveiling in September 2020 announced a delay to spring 2021.
Lucid has built its batteries to work across its electric vehicle and energy storage products, including in second-life uses, Chief Engineer Eric Bach told TechCrunch.
https://techcrunch.com/tag/lucid-motors/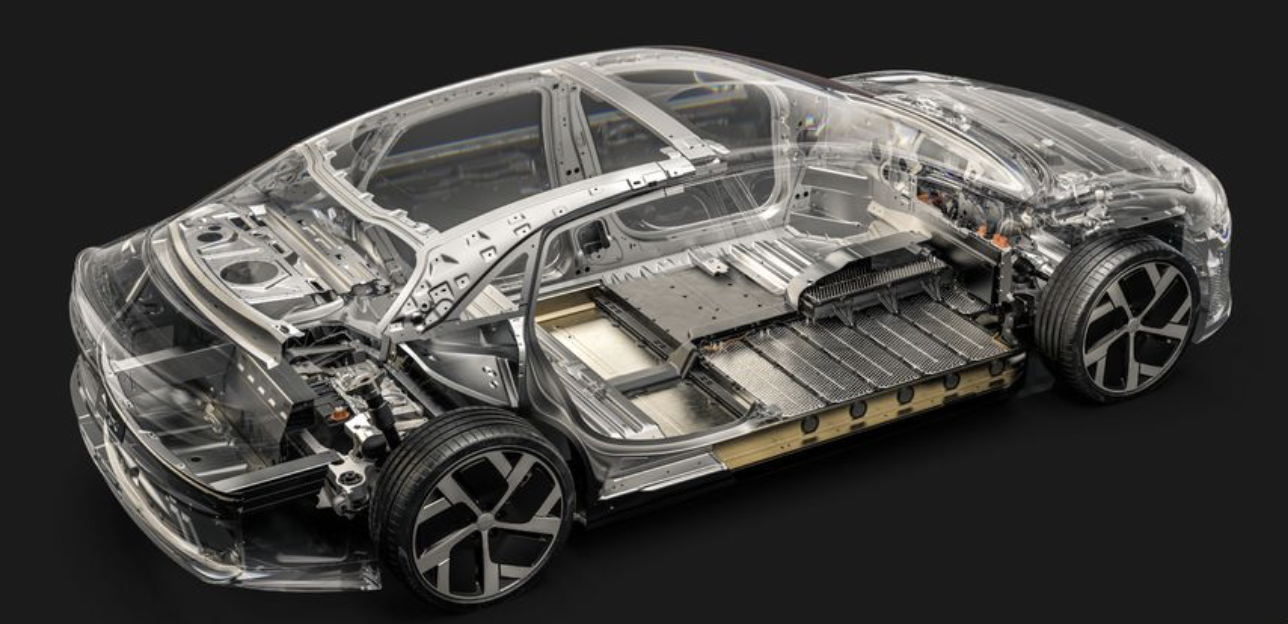 (Sources: https://www.caranddriver.com/news/a33797162/2021-lucid-air-517-mile-range-113-kwh-battery/)
Conclusion
Lions Financial specializes in working with companies in the automotive, trucking, engineering, and renewable energy industries. The electric automotive industry is growing and we support companies in the areas of management consulting and refining business plans for venture capital financing. For companies in the electric automotive industry we support issues around Due Diligence, Valuations, Mergers and Acquisitions, and Business Exits. To find out more about how we can help you contact us https://lions.financial/contact/
If you would like to learn more about additional business consulting and capital markets services:
https://lions.financial/services/business-advisory-write-a-business-plan/
https://lions.financial/services-capital-markets-due-diligence-and-valuation/
https://lions.financial/services/capital-markets-mergers-and-acquisitions/
https://lions.financial/services/capital-markets-sale-of-business/
As a financial services firm Lions Financial focuses on helping companies in the automotive and trucking industry through capital markets financing and business consulting engagements. With the growth of the automotive industry, it is important to understand the business models of the companies entering the marketplace. We have put together a Market Research overview of the Founders, Executive Board, and investors of Lucid Motors. Lucid Motors originally focused on building electric vehicle batteries and powertrains for other vehicle manufacturers and has grown with the intent to develop an all-electric, high-performance luxury vehicle.
The sources we use for this information include:
https://www.crunchbase.com/organization/atieva
https://www.crunchbase.com/organization/atieva/company_financials
https://www.caranddriver.com/lucid-motors
https://en.wikipedia.org/wiki/Lucid_Motors
https://www.barrons.com/articles/lucid-motors-offers-a-look-inside-its-plant-the-view-is-impressive-51617218427
https://carbuzz.com/news/lucid-ceo-on-tesla-batteries-and-our-ev-future
https://techcrunch.com/tag/lucid-motors/
https://carbuzz.com/news/lucid-ceo-on-tesla-batteries-and-our-ev-future
https://www.caranddriver.com/news/a33797162/2021-lucid-air-517-mile-range-113-kwh-battery/
https://www.motor1.com/news/388957/lucid-motors-prototype-race-proven/