Company Overview
Based Fisker Inc was founded in 2016 by Henrik Fisker, who founded Fisker Automotive before Fisker Inc. (Fisker Automotive is currently Karma Automotives). Fisker Inc. focused on creating luxury plug-in hybrid electric vehicles. The Ocean is Fisker's all-electric SUV. Fisker is focusing on solid-state battery technology.
Founders
Henrik Fisker (born 10 August 1963):
Henrik Fisker is an industry renowned designer best known for designing luxury cars including the BMW Z8, Aston Martin DB9, Aston Martin V8 Vantage.
Henrik served BMW: 1989 – 2001
Ford and Aston Martin: 2001 – 2005
Fisker Coachbuild: 2005 -2007
Fisker Automotive (Karma Automotive): 2007-2013
HF Design: 2013-present
VLF Automotive 2016-2019
Fisker Inc.: 2016-present
Fisker describes his aesthetic as innovative and timeless. His designs are long and muscular, drawing inspiration from the human body as well as classic cars from the past. He is inspired by Italian car designs, as well as the American designs. In particular, the luxury and muscle cars of the 1950s, '60s and '70s inspire Fisker's designs. He is highly concerned with proportion, designing his cars with flowing lines, short overhangs, and an assertive stance.
Geeta Fisker:
Dr. Geeta Fisker is the wife of Henrik Fisker. She is currently the CFO of Fisker Inc. She has extensive experience in finance and science.
PhD, Biotechnology/Organic Chemistry at the University of Cambridge: 2007-2001
EPSRC Postdoctoral Research Newton Fellow at the University of Cambridge: 2001-2004
Lloyds Banking Group: 2004-2007
Consensus Business Group (Tchenguiz Family Trust): 2007-2011
MergerTech: 2012-2013
Fisker Family: 2014-present
Fisker Inc.: 2016-present
Executive Team
Founder, Chairman, and CEO: Henrik Fisker
Henrik has more than 20 years of experience in the automotive industry. He was a designer at BMW for nine years. He was a founder of VLF Automotive before founding Fisker Automotive. In the meantime, he is also a senior advisor of McKinsey & Company.
Co-Founder and CFO: Dr. Geeta Gupta Fisker
Dr.Geeta has extensive experience in investment and science. While being the CFO at Fisker Automotive, she is also responsible for the investment at Fisker Family. She also holds a PhD in biotechnology/Organic chemistry from the University of Oxford.
Chief Technology Officer: Burkhard Huhnke
Burkhard joined Fisker in Jul 2020. Before joining Fisker, he has 24 years of experience in R&D in the automotive industry. He spent 19 years with Volkswagen.
Investors
Fisker has raised a total of $50M in funding over 1 round. This was a Private Equity round raised on Jul 8, 2020. Fisker is registered under the ticker NYSE: FSR. Their stock opened with $10.00 in its Oct 30, 2020, IPO.
Fisker is funded by Moore Strategic Ventures.
Moore Strategic Ventures:
Headquartered in New York, Moore Strategic Ventures has made 2 exits: Fisker and Thrive Earlier Detection, a healthcare company that integrates earlier cancer detection into routine medical care.
A private equity firm provides high-net-worth individuals access to late-stage private equity offerings. Advanced Equities has made 15 exits in the field of semiconductor technology and networks technology.
A123 Systems is a manufacturer of lithium-ion batteries and battery systems for the transportation, electric grid and commercial markets.
Qatar Investment Authority:
The QIA was founded by the State of Qatar in 2005 to strengthen the country's economy by diversifying into new asset classes. QIA made 7 exits including Xpeng Motors, Uber in the automotive industry.
Kleiner Perkins is a venture capital firm specializing in investing in early-stage, incubation, and growth companies. Kleiner Perkins has made 265 exits including Peloton, Square, Groupon, Snap. etc.
New Enterprise Associates:
New Enterprise Associates is a global venture capital firm investing in technology and healthcare. New Enterprise Associates has made 445 exits.
Palo Alto Investors is an investment advisor providing money management services. Palo Alto has made 11 exits in Healthcare and technology.
ACE is an experienced money manager specializing in developing and implementing alternative investment strategies.
What is the Fisker Motors Business Model?
Fisker is pursuing a lightweight business model: it doesn't want to build a factory, but rather work with contract manufacturers to make its vehicles. Fisker only focuses on designing compelling vehicles, promoting them enthusiastically, and pushing a new business model into the market, one based on experience.
Development Stage
Fisker recently announced a strategic cooperation with Magna International supporting the co-development and manufacture of the Fisker Ocean SUV, projected to launch in Q4 2022. The Ocean will be assembled by Magna in Europe and is poised to deliver class-leading range, functional interior space with third-row seating and overall vehicle performance.
Fisker also confirmed the signing of a significant vehicle order for 300 units with Viggo, the technology-driven Danish ride-hailing service. Viggo, founded in 2019, is aiming to challenge the standards for urban transportation through advanced data-driven innovation delivered through a fleet of 100% electric vehicles.
What is Technology?
The solid-state battery will allow for smaller battery packs with greater range and substantially faster charging times than vehicles that use lithium-ion batteries.
Mission and Vision
Fisker's mission is to create the world's most emotional and sustainable vehicles, helping to build a clean future for all. Fisker's vision is a clean future for all.
Core Product
Current prototype: The Ocean SUV (arriving in 2023) price starts from $37,499 USD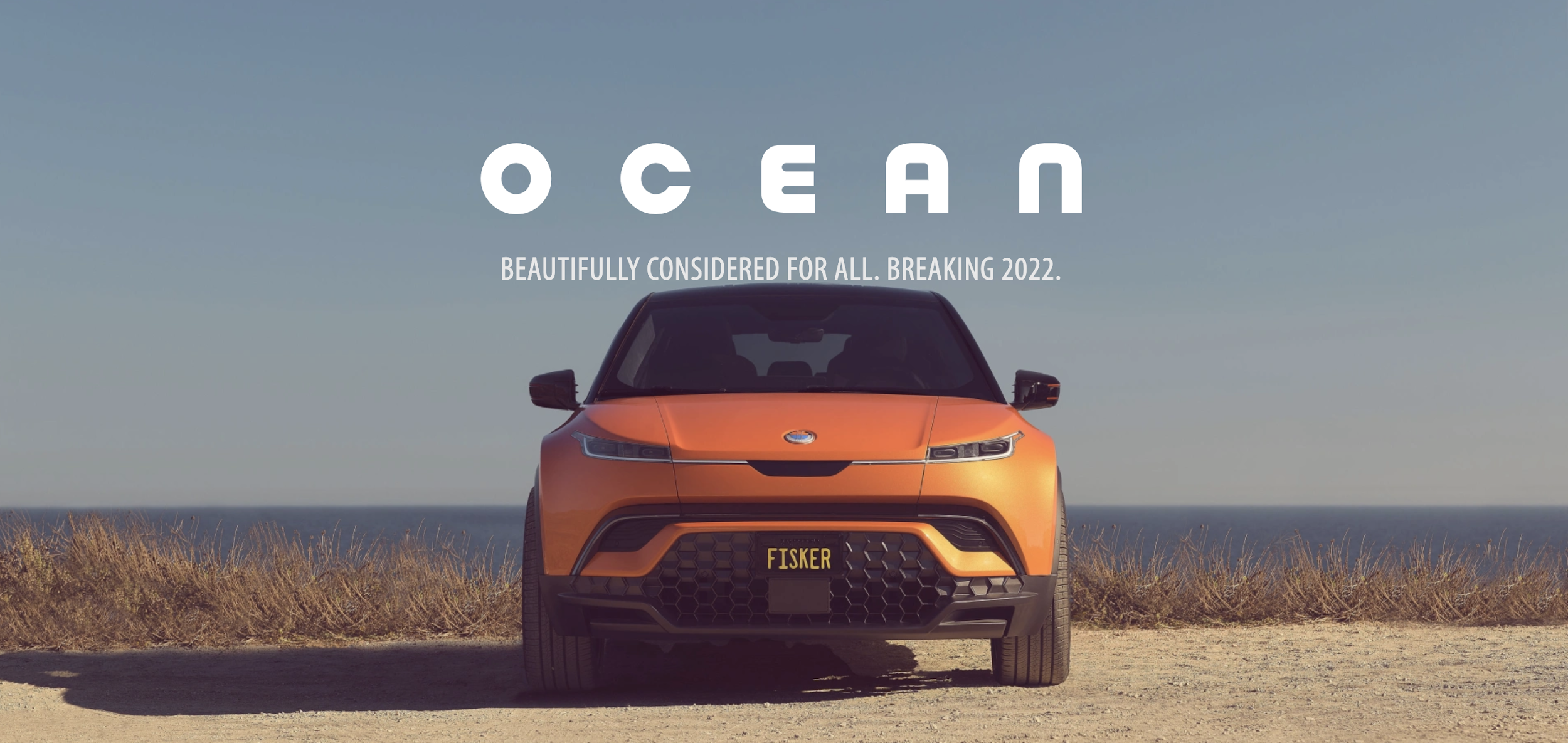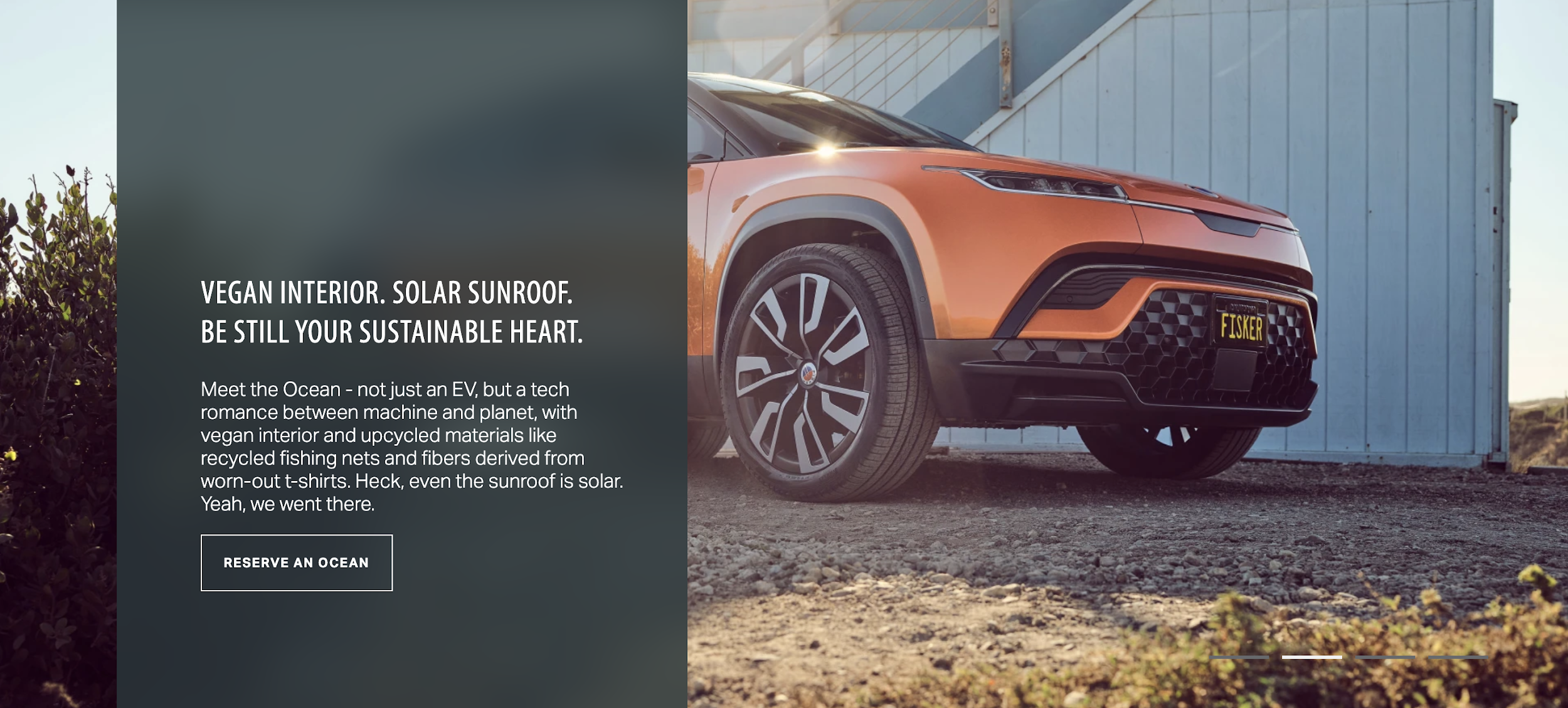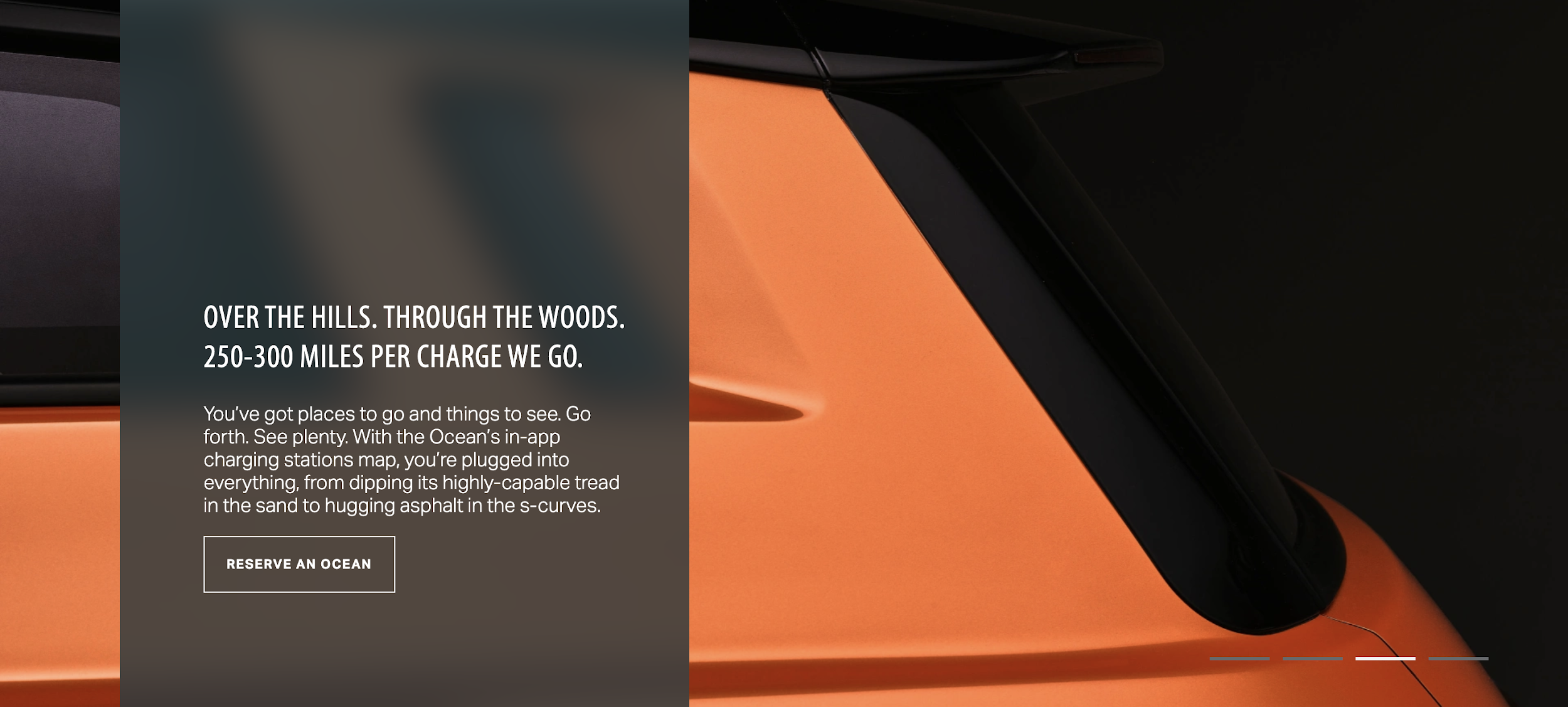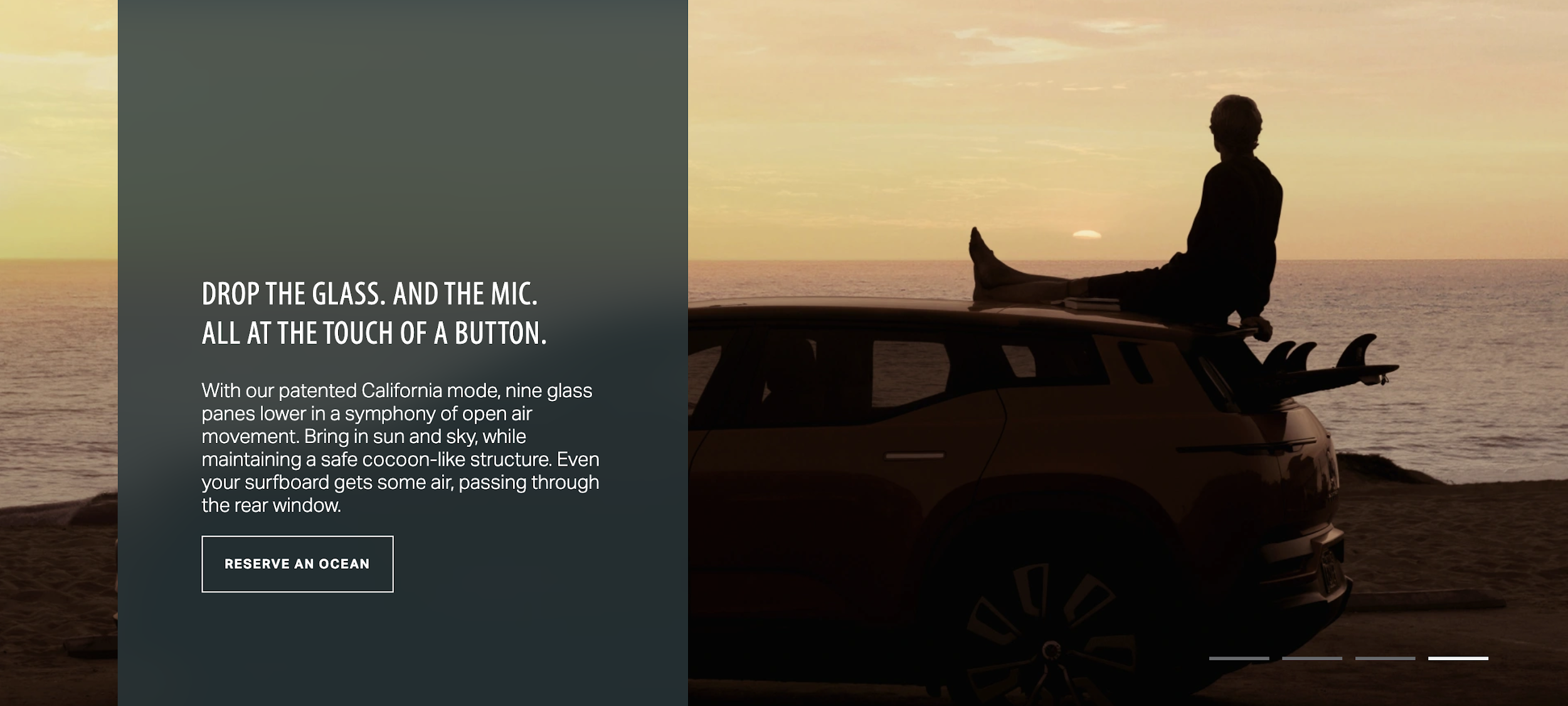 (sources:https://www.fiskerinc.com)
Anticipated Future Products
Future Products in plan:
A sports sedan
Another SUV
A pickup truck
Competitors
BMW X3 Plug-in Hybrid
Specs: Horsepower: 288 hp, 0-60mph: 5.9s
Price: $49,600
BMW The3 Plug-in Hybrid
Specs: Horsepower: 288 hp, 0-60mph: 5.6s
Price: $44,550
BMW The5 Plug-in Hybrid
Specs: Horsepower: 288 hp, 0-60mph: 5.7s
Price: $57,200

(sources:https://www.bmwusa.com/vehicles/x-models/x3/sports-activity-vehicle/plug-in-hybrid.html)
Tesla Model Y
Specs: 0~60mph:3.5s; Go anywhere with up to 326 miles of range on a single charge, dual motor, all-wheel drive
Price: $40,690

(sources:https://www.motorauthority.com/news/1130865_2021-tesla-model-y-price-specs-review-photos-info)
Competitive Advantages
The entire car is claimed to be very sustainable, with a "vegan" interior that "meets stringent chemical emissions limits for various VOCs such as formaldehyde." Surfaces and materials throughout the cabin are created from recycled goods, including carpeting made from polyester clothing fibers and used plastics and rubber. Fisker even claims that the full-length solar-panel roof augments the battery's state of charge, offering up to 1000 "free" miles of electric driving per year. The automaker also made it a point to optimize aerodynamic efficiency, and thus the amount of air directed to the cooling radiator is controlled by a computer.
Price: $37,500, which is lower than the competitors.
Aesthetics: The founder Henrik Fisker's design is widely recognized in the industry, and they put most of their attention on the design.
Conclusion
Lions Financial specializes in working with companies in the automotive, trucking, engineering, and renewable energy industries. The electric automotive industry is growing and we support companies in the areas of management consulting and refining business plans for venture capital financing. For companies in the electric automotive industry we support issues around Due Diligence, Valuations, Mergers and Acquisitions, and Business Exits. To find out more about how we can help you contact us https://lions.financial/contact/
If you would like to learn more about additional business consulting and capital markets services:
https://lions.financial/services-capital-markets-due-diligence-and-valuation/
https://lions.financial/services/capital-markets-sale-of-business/
https://lions.financial/services/capital-markets-mergers-and-acquisitions/
Lions Financial supports companies globally with their business management considerations for growth and operational efficiency in the automotive and trucking industry. Through capital markets financing and business consulting engagements we help focus on capturing value from the growth of the automotive industry. We complete research engagements on leaders in the industry because it is important to understand the business models of the companies entering the marketplace. We have put together a Market Research overview of the Founders, Executive Board, and Fisker Motors' business.
The sources we use for this information include:
https://en.wikipedia.org/wiki/Henrik_Fisker
https://techcrunch.com/2020/07/08/fisker-raises-50-million-to-bring-its-all-electric-ocean-suv-to-market-in-2022/?guccounter=1&guce_referrer=aHR0cHM6Ly93d3cuZ29vZ2xlLmNvbS8&guce_referrer_sig=AQAAAKGNHDbj7atZdfpOzBmLVivn-x_LIbNACTq_fTk-VQmP_tAW4EFdqILNuXmjrQRdbkG9HyvuStyf1lKbDbUSn-uQP5uVX9qY7NAPJ_iQD-yYy992LvN5FgkoW-25h_jN9MkYrBAki4-XFA7JYz4HWZ05TUAcZEq7eX9UiMbWZk8v
https://www.motortrend.com/news/2021-fisker-ocean-ev-suv-first-look-review/
https://finance.yahoo.com/news/fisker-inc-set-reveal-production-130000549.html
https://www.bmwusa.com/vehicles/x-models/x3/sports-activity-vehicle/plug-in-hybrid.html
https://www.theverge.com/2018/10/10/17961494/bollinger-motors-b2-electric-pickup-truck
http://www.thedrive.com/news/22961/bollinger-motors-asks-elon-musk-to-use-teslas-supercharger-network
https://electrek.co/2018/03/28/bollinger-b1-all-electric-utility-truck-production/
https://www.roadandtrack.com/new-cars/future-cars/a22849728/the-rad-bollinger-b1-electric-4×4-gets-closer-to-production/
https://www.crunchbase.com/organization/rivian-automotive#section-overview
https://www.foxnews.com/auto/rivian-automotive-looking-to-battle-electric-cars-with-battery-powered-trucks