Lions Financial is a consultancy firm that specializes in providing comprehensive financial services to financial institutions and businesses. Our primary focus is to assist our clients, along with their tax and legal advisors, during the critical stages of Due Diligence and Valuation. These stages are crucial for making informed and strategic financial decisions that lead to success.
In the case of Aero Mexico, we can offer a detailed overview of the airline company's financial situation and assist in analyzing its strengths, weaknesses, opportunities, and threats. Our team of financial experts will conduct a thorough assessment of Aero Mexico's financial statements, cash flows, balance sheets, and income statements. This analysis will provide valuable insights into the company's financial performance, liquidity, profitability, and solvency.
Aerovias de Mexico, SA de CV, doing business as Aeromexico, operates a fleet of aircraft and is the flag carrier airline of Mexico, based in Mexico City. Aeromexico was founded in 1934, the Company provides air transportation services, including domestic and international transportation of passengers, mail, and cargo to over 100 destinations worldwide, including countries in Mexico, North and South America, the Caribbean, Europe, and Asia.
Aeromexico's main hub is in Mexico City, with secondary hubs in Guadalajara and Monterrey. Aeromexico flies over 14.8 million passengers annually, with a fleet of 115 airplanes consisting of the modern Boeing 787 and 737 jet airliners and next-generation Embraer 170 and 190 models.
Aeromexico works closely with Delta Airlines, and together in 2017, the two companies formed a joint commercial agreement whereby the airlines share information, costs, and revenues on all their flights between the United States and Mexico. Together with Delta, Aeromexico is one of the SkyTeam Alliance's founding members. Prior to the Covid-19 pandemic in 2020, Delta Airlines owned 49% of Aeromexico (its most significant investment in an airline worldwide), but since Aeromexico's Chapter 11 bankruptcy process in the United States, Delta Airlines' ownership was heavily diluted, currently holding around 20% of Aeromexico.
Aeromexico's mission statement is to "reach higher and higher being leaders in the industry". The company is committed to offsetting its carbon footprint by incorporating Boeing 787s Dreamliners into its fleet.
Aerovias de Mexico was founded by banker and entrepreneur Antonio Diaz Lombardo in Mexico City, Mexico in 1934. Aeromexico went on to become one of the largest airlines in Mexico, with the added distinction of being the country's flag carrier airline.
Javier Arrigunaga is CEO of Xokan Adivisors, a financial advisory firm and since 2015 Chairman of the Board of Grupo Aeromexico. He is advisor of the Canadian Pensions Plan Investments Fund and Lazard México. He is founding partner and Director of Prestanomico, a fintech specialized in lending as a service.
Members of the Board
Javier Arrigunaga Gómez del Campo (President)

Edward H. Bastian

William Carroll

Andrés Conesa Labastida

Antonio Cosío Pando

Luis De la Calle Pardo

Valentín Diez Morodo

William H. Easter III

Jorge Esteve Recolóns

Arturo Martínez del Campo Saucedo

María Tricio Gómez

Eduardo Tricio Haro

José Antonio Tricio Haro

Rafael Tricio Haro

Carlos Villarreal Tricio
Andres Conesa Labasitda (Chief Executive Officer of Grupo Aeromexico)
Mr. Conesa was appointed CEO of Grupo Aeromexico in 2005. He is an acting member of SkyTeam, and a member of the Board of Governors of the International Air Transport Association since 2008 and was appointed as Chairman of the Board in 2015, becoming the first Mexican to hold this position. Additionally, Mr. Conesa is also a member of Sempra LNG's (Sempra Energy) board.
Mr. Conesa has a degree in Economics from the Autonomous Technological Institute of Mexico and a Ph.D. in Economics from MIT.
Ricardo Sanchez Baker (Chief Financial Officer & Executive Vice President)
Mr. Baker has been CFO and EVP of Aeromexico since 2006, and previously served as Director of Revenue Management and advisor to the CEO, He has had an extensive career in the aviation sector and the Mexican Government. In the past, he occupied the position of Chairman of Sabre Corp.
Mr. Baker holds a Ph.D. in Economics from UCLA.
Aaron Murray (Chief Commercial Officer)
Aaron Murray has more than twenty years of experience in commercial aviation in different airlines such as Northwest Airlines, Delta Airlines, and Aeromexico. Mr. Murray became Chief Commercial Officer at Aeromexico in November of 2021.
In 2019, he joined Aeromexico as Vice President of Senior Revenue Management, where he led the team to reach the company's income objectives.
Mr. Murray has a bachelor's degree in Marketing and an MBA in Marketing and International Business, both from Michigan State University.
Santiago Diago

(Chief Operating Officer)
Mr. Diago has more than twenty-five years of experience in airlines such as LAC, LAN, and Avianca. In the latter, he was Executive Vice President of Operations where he oversaw more than 12,000 employees and distributed in seven countries.
Angelica Garza

(Chief Human Resources Officer and Executive Vice President)
Ms. Garza is responsible for the acquisition, management, and development of talent. Throughout her career, she has played key roles at companies like PepsiCo, where she was Director of Human Resources for Mexico, and more recently, of Organizational Development for Latin America. Before Pepsi, she served as Director of Human Resources for Microsoft Mexico.
Ms. Garza has a degree in Organizational Psychology from ITESM and an MBA.
Luis De la Calle Pardo

(President of Audit and Corporate Practices Committee)
Luis De la Calle Pardo has served as Independent Director of Aeromexico, S.A.B. de C.V. since 2008. Previously, he served as Chief Executive Officer of Public Strategies de Mexico Inc, Board Member of El Seminario, and Independent Director of Acciones y Valores Banamex and Cintra, among others.
  Mr. De la Calle Pardo holds a bachelor's degree in economics from the Autonomous Technological Institute of Mexico, as well as a master's degree and a Doctorate in Economics, both from the University of Virginia
Javier Arrigunaga del Campo

(Chairman and President of the Board, Audit and Corporate Practices Committee, and the Finance Committee)
Javier Arrigunaga CEO of Xokan Advisors, a financial advisory firm, and Chairman of the Board of Grupo Aeromexico since 2015. He is also an advisor of the Canadian Pensions Plan Investments Fund and Lazard Mexico. Mr. Arrigunaga is also a founding partner and Director of Prestanomico, a fintech specializing in lending as a service.
Mr. Arrigunaga has had an extensive career in the financial sector, including CEO at Banamex (Citigroup), and is a board member of various Latin American companies, including Gentera, Dine, and Kuo.
Previously, he worked at Mexican Central Bank for 15 years, where he fulfilled different responsibilities. Mr. Arrigunaga has been a member of Aeromexico's board since 2007 and a member of the Executive Committee.
Ownership Stake in the Company:
The company is owned by a diverse group of private investors as well as Fondos Banamex (a Citigroup subsidiary) and GBM, as well as a group of private investors on undisclosed percentages, who own a combined 51% stake in Aeromexico.
 Delta Air Lines owns the remaining 49%. Shares have been diluted since Aeromexico filed for bankruptcy during the pandemic in 2021.
Grupo Aeromexico has 16 institutional owners and shareholders that have filed 13D/G or 13F forms with the SEC. These institutions hold a total of 954,371 shares. 
Comprehensive services: offer a first-class product and high quality service for business passengers. For example, individual video screens on each seat. 

Attractive strategic partnerships: relationship with Delta Air Line, Membership in Skyteam.

Loyalty program: Club Premier helps Aeromexico retent customers, which can help generate revenue, increase referrals and achieve overall growth.
Competitions: It is hard for Aeromexico to compete effectively against other airlines with greater services, lower prices, or more fame.

Low margin: The airline industries have small margins. Investors will be difficult if they invest in the long term.

Business travel may not come back to what it was before Covid-19. During the pandemic, people find new ways for business meetings, which are via video telephony software such as Zoom. Even though now that the pandemic is nearly gone, business meetings are still mostly run remotely and business travel has declined compared to it was before Covid-19. As a company that focuses primarily on business passengers, Aeromexico will struggle to get profit.
After Covid-19, the supply for travel and trips is increasing, which can help Aeromexico back to a good performance.

Voluntarily entering Chapter 11 bankruptcy gave Aeromexico a chance to restructure and shed excess debt.
External events: such as terrorist attacks, natural disasters, declines in tourism, increase in crime or the outbreak of contagious diseases, like the Covid-19. If the company is negatively affected, the stock price will go down.
Despite Aeromexico's recent growth, the airline faced a competitive landscape in recent years with rivals that were growing even more quickly. In the Mexican aviation market, traffic is growing despite uncertain economic conditions. The emerging competition came from a combination of new budget airlines and increasingly more sophisticated international aircraft carriers. To add to this pressure, customer expectations of quality were being driven higher by the increased competition. 
While Aeromexico is considered to be one of Mexico's top airlines, there are many other Mexican airlines that fly both domestically and internationally. Aeromexico has the competitive advantage of being part of SkyTeam and the Skymiles alliance. The alliance provides customers access to greater connectivity between airlines, as well as earn rewards as they fly. There are just two SkyTeam elite levels, thus reaching the highest tier is not too difficult for frequent fliers. Aeromexico excels in customer service and its quick and easy check-in process. Aeromexico offers the largest number of flights domestically and internationally. 
Viva Aerobus is one of Aeromexico's domestic competitors. However, Aeromexico has a competitive advantage as Viva Aerobus is known for constantly overbooking and delaying flights.
Volaris, a Mexican budget airline, is also one of Aeromexico's competitors, though the quality of their products and services falls short of that of Aeromexico's high standards.
Aeromexico also competes with international airlines that fly to Mexico, including airlines such as:
United Airlines (offers direct flights to Mexico City, Guadalajara)

Southwest Airlines (direct flights to Cancun, Los Cabos)

Alaskan Airlines (nine destinations in Mexico)

American Airlines

JetBlue (one of the airlines that offer the cheapest flights to Cancun)

British Airways Avios (travelling directly from the UK to Mexico)

Turkish Airlines (with direct flights from Turkey to Cancun and Mexico City)
When there was a risk mentioned in the financial report for the first time or caused a big influence/well known in society was the key risk of the year; When there was no key risk, fuel was the key risk. Some of these key risks were comprehensive and affected multiple. Some years in Aeromexico have multiple risks, the most important risk is the key risk of the year.
Risk Level and Factors YoY
Risks that could be found in financial reports and online third party resources were summarized into 8 categories.

Fuel listed separately as a major expense.

Fuel and aircraft accidents are the most important risks of Aeromexico; international situations, aircraft accidents and covid are all surprise risks.

Operation disruptions and government regulations refer to strategic risks.

Risk level refers to how many risk factors actually became loss in that fiscal year.
In case that the financial reports do not include updates on risk factors, correlations between risk level and debt/ equity were included. Since the financial reports can only trace back 6 years, the data used in the chart are from 2016 to 2021. From the chart, debt is positively correlated and equity is negatively correlated with risk level. As the gap between debt and equity continues to widen and the international environment is volatile, the level of future risk remains relatively high.
This chart is to track the risk level as synchronized as possible. As the epidemic is getting better, the economies of various countries have begun to recover, the travel industry and airline industry has gradually recover too. However, the international conflicts have caused fuel price to continue to rise while the demand for fuel is increasing. The high fuel price and low equity refers to a high risk level in the future.
| | | | | | |
| --- | --- | --- | --- | --- | --- |
| Year | 2021 | 2020 | 2019 | 2018 | 2017 |
| TotalAssets | 86847965000 | 80383743000 | 100988431000 | 76772852000 | 76897303000 |
| TotalAssets Change | 8.04% | -20.40% | 31.54% | -0.16% | 8.56% |
| TotalLiabilitiesNetMinorityInterest | 141354310000 | 113335403000 | 95211742000 | 65118567000 | 63904838000 |
| TotalLiabilitiesNetMinorityInterest Change | 24.72% | 19.04% | 46.21% | 1.90% | 13.07% |
| TotalEquityGrossMinorityInterest | –54506345000 | -32951660000 | 5776689000 | 11654285000 | 12992465000 |
| TotalEquityGrossMinorityInterest Change | 65.41% | -670.42% | -50.43% | -10.30% | -9.25% |
| TotalCapitalization | –54511217000 | -32956066000 | 14921527000 | 11650610000 | 39977485000 |
| TotalCapitalization2 | 65.41% | -320.86% | 28.08% | -70.86% | 5.05% |
| TotalDebt | 75982442000 | 63555110000 | 63420674000 | 36625029000 | 34365707000 |
| TotalDebt Change | 19.55% | 0.21% | 73.16% | 6.57% | 12.02% |
Aeromexico's Total Assets showed a stable and slowly rising trend from 2016 to 2018, and had a rapid growth in 2019, reaching 100 billion with an increase of 31%. However, negatively impacted by the pandemic, the total assets returned to the original position after 2020, 80 billion in 2020 and 86 billion in 2021. 
Aeromexico's Total Abilities showed a rapid rise from 2016 to 2021 which increased from 5.6 billion to 141 billion, with the Covid 19, the largest increase in 2019 with 46% growth rate, and finally reached 141 billion in 2021, almost three times of the 2016 total abilities.
Aeromexico's Total Debt has been increasing steadily and slowly these years from 30 billion to about 76 billion. With the Covid 19, the fastest rate in 2019, with an increase of 73%, from 36 billion to 63 billion.
Aeromexico's Total Equity, there was a general downward trend from 2016 to 2019, and a sharp decline from 2019 to 2021, especially in 2020, the decline ratio reached 670%, which was a 5 times decrease compared with 2016, Total Equality also declined and reached 54 billion in 2021.
Aeromexico's cash on hand sharply increased by approximately 177.86% in 2020, when the Covid-19 broke out. This is because during the pandemic, the airline industry was significantly impacted and devastated. Aeromexico voluntarily entered Chapter 11 bankruptcy in 2020 and gained approximately $2.3 billion in recognized unsecured loans and roughly US$750 million in certain loans through the bankruptcy process. It was a wise strategy to hold a lot of cash on hand during the pandemic. Since the revenue during that time was very low, but the fixed cost are still very high.
The pandemic negatively impacted the shareholders' equity of Aeromexico, which decreased from 5,777 million in 2019 to -32,952 million in 2020 (approximately 670%). The total debt of Aeromexico did not change a lot, but due to the negative equity, the debt to equity ratio of Aeromexico decreased to a negative number. This is considered as a sign of high risk and need to seek bankruptcy protection, which Aeromexico already did.
| Year | 12/31/2021 | 12/31/2020 | 12/31/2019 | 12/31/2018 | 12/31/2017 |
| --- | --- | --- | --- | --- | --- |
| OperatingCashFlow | 1,125,945,000 | -864,346,000 | 11,152,069,000 | 2,226,031,000 | 6,264,634,000 |
| InvestingCashFlow | -2,432,027,000 | -6,020,041,000 | -4,010,332,000 | -2,297,606,000 | -611,523,000 |
| FinancingCashFlow | 13,421,362,000 | 7,390,283,000 | -7,880,757,000 | -1,586,258,000 | -5,309,658,000 |
| EndCashPosition | 19,380,449,000 | 7,381,822,000 | 6,974,826,000 | 7,686,629,000 | 9,344,167,000 |
| ChangesInCash | 12,115,280,000 | 505,896,000 | -739,020,000 | -1,657,833,000 | 343,453,000 |
| CapitalExpenditure | -3,964,676,000 | -4,394,504,000 | -4,732,389,000 | -4,492,641,000 | -4,799,334,000 |
| IssuanceOfCapitalStock | 0 | 13,405,000 | 32,565,000 | 29,080,000 | 238,688,000 |
| IssuanceOfDebt | 14,125,085,000 | 15,512,686,000 | 5,443,513,000 | 5,011,604,000 | 5,971,378,000 |
| RepaymentOfDebt | -75,000,000 | -5,650,618,000 | -6,235,262,000 | -6,273,595,000 | -10,011,187,000 |
| RepurchaseOfCapitalStock | 0 | -17,824,000 | -159,267,000 | -244,186,000 | -682,263,000 |
| FreeCashFlow | -2,838,731,000 | -5,258,850,000 | 6,419,680,000 | -2,266,610,000 | 1,465,300,000 |
Aeromexico's Operating Cash Flow, there is an overall trend of fluctuation and decline. With the influence of Covid-19, In 2019, it reached the highest level, reaching 11 billion, but in 2020, it reached the lowest level, decreasing to negative 864 million.
Aeromexico's Financing Cash Flow, it is negative from 2017 to 2019, and positive from 2020 to 2021, with the lowest of negative 8 billion in 2019 and the highest of 13 billion in 2021.
Aeromexico's Cash flow, the data of the recent five years are all negative, and showed a rapid decline trend from 2017 to 2020, reaching the lowest point of -6 billion in 2020, but it quickly returned to -2.4 billion in 2021.
Both EndCash and Changeincash have shown a relatively stable trend from 2017 to 2020. Additionally, the Change In Cash In 2018 is relatively high, reaching 1.6 billion. Additionally, both of them have shown an explosive growth In 2021. EndCash1.9 billion, Changeincash to 1.2 billion.
Beside 2020, AreoMexico's GrossProfit overall showed a steady and small increase from 2017 to 2021, and was generally greater than 80%, with 84% in 2017, 87% in 2018, 88% in 2019, and 99% in 2021.Additionally, the value of Additionally increased rapidly to 140% in 2020, which is the highest in five years.
As for the Operating Expense, beside 2020, from 2017 to 2021, the proportion is between 0 and 20%, 16% in 2017, 13% in 2018, 12% in 2019, 1% in 2020, but the interest rate decreased rapidly in 2020, reaching negative 40%.
Another very obvious change is Earning Before Interest Tax (EBIT), which generally shows a downward trend, from 3% in 2017 to negative 37% in 2021  beside 2020, and the most obvious change is in 2020, accounting for negative 139%.
| | | | | | |
| --- | --- | --- | --- | --- | --- |
| Year | 12/31/2021 | 12/31/2020 | 12/31/2019 | 12/31/2018 | 12/31/2017 |
| TotalRevenue | 45,461,320,000 | 28,522,135,000 | 68,766,003,000 | 70,264,025,000 | 61,481,197,000 |
| OperatingRevenue | 45,461,320,000 | 28,522,135,000 | 68,766,003,000 | 70,264,025,000 | 61,481,197,000 |
| CostOfRevenue | 44,817,092,000 | 40,035,494,000 | 60,171,990,000 | 61,130,877,000 | 51,767,045,000 |
| GrossProfit | 644,228,000 | -11,513,359,000 | 8,594,013,000 | 9,133,148,000 | 9,714,152,000 |
| OperatingExpense | 6,637,746,000 | 6,125,545,000 | 6,729,965,000 | 8,780,217,000 | 8,189,187,000 |
| OperatingIncome | -5,993,518,000 | -17,638,904,000 | 1,864,048,000 | 352,931,000 | 1,524,965,000 |
| PretaxIncome | -21,209,394,000 | -42,983,087,000 | -3,322,727,000 | -3,130,696,000 | -49,838,000 |
| TaxProvision | -2,428,305,000 | -454,000,000 | -953,797,000 | -1,252,149,000 | -67,993,000 |
| TotalExpenses | 51,454,838,000 | 46,161,039,000 | 66,901,955,000 | 69,911,094,000 | 59,956,232,000 |
| EBIT | -16,715,345,000 | -39,594,365,000 | 583,620,000 | -992,416,000 | 1,780,687,000 |
| | | | | | |
| --- | --- | --- | --- | --- | --- |
| Year | 2021 | 2020 | 2019 | 2018 | 2017 |
| TotalRevenue | 100% | 100% | 100% | 100% | 100% |
| CostOfRevenue | 100% | 100% | 100% | 100% | 100% |
| GrossProfit | 99% | 140% | 88% | 87% | 84% |
| OperatingExpense | 1% | -40% | 12% | 13% | 16% |
| GeneralAndAdministrativeExpense | 15% | 21% | 10% | 12% | 13% |
| SellingAndMarketingExpense | 0% | 0% | 0% | 0% | 0% |
| OperatingIncome | -13% | -62% | 3% | 1% | 2% |
| PretaxIncome | -47% | -151% | -5% | -4% | 0% |
| TaxProvision | -5% | -2% | -1% | -2% | 0% |
| TotalExpenses | 113% | 162% | 97% | 99% | 98% |
| EBIT | -37% | -139% | 1% | -1% | 3% |
I used the data from 2018 to 2021 of Aeromexico for discounted cash flow projection. The projected share price is 121.93. Compared to the market price, which is 178.77, Aeromexico is not a very good choice to invest in.

The airline industry has a highly competitive market, with over 5,000 airlines with ICAO codes. Among the public airline companies that are also members of Skyteam and have flights to Mexico, I have chosen United Airlines, American Airlines, Southwest Airlines, and JetBlue as the competitors of Aeromexico. 
Aeromexico has an EV/Revenue ratio of 3.7, which is the highest among these 5 companies. The ratio is a little high and can be considered unhealthy, which means that the stocks are overvalued and it's not profitable for investors to invest in. 
The EV/EBITDA ratio of Aeromexico is 32.6, although it is not the highest among the 4 companies, it is still too high to consider as healthy. A high EV/EBITDA ratio also shows that Aeromexico may be overvalued.

1.1 IPO price
On April 14, 2011, Grupo Aeromexico (BMV: AEROMEX) announced to the investors' community that the company's initial public offer through Bolsa Mexicana de Valores (Mexican Stock Exchange) has been extremely successful. It was a 100% primary offer. As previously announced, Aeromexico plans to use proceeds from the IPO to continue with the consolidation of its investment plan.
The initial public offering (IPO) price was 31 pesos per share (US$2.58), for a total of 125,513,903 shares, including 16,371,738 shares from the greenshoe option referred to in the prospectus. The total value of offer, including the greenshoe option, was US$ 324,244,249.
1.2 Stock Price Trends since IPO
1.2.1 Overall trends since IPO
To investigate stock price trends since IPO, we download daily trading data of Aeromexico from yahoo finance with Python. The time horizon is from April 29, 2011 to September 23, 2022, as shown in Table 1. For stock price analysis, we mainly focus on the close price of Aeromexico. From statistics of close price in Table 2, there was a minimum price of 0.44 pesos and a maximum price of 373.87 pesos. And there is a huge gap between these two prices.
Table 1 Aeromexico stock price since IPO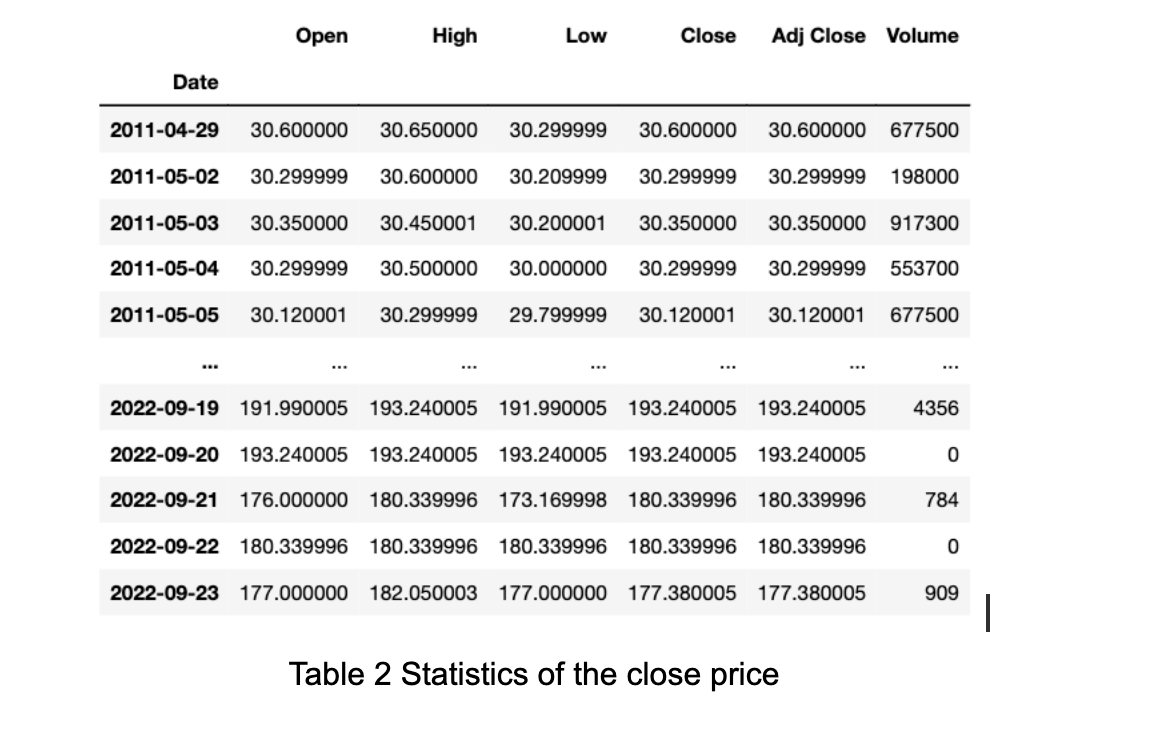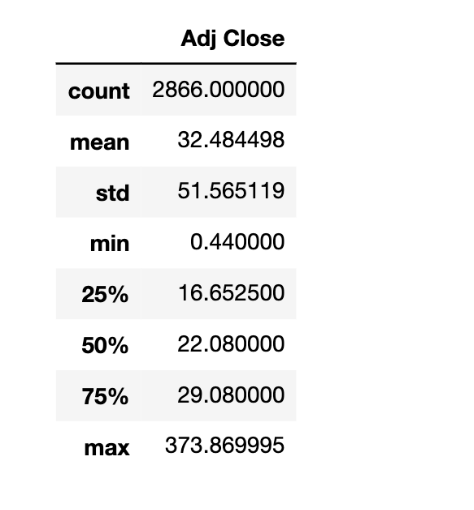 Source from investopedia 
To research further, we analyze overall stock price trends by data visualization in Python. Figure 1 shows 11-year stock price changes. Notice that there was a sudden increment in stock price in March 2022. It can be explained by Aeromexico's reorganization. Specifically, Aeromexico has consummated its Plan of Reorganization and has successfully concluded its financial restructuring process and emerged from its Chapter 11 on that date. As set forth in the Plan of Reorganization, the equity value of the reorganized Company is approximately US$2,564,000,000.00, and the new listed shares are US$136,423,959 (excluding treasury shares pending to be subscribed in the amount of 13,642,396). The authorized total amount of shares issued by the Company are US$150,066,355 shares.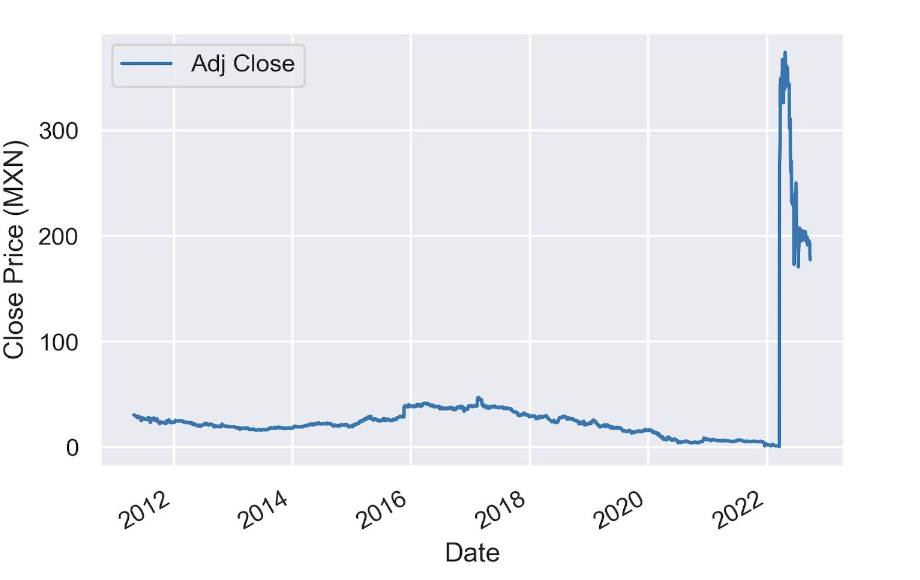 Figure 1 Overall stock price trends
1.2.2 Stock price trends in three phases
To obtain more detail information from stock price changes since IPO and cover the influence of COVID-19, we separate the daily stock price into three phases: from 2011-4-29 to 2020-01-20, from 2020-01-21 to 2022-03-18, and from 2022-03-19 to 2022-09-23. 
Stock prices of a company sometimes are influenced by the whole market's trends. Therefore, we collect the Mexican IPC index prices and visualize it with Aeromexico's in one graph. The Mexican IPC index (Indice de Precios y Cotizaciones) is a major stock market index which tracks the performance of leading companies listed on the Mexican Stock Exchange. It is made up of a selection of shares that are representative of all the shares listed on the exchange from various sectors across the economy. It is a capitalization-weighted index.
(1) Stock price trends before COVID-19
From 2011 to 2020, we can see from Figure 2 that Aeromexico was more volatile than the public market index during this period. Aermexico's stock price plunged from 2011, the prime reason was intensified competition among airlines companies in Mexico. For example, one of Aeromexico's competitors Volaris had their low-cost strategies which were more competitive than Aeromexico at that time.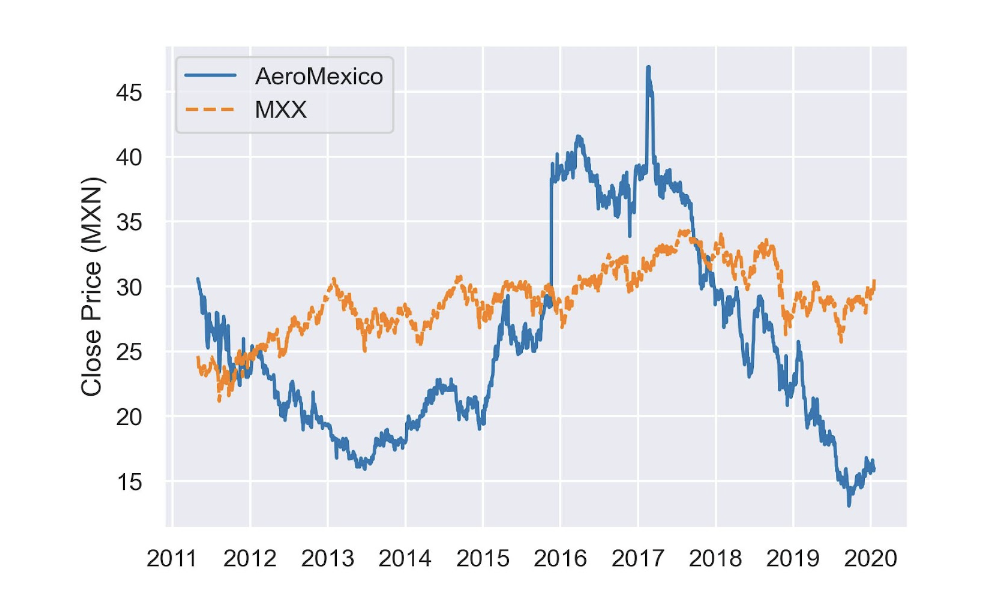 Source from yahoo finance
Figure 2 Aeromexico's stock price before COVID-19
In 2015, Aeromexico's stock price rose to 40 pesos per share because of the improvement of the economic environment and low fuel prices which helped boost revenue. Furthermore, it was also due to adjustment on Aeromexico's operation strategies including reduction of costs on domestic routes and opening of new international routes. As a result, Aeromexico was recovered from a price war with Volaris.
However in 2018, stock prices came to a peak and then dropped to a lower level. There was a jet crash happened with Aeromexico's aircraft. Multiple people were injured in this accident. It caused passengers to be worried about the safety of Aeromexico. Investors had negative expectations on its stock performance.
(2) Stock price trends after COVID-19 and before reorganization
In January 2020, Centers for Disease Control and Prevention (CDC) reported the first laboratory-confirmed case of the 2019 Novel Coronavirus in the U.S. From Figure 3, because outbreak of COVID-19, both the Mexican market and Aeromexico' stock price went down heavily from January 2020.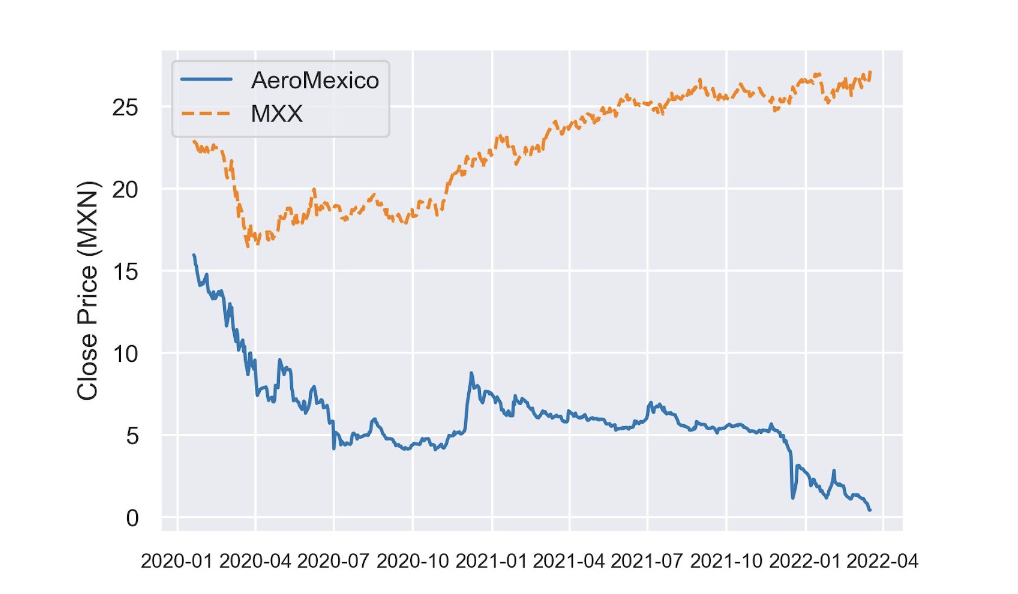 Figure 3 Aeromexico's stock price after COVID-19 and before reorganization
In April 2020, the whole Mexican market began to recover while Aeromexico's stock price kept falling. 
Then in June 2020, Aeromexico filed for bankruptcy after the COVID-19 pandemic slashed travel demand.
At the beginning of March 2022, Grupo Aeromexico shares plunged for a fourth day in a row after nearly a fifth of the company's capital was sold at 1 cent a share through a public offering as part of its restructuring plan to exit bankruptcy.
(3) Stock price trends after reorganization
On March 18, 2022, Aeromexico emerged from bankruptcy protection. It planned to spend $5 billion over the next five years on fleet modernization and other upgrades. Due to this positive news, Aeromexico's stock price grew to a height at 373 pesos (Figure 4).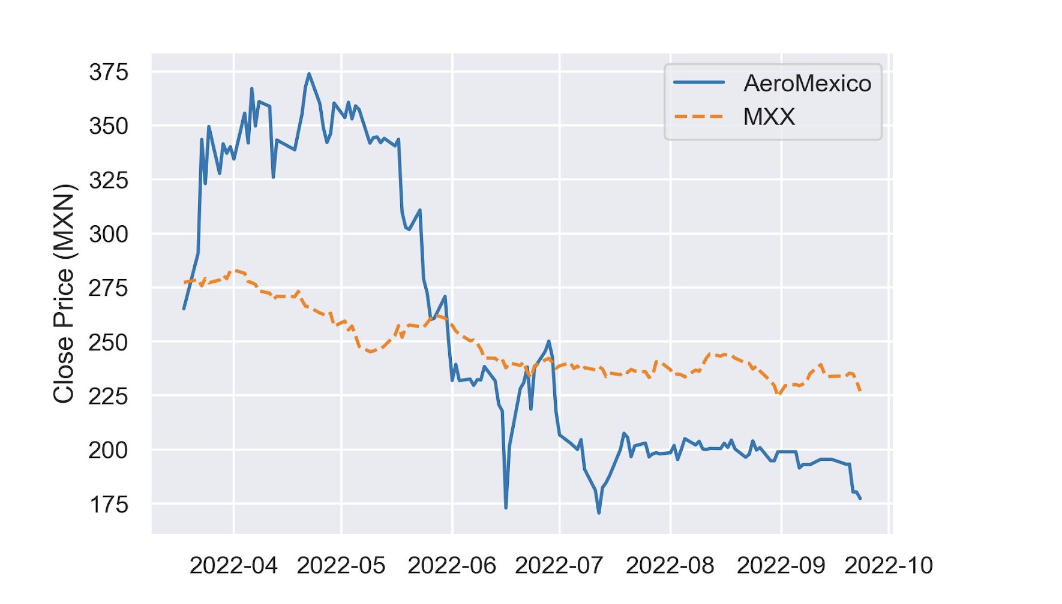 Source from yahoofinance
Figure 4 Aeromexico's stock price after reorganization
From May 2022 to June 2022, stock prices in airline Aeromexico fell drastically to 175 pesos after the company said it had requested permission from the country's securities regulator to initiate a share buyback program as part of its move from the national market onto a U.S. stock exchange.
2 Stock Price Moving Average Analysis
Moving averages are widely used in finance to determine trends in the market. We analyze three most popular types of moving averages based on trading data of Aeromexico: (1) the simple moving average (SMA), (2) the cumulative moving average (CMA), and (3) the exponential moving average (EMA).
2.1 The simple moving average (SMA)
The simple moving average is the unweighted mean of the previous M data points. The selection of M (sliding window) depends on the amount of smoothing desired since increasing the value of M improves the smoothing at the expense of accuracy.
As mentioned in the previous analysis, there was a huge price gap caused by reorganization on March 18, 2022. To visualize trading data and moving average clearly and precisely, we conduct moving average analysis based on data after Aeromexico's restructuring. 
With Pandas package in Python, we compute the simple moving average over a period of 10 and 20 years which are the size of rolling windows, selecting in all cases a minimum number of periods of 1. Then we add the results data to the existing data frames, as shown in Table 3.
Table 3 Stock price moving average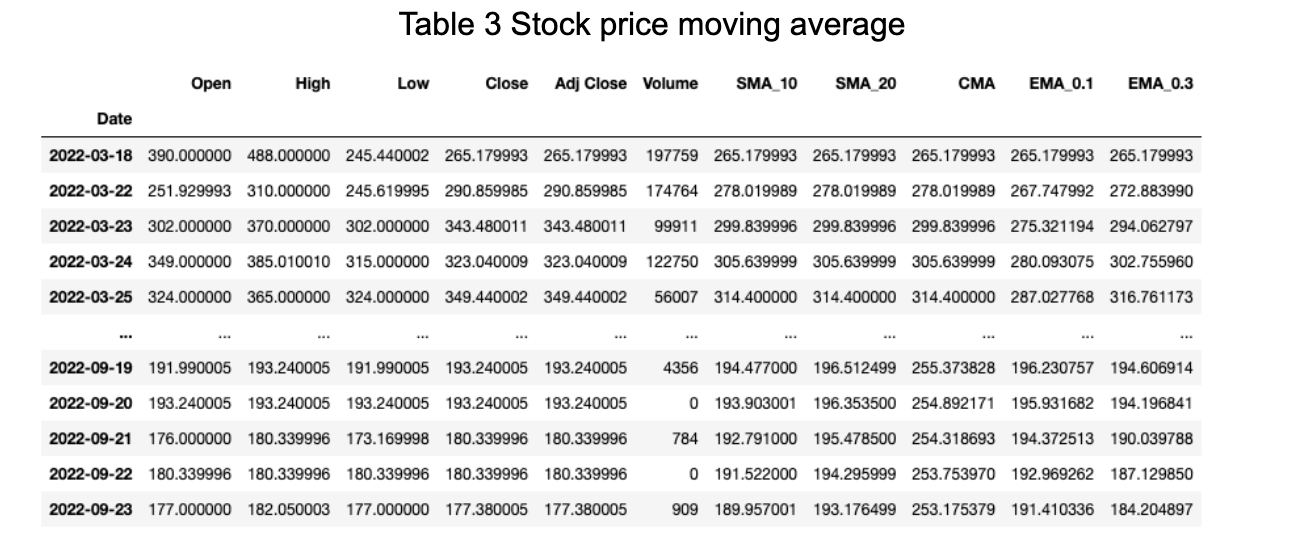 The following line plot (Figure 5) shows Aeromexico's stock price together with the 10 and 20-year moving averages.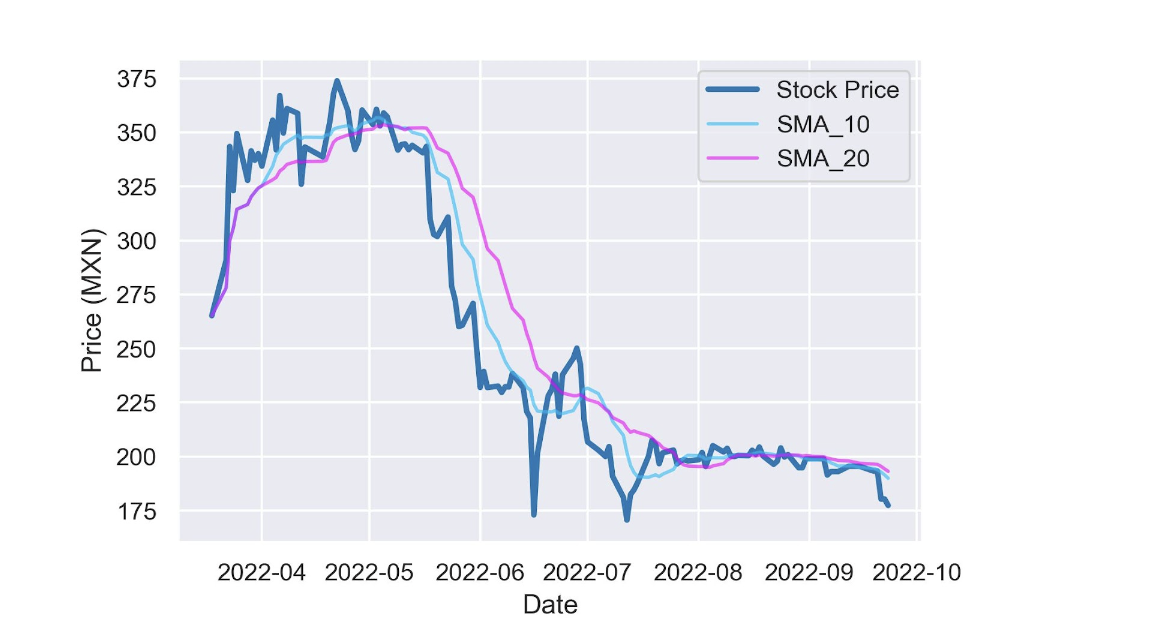 Figure 5 Aeromexico stock price SMA
We can conclude that SMA has good effects in reflecting futures stock trends. Notice that SMA has the same direction and changing trends as stock prices. Near the intersection of 10-year and 20-year moving averages, there would be a change of direction on stock prices. But it sometimes lags in time. So SMA is able to visualize trends properly but is not really good at predicting direction of price trends.
2.2 The cumulative moving average (CMA)
The Cumulative Moving Average is the unweighted mean of the previous values up to the current time t. The simple moving average has a sliding window of constant size M. On the contrary, the window size becomes larger as the time passes when computing the cumulative moving average.
Likewise, we calculate the cumulative moving average with Pandas, adding the results to the existing data frames (Table 3). The following plot (Figure 6) shows the cumulative moving average of Aeromexico's close stock price.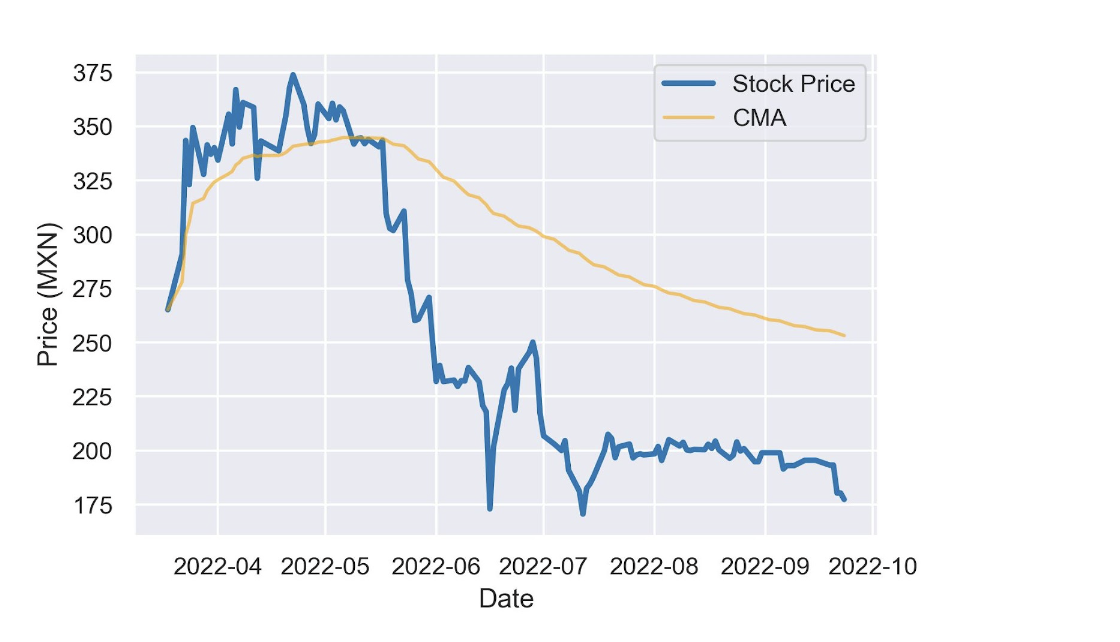 Figure 6 Aeromexico stock price CMA
From Figure 6, the cumulative moving average deviated from stock prices after May 2022. The cumulative moving average takes into account all the preceding values when calculating the average. For this reason, they are a non-ideal option to determine price trends, especially with long time series.
2.3 The Exponential Moving Average (EMA)
The exponential moving average is a widely used method to filter out noise and identify trends. The weight of each element decreases progressively over time, meaning the exponential moving average gives greater weight to recent data points. This is done under the idea that recent data is more relevant than old data. Compared to the simple moving average, the exponential moving average reacts faster to changes, since it is more sensitive to recent movements. In the algebraic formula to calculate the exponential moving average, there is a smoothing parameter "alpha" which has a value between 0 and 1, representing the weighting applied to the most recent period.
We compute the exponential moving averages with a smoothing factor of 0.1 and 0.3. As before, we add the EMA to the existing data frames (Table 3).
As shown above (Figure 7), the EMA with a weighting factor alpha 0.3 has more similar trends to stock price, which results in a quicker response to recent changes.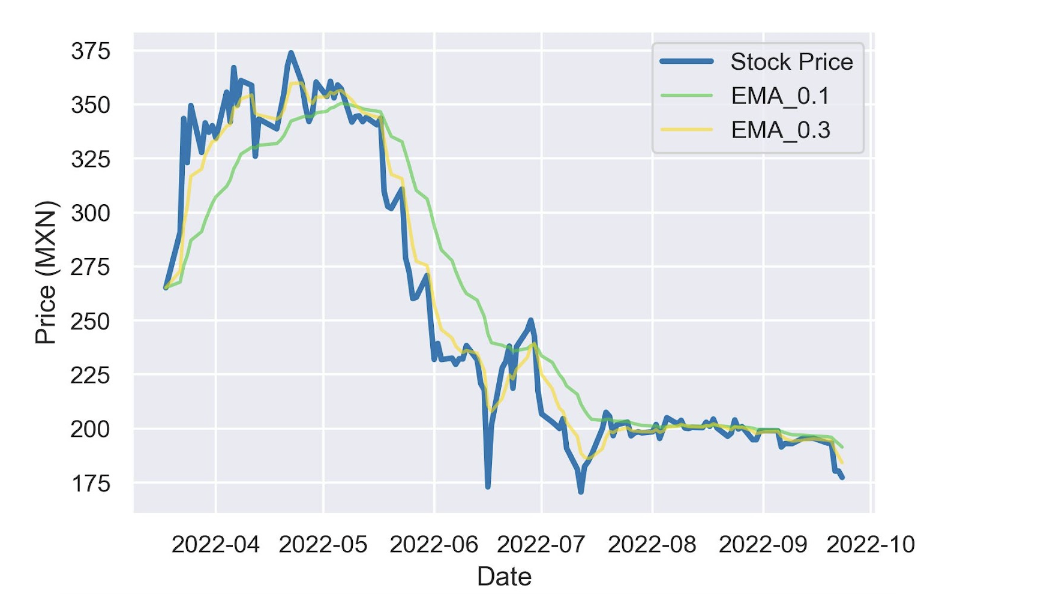 Source from yahoo finance
Figure 7 Aeromexico stock price EMA
To sum up, the exponential moving average with smoothing factor 0.3 is a relatively better method for determining direction of stock price.
 Price/Earning Ratio 5 Years
Price/Earning ratio (P/E) is a really important indicator that shows how investors value the profitability of the underlying company. Investors use the market value per share in relation to earnings per share to find the ratio.
There are two purposes for P/E analysis: (1) comparing among one company's historical data and (2) comparing among sectors.
3.1 P/E analysis among Aeromexico's historical data
The purpose of this kind of P/E analysis is to know if a company is undervalued or overvalued from past to now.
From the income statement of Aeromexico, we find that annual EPS from 2019 to 2021 were negative, so the P/E in this time horizon is expressed as N/A and cannot be compared. Therefore, we collect 5 years annual P/E of Aeromexico from 2014 to 2018.  
It can be seen from Table 4 that P/E of 2018 is at the lowest level in five years historical P/E. This lower ratio indicated that growth of Aeromexico was slow in 2018. Investors had dim prospects on earnings performance. It was reasonable when we look at the stock price of Aeromexico at that period. The price dropped from 2017 and didn't seem to recover in 2019.
Table 4 P/E ratio comparison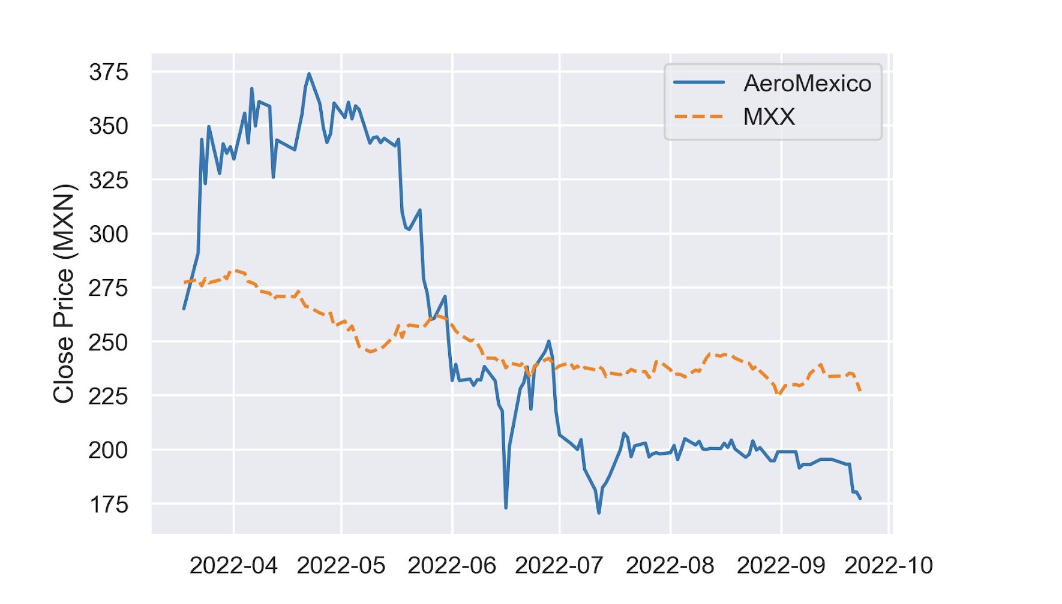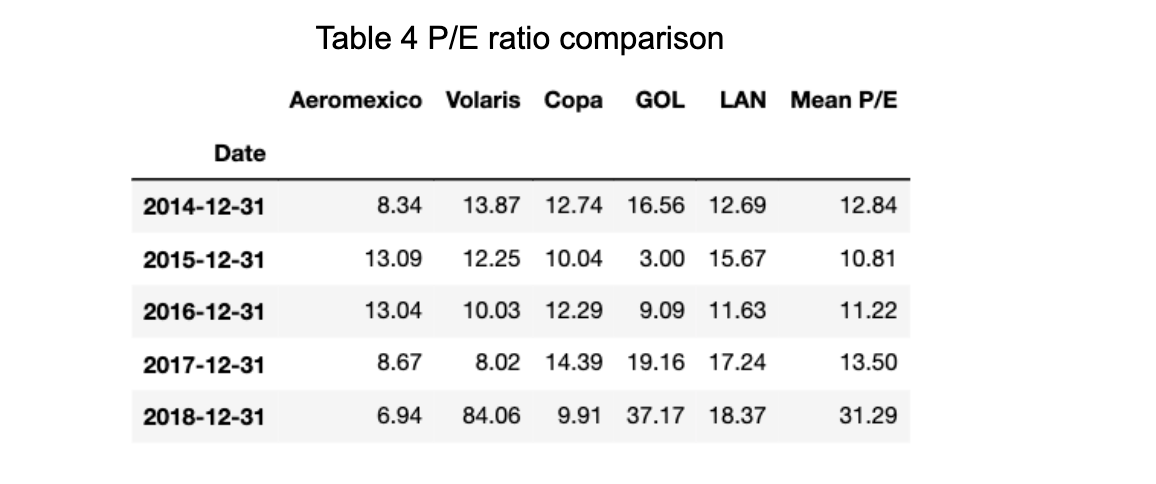 Source from yahoofinance
3.2 P/E analysis between airline companies.
In addition, we compare Aeromexico's current P/E to that of other companies in the same industry. So we collect P/E of its comparable companies among the airlines sector and merge them with Aeromexico's P/E into one table. Four competitors are included. One of the domestic competitors Volaris is a Mexican low-cost airline which is mentioned in the previous Competitive Analysis part. Copa Airlines, GOL Intelligent Airlines, and LAN Airlines are three major airline groups in Latin America.
Figure 8 shows the comparison of 5 years P/E among Aeromexico and its four competitors. Notice that Aeromexico's P/E was above the average P/E in 2015 and 2016. At that time, the stock might be overvalued. Investors expected higher earnings growth in the future compared to the average.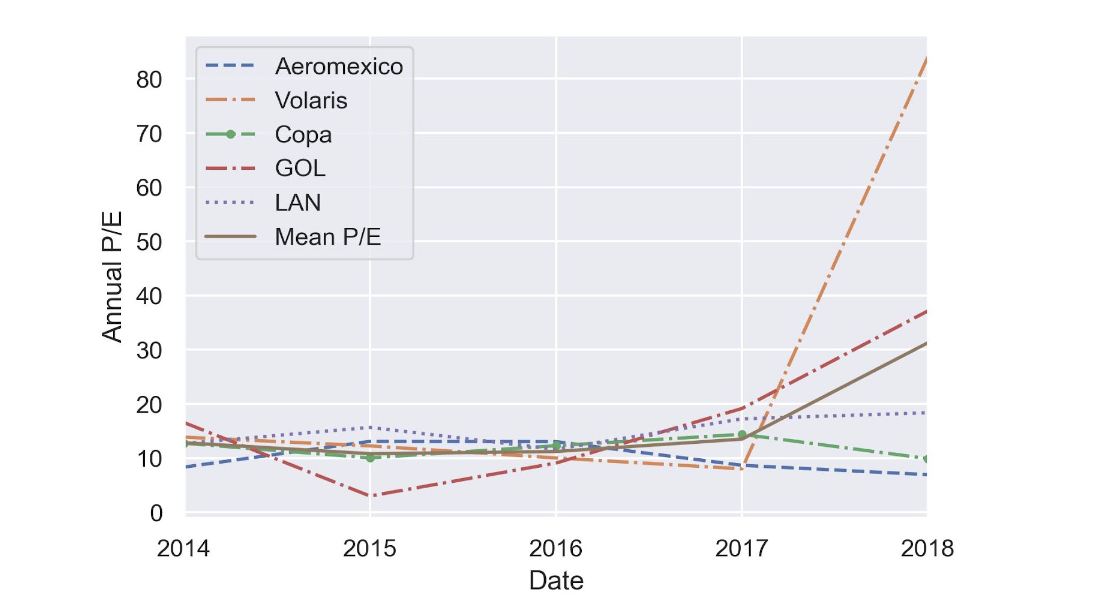 Figure 8 P/E ratio comparison
In 2017 and 2018 Aeromexico's P/E was below the average P/E. In 2018, P/E of Aeromexico was the lowest when compared with its competitors. It indicated that investors didn't hold positive prospects on Aeromexico's future earnings.
However, Aeromexico's P/E is expressed as N/A after 2020 when it filed for bankruptcy. This is because P/E ratios are calculated as negative numbers, which do not have any meaning. The negative part of P/E ratio comes from the fact that the earning per share (EPS) of the company is negative.
Therefore, we turned to use price-to-sales ratios (P/S) to value stocks in the next part.
4 Price/Sales Ratio 5 Years
Price-to-sales (P/S) ratio is calculated by taking a company's market capitalization and dividing it by the company's total sales or revenue over the past 12 months. P/S shows how much the market values every dollar of the company's sales. This ratio can be effective in valuing growth companies that have yet to turn a profit or have suffered a temporary setback. We know that Aeromexico didn't earn profits after its bankruptcy, its P/E ratio does not have meanings, so we use P/S ratio analysis here.
Table 5 P/S ratio comparison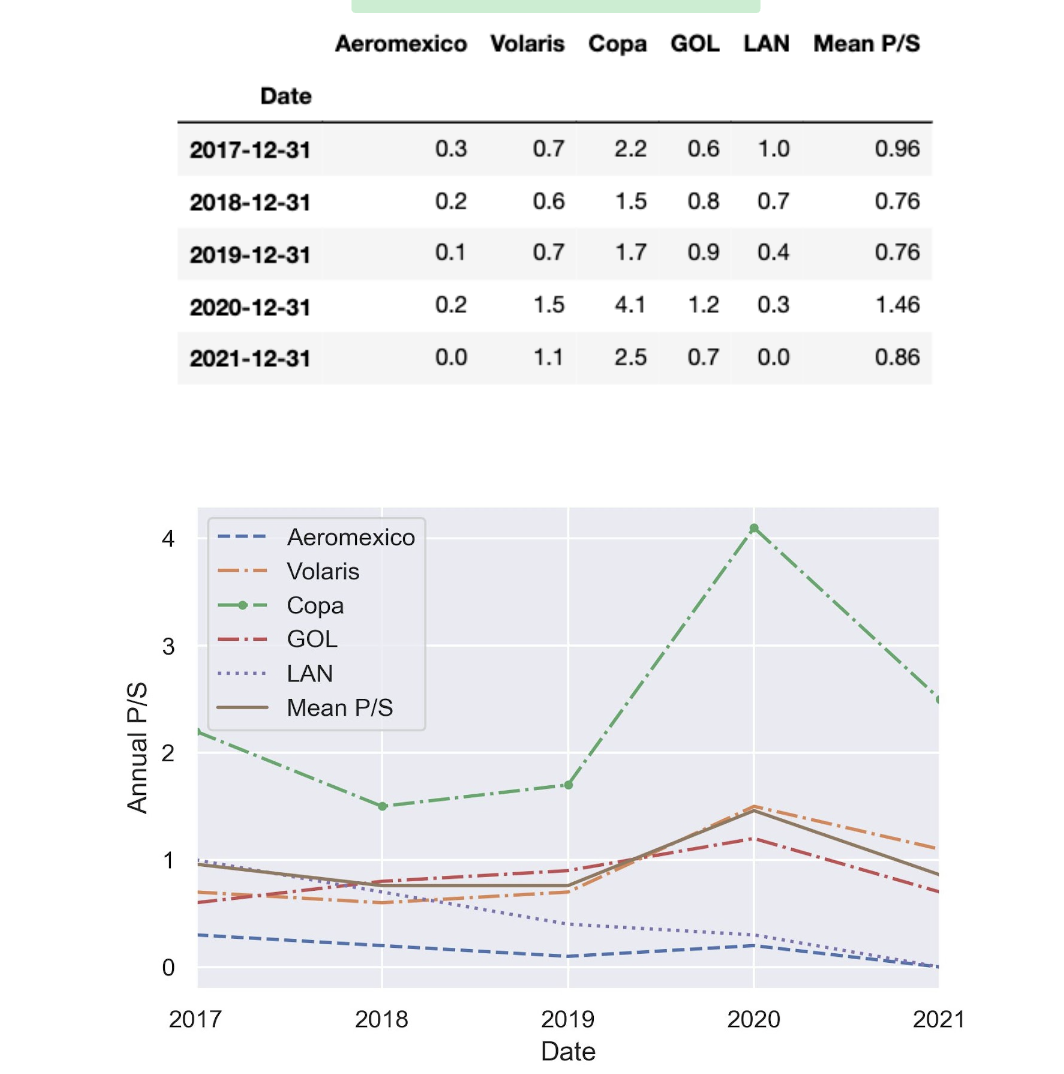 Figure 9 P/S ratio comparison
We collect 5 years annual P/S ratios of Aeromexico and its four competitors (Volaris, Copa Airlines, GOL Intelligent Airlines, and LAN Airlines) from 2017 to 2021. Table 5 shows the comparison of 5 years P/S among Aeromexico and its four competitors. The change trends are visualized in Figure 9. Notice that Aeromexico's P/S ratios in the past 5 years are below its comparable companies in the same industry that are profitable. From 2017 to 2020, Aeromexico's P/S ratios kept at a low level. Then after 2020 when Aeromexico filed for bankruptcy, its P/S ratios continued to drop down at a near zero level. Therefore, Aeromexico and its stocks were undervalued. However, its comparable company Copa Airlines was relatively overvalued. We can also conclude that if Aeromexico can turn its operation status on the right track after emerging from bankruptcy, its shares will have substantial upside as the P/S becomes more closely matched with those of its peers.
The NYSE Arca Global Airline Index ("AXGAL" or "Index") is a modified equal- dollar weighted index designed to measure the performance of highly capitalized and liquid international airline companies. The Index tracks the price performance of selected local market stocks or ADRs of major U.S. and overseas airlines. The Index was established with a benchmark value of 1000.00 on November 27, 2006. The index values are published by the NYSE Euronext Inc ("Index Provider"), the value of the Index is published every 15 seconds through the Consolidated Tape Association's Network B under the ticker symbol "AXGAL".
Aeromexico overperform  S&P 500 and XAL since March 06 2022 due to bankruptcy exit.

Pandemic and international conflict are making the airline industry more volatile.
Targeted Customers
The targeted customers of Aeromexico are national and international passengers from corporations and several governmental entities, who choose the service based on different decisions, such as route, schedule, cost, etc. As of December 31, 2020, Aeromexico operated more than 283 passenger flights per day, flying to 41 national destinations and 31 international destinations from Mexico. The volume of passengers was approximately 28,236,461 passengers for domestic flights in Mexico and approximately 19,843,156 passengers for international flights, according to the AFAC4 (Civil Aviation Authority), for the year ending December 31, 2020.
How do they acquire Targeted Customers?
1. Indirect Distribution Channels
Travel agencies are the primary indirect source of ticket distribution for Aeromexico. Indirect ticket sales by travel agencies represented 46.2% of purchased flight segments during the year ended on December 31, 2020. Aeromexico pays travel agencies a standard commission fee of between 0.1% and 12% for selling their flight tickets. Certain travel agencies also signed agreements with Aeromexico so that they can get performance incentives of between 1% and 7% based on volumes of ticket sales.
2. Direct Distribution Channels
Aeromexico also sells plane tickets and additional products directly to customers on the website, through call centers, or in plant travel stores. Revenue from ticket sales through the website represented 26.1% of passenger revenue for the year ended on December 31, 2020. Revenue from the sale of tickets through the call center represented 12% of the flown income of Aeromexico in 2020.
What type of marketing does the company do to increase their brand recognition?
1. Relationship with Delta Air Lines
Aeromexico has a close business relationship with Delta Air Lines in the form of: reciprocal Codeshare agreements, frequent flyer reciprocity, access privileges to VIP lounges shared with Delta Air Lines, and our Joint Cooperation Agreement (JCA) between Mexico and the United States. The relationship is unique for a Mexican airline. Especially the JCA helped Aeromexico establish the largest cross-border partnership between Mexico and the United States, and expand competition and benefits to customers of both airlines.
2. Membership in SkyTeam
Aeromexico is a founding member of SkyTeam. The membership offers the possibility of entering into codeshare agreements, reciprocity in the frequent-flyer programs, access to VIP lounges, and the ability to carry out shared marketing activities.
3. Club Premier
"Club Premier" is a loyalty program of Aeromexico. It continues to give added value to its customers through the addition of new partners and methods of earning and redeeming points. It allows its members to use and accumulate Premier Points to apply for flights, hotels, car rentals and purchases in some retail stores. With Club Premier, Aeromexico can retain old customers and attract new customers. Aeromexico also strengthens the brand through the American Express and Santander co-branded credit cards.
Aeromexico sees itself as a leading airline in Mexico and the first choice among business passengers. It focuses primarily on satisfying the travel needs of business passengers in Mexico's growing economy. According to its financial reports of 2021, it had a 25.3% share of the domestic Mexican market and an 11.3% share of the international market.
According to airlineratings.com, Aeromexico has been rated 7 stars for its Covid-19 Compliance. The rate is based on the following criteria:
COVID-19 website information and instructions
Social distancing on boarding

Flight attendant Personal Protection Equipment

Face masks compulsory

Meal service modified

Passenger Sanitizer Kit

Deep clean of aircraft
Delta and the March 10, 2017 acquisition of 32% of the issued share capital of Aero Mexico for $53 per share, upon completion of the acquisition, Delta Air Lines owns 36.2% of the outstanding shares of Aero Mexico and an additional 12.8% options, as well as obtaining the required regulatory approvals in Mexico.
AeroMexico purchased a 48.9% stake in PLM Premier, owner and operator of its Club premiere division, on July 15, 2022, making PLM a wholly-owned subsidiary of the airline. Aimia Holdings UK Limited and Aimia Holdings UK II Limited will receive approximately $531 million in net cash proceeds following the completion of the PLM transaction.