Company Overview
United Airlines Holdings, Inc. is a publicly traded airline company headquartered in Chicago, IL. In 1929, these two entities Boeing Air Transport (est. 1927) and Pratt & Whitney(est. 1925) consolidated and formed United Aircraft and Transportation Corporation (UATC), which subsequently acquired various airlines at the time and later formed United Air Lines, Inc. as a holding company. The predecessors to the formation of the current structure responded to the United States Post Office Department's call to transport air mail over certain routes across the United States.
In 2010, United Air Lines merged with Continental Airlines to form United Continental Holdings, which later changed its name to United Airlines Holdings Inc. in 2019.
Founders
Varney Air Lines (VAL): Walter Varney in 1925, created in response to the Kelly Act, which encouraged USPOD to contract private airlines to carry mails over certain routes
Boeing Airplane and Transport Corporation (Boeing): William Boeing in 1927, created to operate air mail routes under USPOD contract
Pratt & Whitney (P&W): Federick Rentschler, aerospace manufacturer
United Aircraft and Transport Corporation: post-merger entity of Boeing and P&W
Board of Directors
Edward M. Philip (Financial Expert), former COO of Partners in Health, a global non-profit healthcare organization. Previously served as Special Partner and MD of Highland Consumer fund, a consumer-oriented investment fund. Mr. Philip also founded Lycos, Inc., an internet search company. He also served as VP of Finance at The Walt Disney Company, as well as experiences as an investment banker.

Chair of the Executive Committee
Member of the Audit Committee
Chair of the nominating/Governance Committee

Carolyn Corvi, former VP and GM of Airplane Programs at The Boeing Company with more than 30 years of industry experience. She also serves on the board of directors of Allegheny Technologies Incorporated and of Hyster-yale materials Handling, Inc.

Chair of the Finance Committee
Member of the Executive Committee
Member of the Compensation Committee

Matthew Friend (Financial Expert), EVP and CFO of NIKE, Inc. Mr. Friend oversaw the operating segments of NIKE and was the VP of Investor Relations prior to his current role. Before his operating experience, Mr. Friend served as Senior Director of Corporate Strategy and Corporate Development. He is a member of Nike's executive leadership team and is the senior management representative to the Audit and Finance Committee of the Nike, Inc. Board of Directors. Mr. Friend has served UAL since Dec. 2021

Member of the Audit Committee
Member of the Compensation Committee

Michael Hamilton, Master Chairman of United Master Executive Council of Airline Pilots Association International, representing over 14,000 pilots of UAL. Mr. Hamilton served as the VP of the Airline Pilots Association Executive Council, among other roles. Mr. Hamilton is also a decorated pilot and instructor with more than 25 years of experience.
Barney Hartford, former COO of Uber Technologies, Inc. Before that, Mr. Hartford served as CEO and a director of Orbitz Worldwide, as well as various roles at Expedia, Inc.

Member of the Finance Committee
Member of the Audit Committee
Member of the Public Responsibility Committee

Michele J. Hooper (Financial Expert), President and CEO of The Director's Council. Ms. Hooperserved as President and CEO of Voyager Expanded Learning and of Stadtlander Drug Company, Inc. She also served as Corporate VVP of Caremark International Inc. and President of Caremark's International Business Group. She began her career at Baxter International and has more than 25 years of corporate board experience.

Member of the Executive Committee
Chair of the Audit Committee
Member of the Nominating/Governance Committee

Walter Isaacson, professor of history at Tulane University, and Advisory Partner at Perella Weinberg Partners. Mr. Isaacson also served as the president and CEO of The Aspen Institute, Chairman and CEO of CNN.

Member of the Executive Committee
Chair of the Public Responsibility Committee
Member of the Nominating/Governance Committee

Richard Johnsen, Chief of Staff to the International President of International Association of Machinists and Aerospace Workers, a career union man.
James A. C. Kennedy: former president and CEO of T. Rowe Price Group, Inc., which doubled its AUM during his tenure. Bachelor at Princeton and MBA at Stanford.

Member of the Finance Committee
Member of the Compensation Committee

Scott Kirby, CEO of UAL. Prior to joining UAL, Mr. Kirby was the president of American Airlines and the president of US Airway pre merger. Mr. Kirby started his career at the Pentagon

Member of the Finance Committee
Member of the Executive Committee

Edward J. Shapiro, former managing partner, PAR Capital management, Inc. Prior to his position at PAR, Mr. Shapiro was the VP at Wellington Management Company, and an analyst at Morgan Stanley before that.

Member of the Finance Committee
Member of the Public responsibility Committee
Member of the Nominating/Governance Committee

James M. Whitehurst, president of IBM Corporation. He was also the CEO of Red Hat, Inc., a leading provider of open source enterprise IT products and services. Mr. Whitehurst also served various roles at Delta Air Lines, Inc. Before Delta, Mr. Whitehurst served corporate development leadership roles at the Boston Consulting Group.

member of the executive committee
Chair of the Compensation Committee
Member of the Nominating/Governance Committee

Laysha Ward, EVP and Chief External Engagement officer at Target Corporation. With more than 30 years of leadership experience at Target, Ms. Ward began her career at Marshall Field's Chicago.

Member of the Public Responsibility Committee
Member of the Nominating/Governance Committee
Executive Team
Brett J. Hart, President (May 2020 – present): before joining UAL in 2009, Mr. Hart was the Deputy General Counsel and Chief Global Compliance Officer of Sara Lee Corporation, the consumer goods company. Since 2009, Mr. Hart has taken various roles in the executive team, including Executive Vice President, General Counsel, Chief Administrative Officer, Interim Chief Executive Officer and principal executive officer, and President.
J. Scott Kirby, Chief Executive Officer (May 2020 – present): worked for American Airlines Decision Technologies and at Pentagon, Mr. Kirby served various executive positions and president at numerous airliners, including US Airways (pre-merger,) American West (pre-merger,) and American Airlines.
Gerald Laderman, Executive Vice President and Chief Financial officer (Aug 2018 – present): served as senior director of legal affairs, finance, and aircraft programs at Continental Airlines, Mr. Laderman joined UAL in 2010 and has served numerous executive positions, including Senior VP of Finance and Treasurer, Senior VP of Procurement, and acting CFO.
Jonathan Roitman, Executive Vice President and Chief Operating Officer (Sept. 2020 – present): an army veteran, Mr. Roitman was the manager of business development for BWAB Incorporated, a real estate development and oil and gas production firm before joining Continental Airlines and served on various positions of the executive teams. During his time at UAL, Mr. Roitman served as Senior VP of airport operations, catering operations, network operations, and Chief Operating officer.
Andrew Nocella, Executive Vice President and Chief Commercial Officer (Sept. 2017 – present): Before joining UAL, Mr. Nocella served multiple executive roles as US Airways (pre-merger) and American Airlines. At UAL, Mr. Nocella served as EVP and Chief Revenue Officer prior to his current position.
Linda P. Jojo, Executive Vice President and Chief Digital Officer (May 2017 – present): Before joining UAL, Ms. Jojo served as Chief Communications Officer as Energy Future Holdings, a Dallas -based energy company and Rogers Communications, Inc., a Canadian communications and media company.
Torbjorn (Toby) J. Enqvist, Executive Vice President and Chief Customer Officer (Jun. 2021 – present): Prior to his current position, Mr. Enqvist served as VP of Airport Innovations, SVP of customer solutions and Recovery, SVP of Network Operations and Customer Solutions.
Kate Gebo, Executive Vice president Human Resources and labor Relations (Dec. 2017 – present): prior to her current position, Ms. Gebo served as VP of Corporate Real Estate of United, VP of the Office of the CEO of United, SVP of Global Customer Service Delivery.
Product Positioning
Passenger: Passenger revenue accounted for nearly 84% of total revenue for the fourth quarter in 2021.
Ticket sales for passengers
Ancillary fees such as premium seat fees, baggage fees and inflight amenities fees
Cargo: Cargo revenue comprised nearly 9% of total revenue for the fourth quarter in 2021.
The service is provided to commercial businesses, freight forwarder and logistic firms, and the United States Postal Service.
Increase in cargo revenue during the pandemic.
Launched cargo-only flights in 2020, but the company expected to reduce and eventually cease these cargo-only flights as long-haul passenger demand increases in the post-pandemic period.
Other: Other revenue represented over 7% of the company's total revenue for the fourth quarter in 2021.
Third-party businesses: maintenance services, flight academy, frequent flyer award; non-travel redemptions, and ground handling.
Competitive Analysis Globally
| | | | | |
| --- | --- | --- | --- | --- |
| | EBIT | Liquidity ratio | D/E ratio | Cash on Hand |
| United Airlines | $-1.022B | 1.04x | 18.05 | $18.443B |
| Delta Airline | $1.886B | 0.65x | 23.66 | $9.955B |
United Airlines has lower EBIT than Delta, suggesting that it hasn't been able to recover from the pandemic yet and generate profits.
The liquidity (current) ratio of United Airlines is higher than Delta, so it has a more significant margin of safety with regard to its ability to pay off debt obligations in the short term and is less likely to face financial hardships.
Debt to Equity ratio is lower for United Airlines than Delta, indicating that it is less risky in use of debt. However, the high D/E ratio could be a financial burden for the company in the long term.
United Airlines has almost twice as much cash on hand as Delta, and experiences a continuous growth of cash on hand even during the pandemic. Thus, UA has greater potential for M&As and faces less risk to meet its obligations. However, more cash on hand may imply that UA invests less on the capital expenditures, which will limit its growth potential.
Risk Management

Risk modeling in 5 year frame
A rising trend of risk level from various reasons
COVID-19 increased risks levels mainly in 2020
Financing issues contributed the most to the risk level in 2021
High risk levels prevail for aviation industry because of its strong reliance on fuel prices and intense market competition
Current Balance Sheet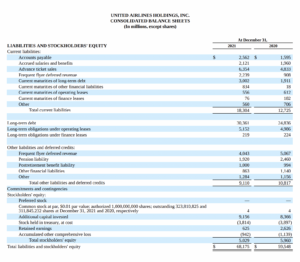 Debt leverage continued to grow in last two years
Raising investments in sustainable air mobility solutions
Gradually selling off investments and holding cash to reduce the hit of market volatility
A negative return on assets 2021
Capitalization Requirements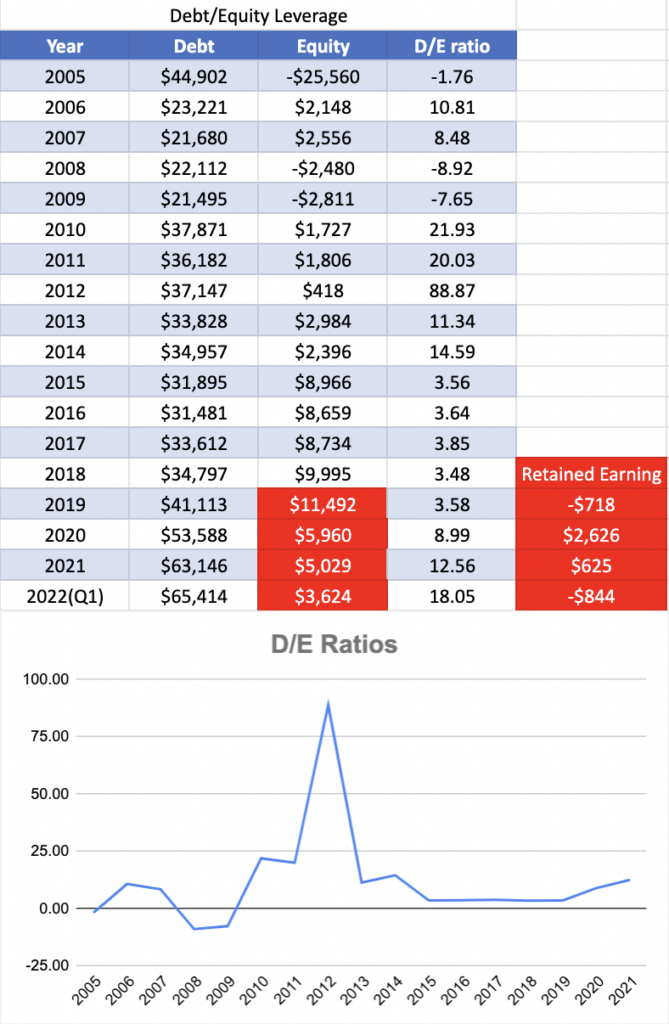 The two figures above calculates the debt to equity ratio of United Airlines starting from 2005
Exceptionally high debt leverage in 2012 because of the merger with Continental Airlines
Debt leverage ratio continued to be unhealthy, indicating that the company inclines to the more risky debt financing
Ratio continued to grow from 2020 as a result of the pandemic. Since then the company's equity has depreciated and retained earnings are of poor performance
Current Capital Structure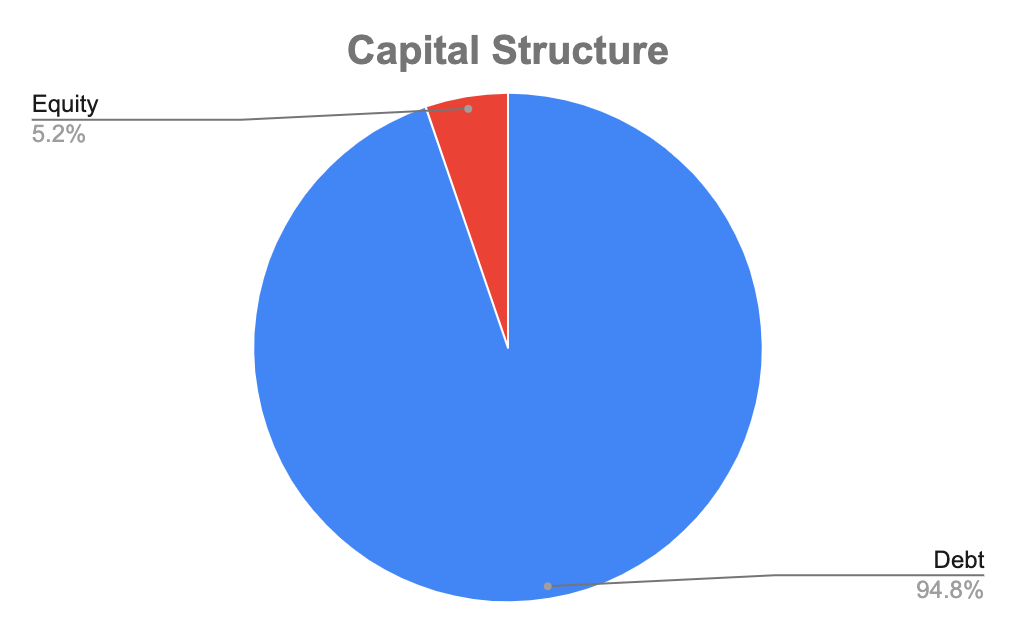 United Airlines' capital structure as of 1st quarter, 2022 has been relied heavily on debt financing
94.8% of capital of the company is financed by debt while only 5.2% is financed by equity
Very risky when it comes to potential insolvency
Breakeven Analysis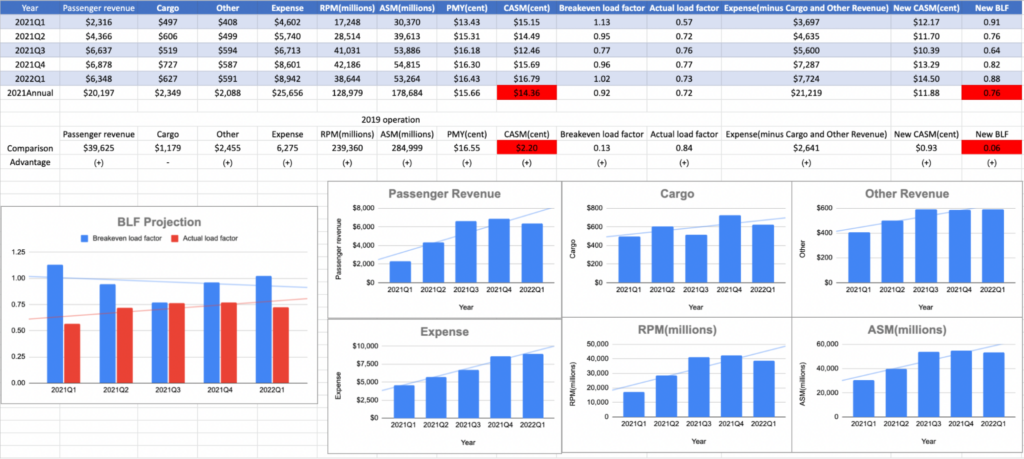 Above is the breakeven analysis of United Airlines. From this, it is easy to tell from the breakeven load factor that how much passengers the company needs to cover its cost
BLF Projection shows that the breakeveen load factor is always higher than the actual load factor which means the company is not covering its costs
CASM (Cost per available seat mile) in 2021 is $14.36, which is almost 7 times of the CASM in 2019 ($2.20)
Breakeven load factor in 2019 was 6% and it is 76% for 2021
Risk should be considered since there are potential operational issues causing a severe increase in the required load factor
Cash Holdings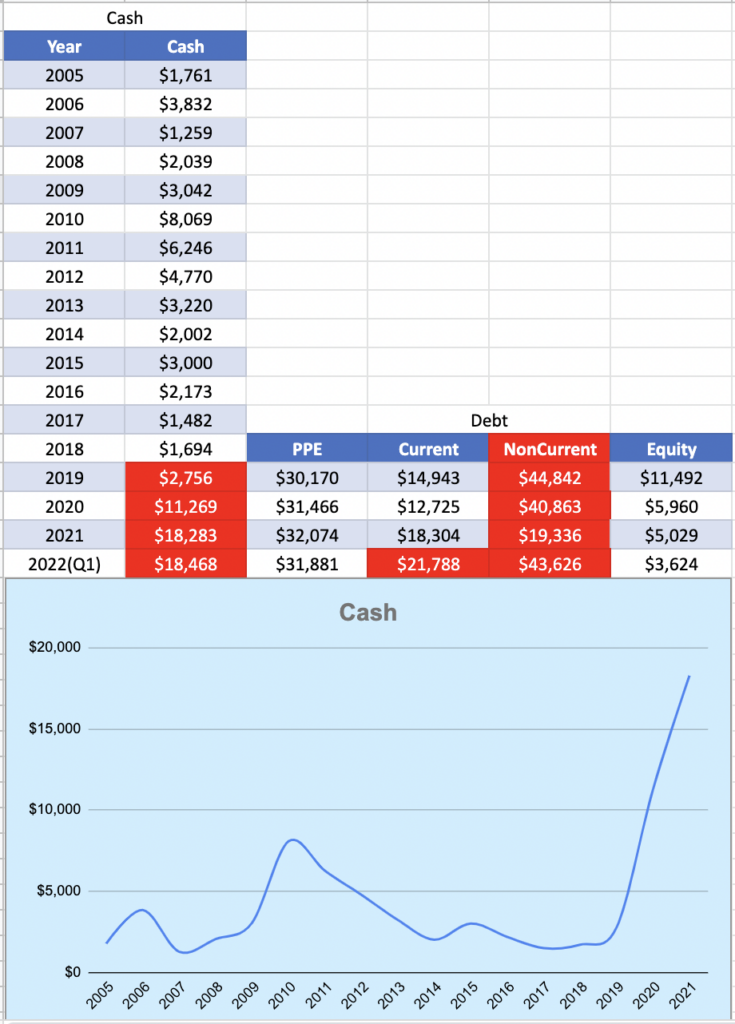 Data above integrates the cash holdings of United Airlines from its IPO with a plot
High cash holdings before 2012 to prepare for the merger
Very high cash holdings in recent 3 years in response to the volatile market and solvency issues
Comparing the cash holdings with the debt payments, the red areas signals a potential insolvency because the cash can barely repay the current debt
Cash Flow Projections

Negative EBIT in the post-covid period suggests that United Airlines has not fully recovered from the impact of Covid-19 yet.
Running the DCF model on the negative EBIT may fail to represent the actual future trend of cash flows, but it could provide some insights about the company's performance in the post-covid period.
Projecting the cash flow for the next five quarters, the estimated value per share is $41.27, which is higher than the current market price. It implies that United Airlines has the growth potential after Covid-19.
Investors should consider other factors not directly reflected in the DCF model which will affect the valuation result. For example, people's strong desire to travel after the end of the lockdown may lead to a surge in demand for air tickets, thus the drastic revenue growth in the second half of 2021. However, the revenue growth rate will slow down when people gradually come back to normal life in the post-pandemic period.
Cash-flow Statements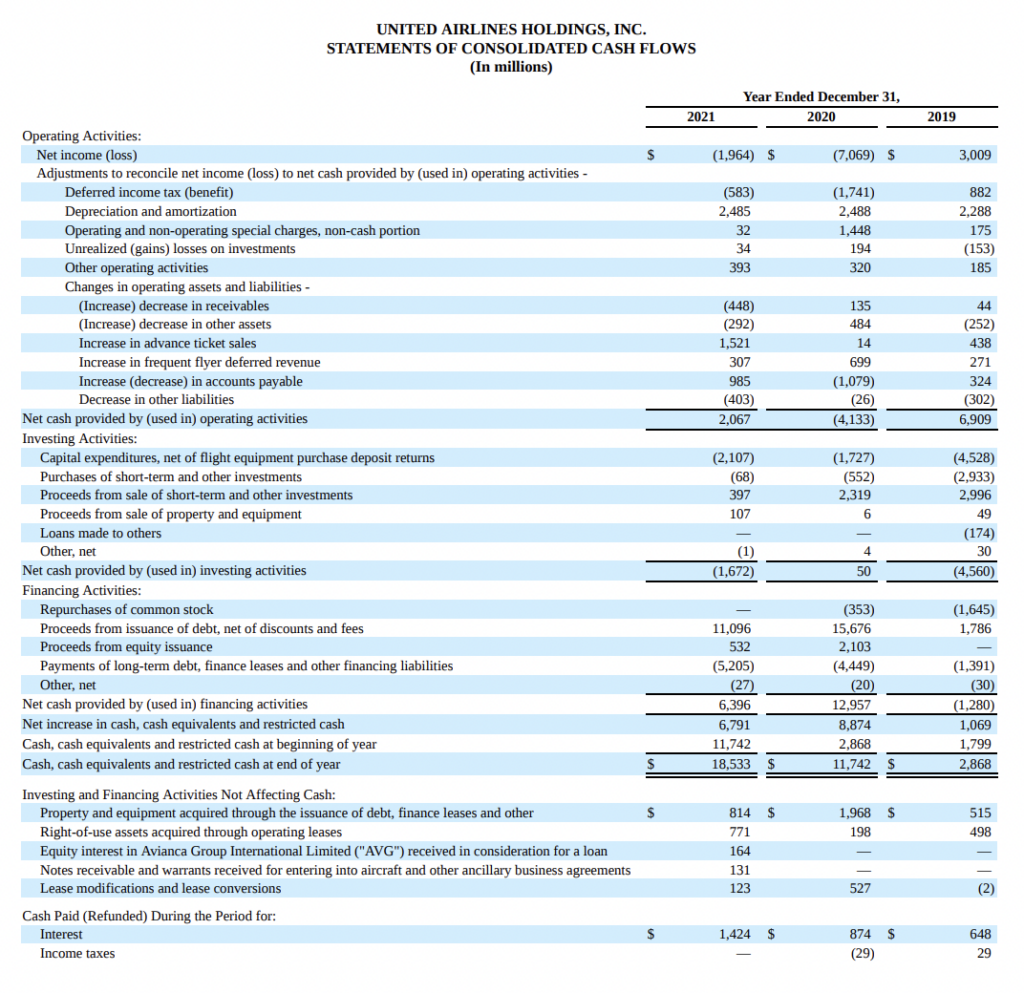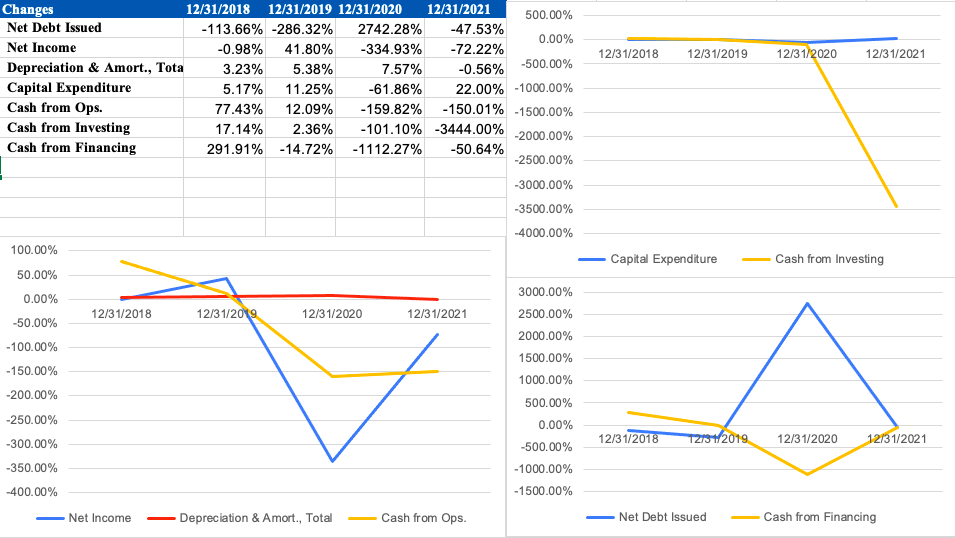 Source: https://ir.united.com/
Cash from operating, investing and financing all experienced sharp decreases in 2020. The company's cash flow was strongly impacted by the Covid-19 pandemic.
Shown from the graph above, some key factors affecting the company's cash flow are net income, depreciation amortization, capital expenditures and net debt issued.
United Airlines is recovering from the shock of Covid-19 in operating and financing activities, but the cash from investing continues to decline in the post-pandemic period. Moreover, if the net income continues to decrease, the company could not make profits and will be at the risk of bankruptcy.
Negative change in capital expenditure in 2020 indicates that United Airlines had issues with cash inflows and, hence, its purchase of capital assets.
The high net debt growth rate in 2020 implies that the company has less cash and cash equivalents than its financial obligations so it could be financially unstable.
Industry Average Valuation Multiples

Market capitalization and enterprise values of the three companies are close, so the scale of the companies are comparable.
Financial data like negative EBITDA and Net Income show that the airline industry has been strongly affected by the pandemic. United Airlines has a middling performance among its main competitors, which is better than American Airlines but worse than Delta Air Lines.
Looking at positive EV/EBITDA and Price/Book ratios which are meaningful, United Airlines has an average performance, but is still at the risk of being overvalued.
United Airlines has the lowest EV/Revenue ratio, indicating the worst revenue generating ability among its major competitors. It may be at the risk of not being profitable in post-Covid period when facing intense competition.
Stock Price Since IPO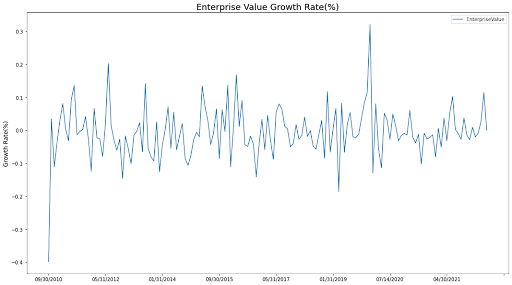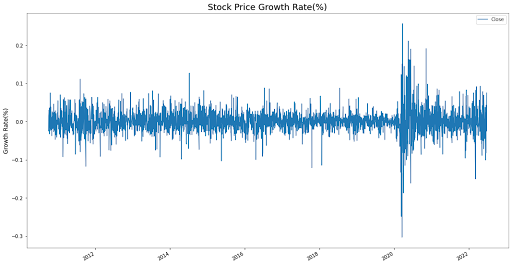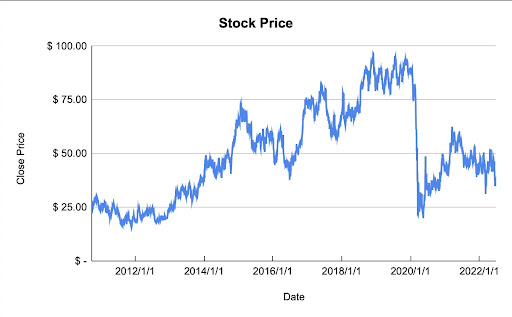 UAL's PUBLIC offering on the New York Stock Exchange took place on October 1, 2010. It was subsequently moved to NASDAQ on September 7, 2018.
Combined with growth Rate's image, we can see that the financial crisis in 2008 and COVID-19 in 2020 both caused the stock price to fluctuate greatly.
UAL's stock rose steadily between 2012 and 2020. And COVID-19 in 2020 caused both the travel industry and the airline industry to suffer economic and policy impacts, with stock prices plummeting. However, with the improvement of the epidemic situation and the relaxation of the policy, stock prices have gradually picked up the trend.
In combination with the growth rate of stock price, it can also be seen that the stock price in 2020 has a big shock. The growth rate of Enterprise Value peaked in 2020 and then declined sharply.
Index Analysis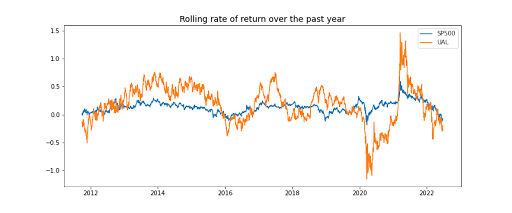 S&P 500 annual expected return rate: 12.01%
UAL annual expected return rate: 15.71%
Since the IPO, UAL's stock has outperformed the S&P 500 year-over-year, especially over the 2015-2020 period. However, due to the impact of COVID-19 in 2020, although the whole market only saw a small shock, UAL saw a significant slump.
Based on a rolling rate of return curve, UAL's liquidity has outperformed the market since 2017. Despite the fact that the 2020 pandemic has hit the airline industry hard. But soon after, in 2021, there was a brief stock price spike and the stock is back to normal now.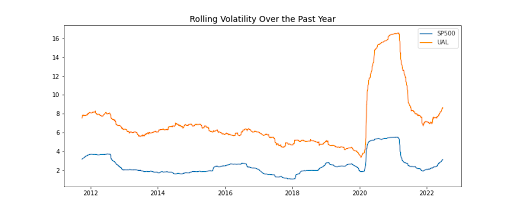 S&P 500 annual volatility rate: 276.54%
UAL annual volatility rate: 772.94%
UAL volatility has been significantly higher than the S&P 500, both in terms of the total annual average volatility over the past 22 years and the average volatility curve. Particularly with the onset of COVID-19 in 2020, volatility continues to grow dramatically and there are high risks.
Brand Positioning
UAL positions itself as a global transportation and cargo carrier, a premium airline with high quality services
Heavy focus on international routes relative to competitors, with ~40% of passenger revenue generated from international routes vs:
More spread-out hubs with lower passenger count and smaller hub footprint relative to competitors outside of Houston and San Francisco
A more expansive partnership program, Star Alliance, relative to competitors' One World and Skyteam, which contributed to higher flight and destination counts
Target Market Research
Target customer (high income individuals, corporates, business and leisure travelers)

Post 9/11: the main objective of the airline was to get people flying again, however with a main focus on business travelers and offers a range of products to cater both business and leisure needs – "It's Time to Fly"
2013 – 2022: global executives still account for the majority of UAL's revenue, and as technology advanced, customers' needs started to become diversified and a psychographic segmentation was used to determine target markets, with parameters such as social class, lifestyle, politics, behaviors, and etc. – "Fly the Friendly Skies" (redefined)
2022 – : as social movements progress and scandals appeared, although the core customer of UAL remains global executives, the company is gradually rebranding itself towards a more comprehensive service, with planned budget airlines to compete for market shares and a new ad campaign during the height of post-pandemic summer travel, UAL aim to expand its customer base while incorporating its core values of sustainability, diversity, and inclusion. – "Good Leads the Way"

Marketing Share
| | | |
| --- | --- | --- |
| Airlines | Domestic Market Share | International Market Share |
| United Airlines | 12.9% | 22.35% |
| American Airlines | 19.5% | 18.86% |
| Southwest Airlines | 17.4% | |
| Delta Airlines | 16.3% | 16.83% |
| Alaska Airlines | 5.4% | |
| Jetblue Airways | 5.3% | 2.89% |
| Spirit | 4.9% | |
| Skywest | 3.4% | |
| Frontier | 3.3% | |
| Hawaiian | 1.7% | |
| Other | 9.9% | |
UAL employs a range of marketing tools, from outdoor billboards to mobile advertising. In the wake of 9/11, UAL's marketing strategy consists of print advertising in business publishings such as the WSJ and animated TV spots iterating how UAL is not only  essential to businesses, it is also enjoyable and helps with the pressure in the back drop.
From 2013, on top of traditional marketing channels, UAL initiated customer shadows and surveys to better gauge consumer needs, not only for professionals but regular travelers as well, studying their buying and travel behaviors to improve their products. During the same time, with the rise of mobile technology, UAL became one of the first to have a mobile-optimized website and smartphone applications. During the years, UAL constantly improved on the UI and UX of its websites and mobile, as well as a hard push on advertising, significantly improved the traffic and utility of its online booking.
In 2022, UAL launched its new campaign following the pandemic and scandals it had endured, emphasizing on sustainability, diversity, innovation, and inclusion. The world is changing fast, with war in eastern europe causing fuel price increases and social movements across the world, the effectiveness of UAL's marketing strategy is becoming clearer
Type of marketing to increase recognition

Print ads in business journals and outlets
Outdoor billboards around major hubs
Television and streaming platforms for commercials
On-board screens and advertisement
Static displays in airports
Internationally, certain cities' underground system i.e. HK, London
Social media
Deals and offering for frequent and business flyers
Sponsored credit cards with mileage rewards
SWOT Analysis
Strength: 
One of the largest US-based airlines with a solid operational network. It has about 5000 flights a day to 300 destinations across 6 continents.
The company has a strong brand name, legacy, and recognition worldwide through extensive advertising via social media, TV commercials, etc.
The merger with United Continental Holdings strengthened its position in the airline industry.
The company provides great customer service including inflight entertainment like Wifi, movies, and onboard meals, and frequently takes feedback from users.
The flyer program called "MileagePlus" develops loyal customers by offering benefits like free tickets and discounts
Weakness: 
The company faces intensive competition domestically and internationally, which limits its market share growth.
It depends heavily on third-party for customer service, maintenance, and fueling operations.
It filed the largest airline bankruptcy in US history in 2002. Also, it struggles with negative net income due to the impact of Covid-19.
Negative passenger events have been reported and spread via social media, like physically dragging a passenger off the flight, which leaves a bad impression of United Airlines on the public.
Opportunities:
US economy is gradually recovering from the impact of Covid-19, so the higher purchasing power of people will lead to increase investment in travel.
The emphasis on sustainability, diversity, innovation, and inclusion following the pandemic could be an effective marketing strategy to expand its customer base.
United Airlines is a Star Alliance member airline that partners with many international companies, helping it explore new and unreached destinations.
Threats:
Potential customers are attracted by low-cost airlines offering discounted prices.
The rising oil price due to the pandemic and war leads to an increase in the company's key expense, which may also cause its air tickets to be more expensive.
The demand for air travel has sharply dropped because of the pandemic across the globe.
Government restrictions on international flights in some countries and emission regulations may also affect United Airlines directly or indirectly.
Mergers and Acquisitions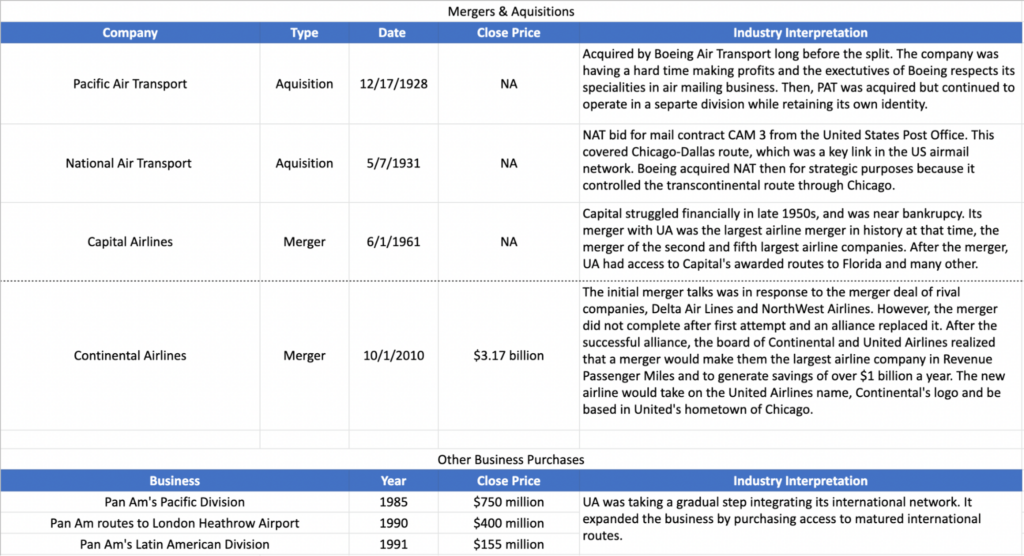 United Airlines has had previous Mergers and Acquisitions
Business purchases expand international routes
The merger with Continental created the biggest airline. This merger was prepared for a long time since a "virtual merger" in 2008 was signed by both sides, which was in fact a contract of alliance. The merger was regarded as a merge of equals for both sides and the new company integrates the better parts from both into one.