Overview
Bollinger Motors is an automotive company, which was founded in 2014 in New York City. They engineered an all-electric off-road and on-road sport utility truck. They have a unique vehicle capable of exceptional off-road performance, combined with new utility features.
Bollinger Motors Technology
The Bollinger Motors vehicles are full electric driven, which saves great resources of burning fuels and environmentally friendly because it reduces CO2 emission greatly.
In 2017, Bollinger Motors presented their first prototype of a three-door car called the B1. The market launch of the model was then scheduled for 2019. The company focuses on eliminating many features that don't work on today's trucks, like terrible weight distribution, antiquated RWD to 4WD transfer cases, and extremely inefficient gas powertrains.
Bollinger Motor Executive Team
The Bollinger Motor Executive Team hopes to be the leader in electric utility and sport vehicles. Their goal is not only to be the first to market, but also the leader in off-road, pickup and utility vehicles.
role
name
education
experience
responsibility
CEO
Robert Bollinger
Carnegie Mellon University

Degree, Bachelor of Fine Arts (BFA),

Industrial and Product Design

Shareholder of Tesla
Designing and engineering the world's only all-electric Class 3 SUVs, trucks, and chassis cabs.
Chief Engineer
Karl Hacken
University of Wisconsin-Stout
2 patents
Marketing & Sales Executive
Andrew Shaffer
Lehigh University,

BFA,

Economics;

Rutgers University,

MBA,

Marketing

2 patents:

1. Method and Apparatus for Enhanced Driving Experience including Dynamic POI Identification;

2. Method and System for Personalized Dealership Customer Service
The Bollinger Motor Product Line
Bollinger B1 SUV
BI SUV is an electric sport utility truck. All electric, all wheel drive and all terrain.
Power: Dual Motor, Front and Rear; 520 horsepower, 6.5 second 0.60 MPH
Energy: 120 kWh Battery Pack, 200 mile EPA Range; Level 1 and 2 Charging: J1772 Port (110v & 220v); Level 3 Charging: CCS Port (DC Fast); 10 hour Level 2 (220v) Charging Time; 75 minute Level 3 (DC Fast) Charging Time
Price: $125,000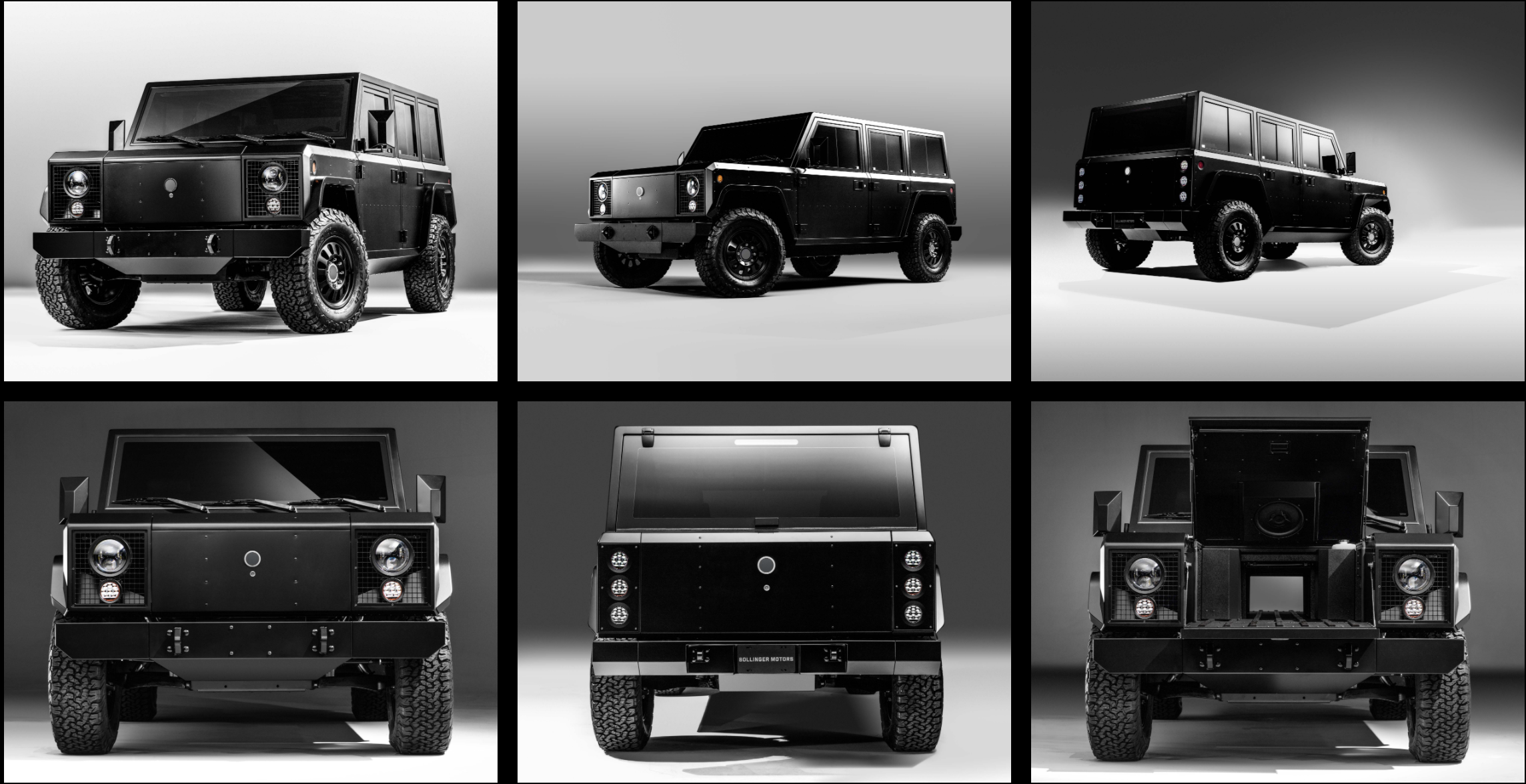 (sources:https://bollingermotors.com/bollinger-b1/)
Bollinger B2 Pickup Truck (Class 3 Truck)
B2 is an electric pickup truck capable of carrying 16-foot cargo through a patented full-length pass-through.
All electric, all wheel drive and all aluminum body
Price: $125,000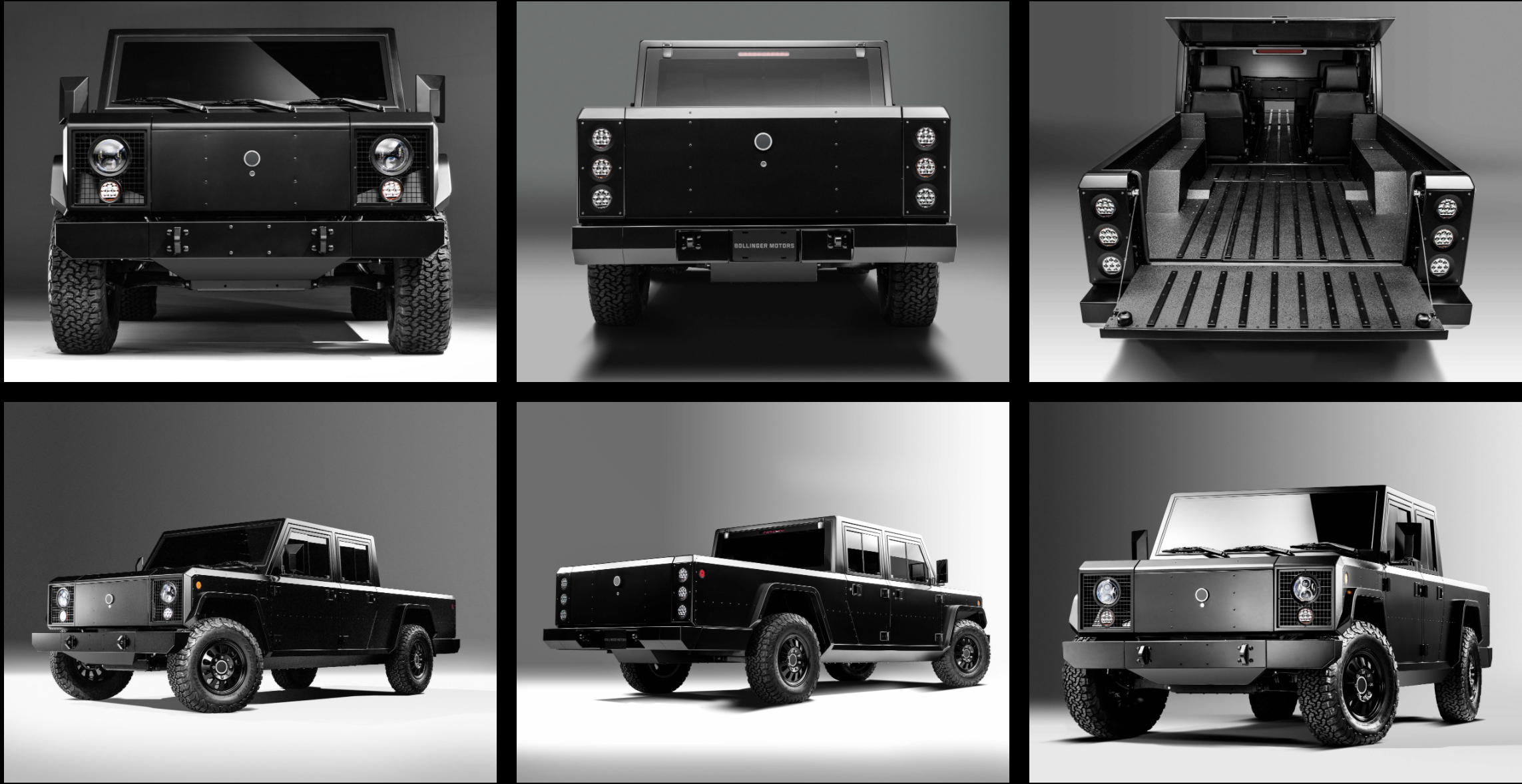 (sources:https://www.leisurian.com/bollinger-b2/)
Bollinger B2 Chassis Cab (Class 3 Truck)
B2 Chassis Cab is the world's first and only class 3 electric commercial truck platform. It's all electric and all wheel drive
It will be available in both 2-door and 4-door cabs and on multiple wheelbase lengths.
Advantage: Commercial fleets will be able to reduce their overall cost of operation while buying a truck designed, engineered and built in the USA. It is an ideal option for municipalities, park services, emergency response vehicles, airports, construction, landscaping, security, non-tactical military and more.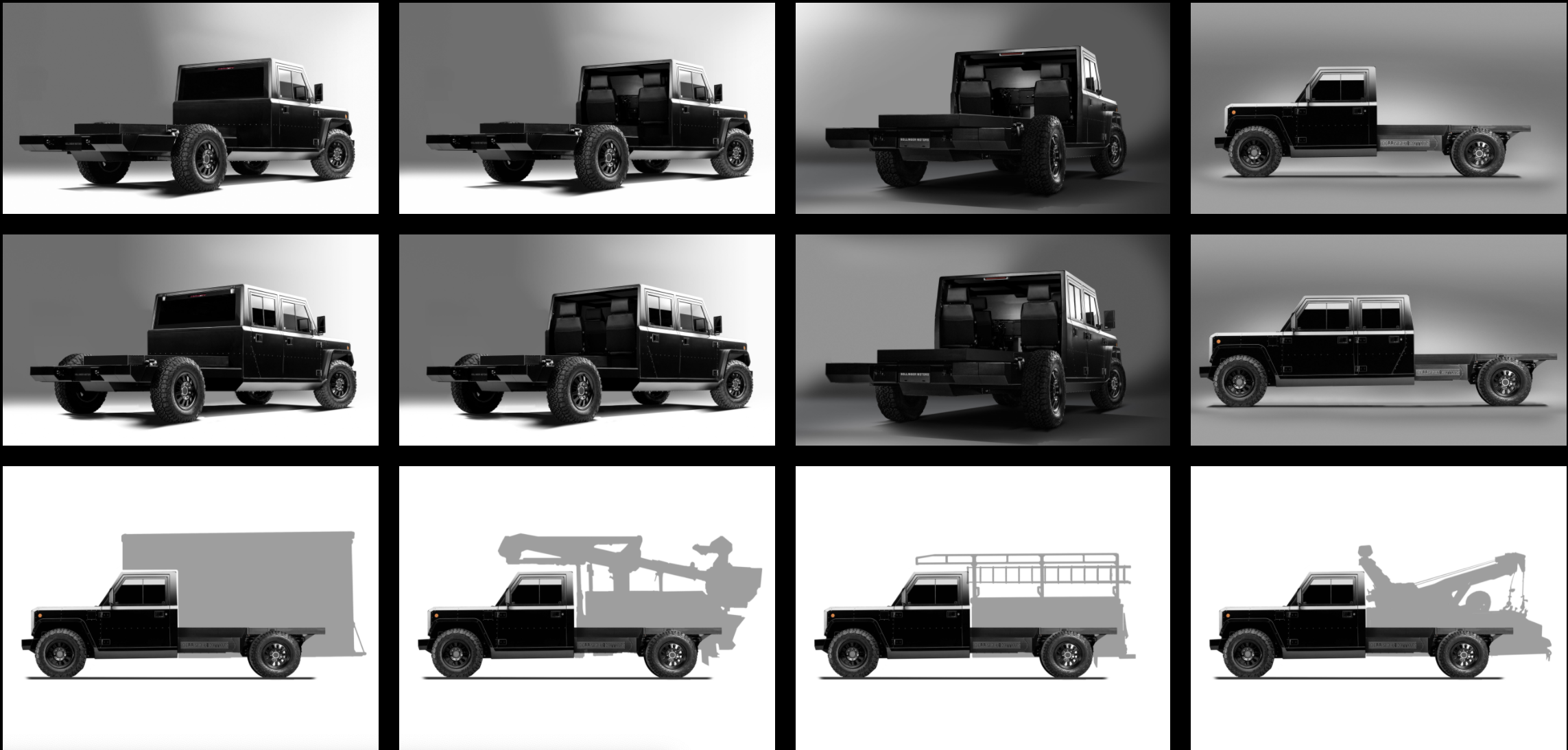 (sources:https://highways.today/2020/04/30/bollinger-truck-platform/)
Chass -E
It can be configured for a variety of uses, including front or rear-wheel drive configurations, with or without portal gear hubs, variable wheelbases, and up to 180 kWh battery pack for longer range requirements.
It is all electric and all wheel drive.
Usage: delivery vans, bucket trucks, ambulances, rescue vehicles, shuttle buses and more.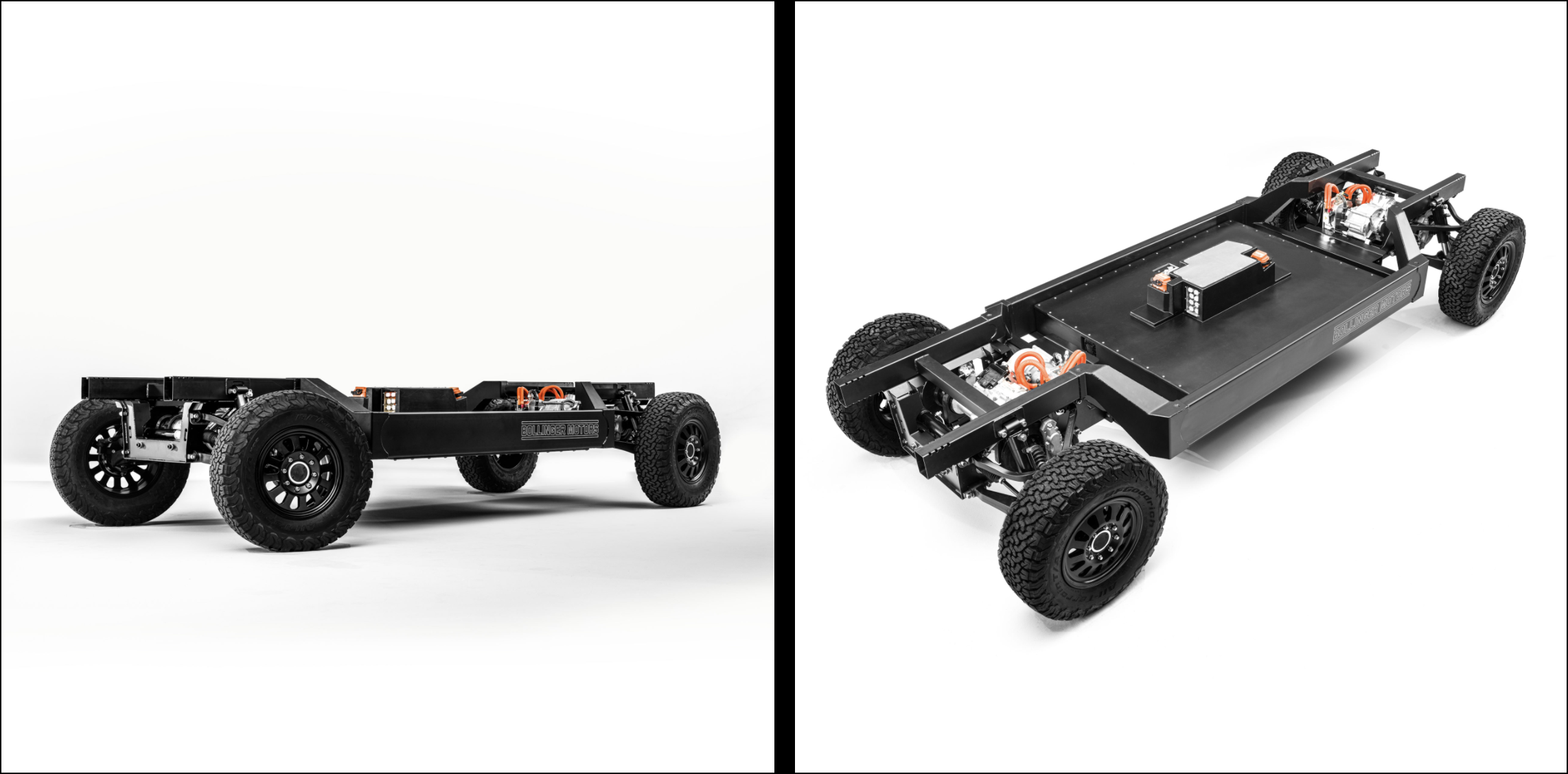 (sources:https://bollingermotors.com/bollinger-b2-chassis-cab/)
Deliver E
It is the all-electric platform solution for delivery and medium-duty truck fleets.
It is front-wheel drive, all electric vehicle.
Advantage: The Total Cost of Ownership within each class will be significantly lower than the gas and diesel version on the road today.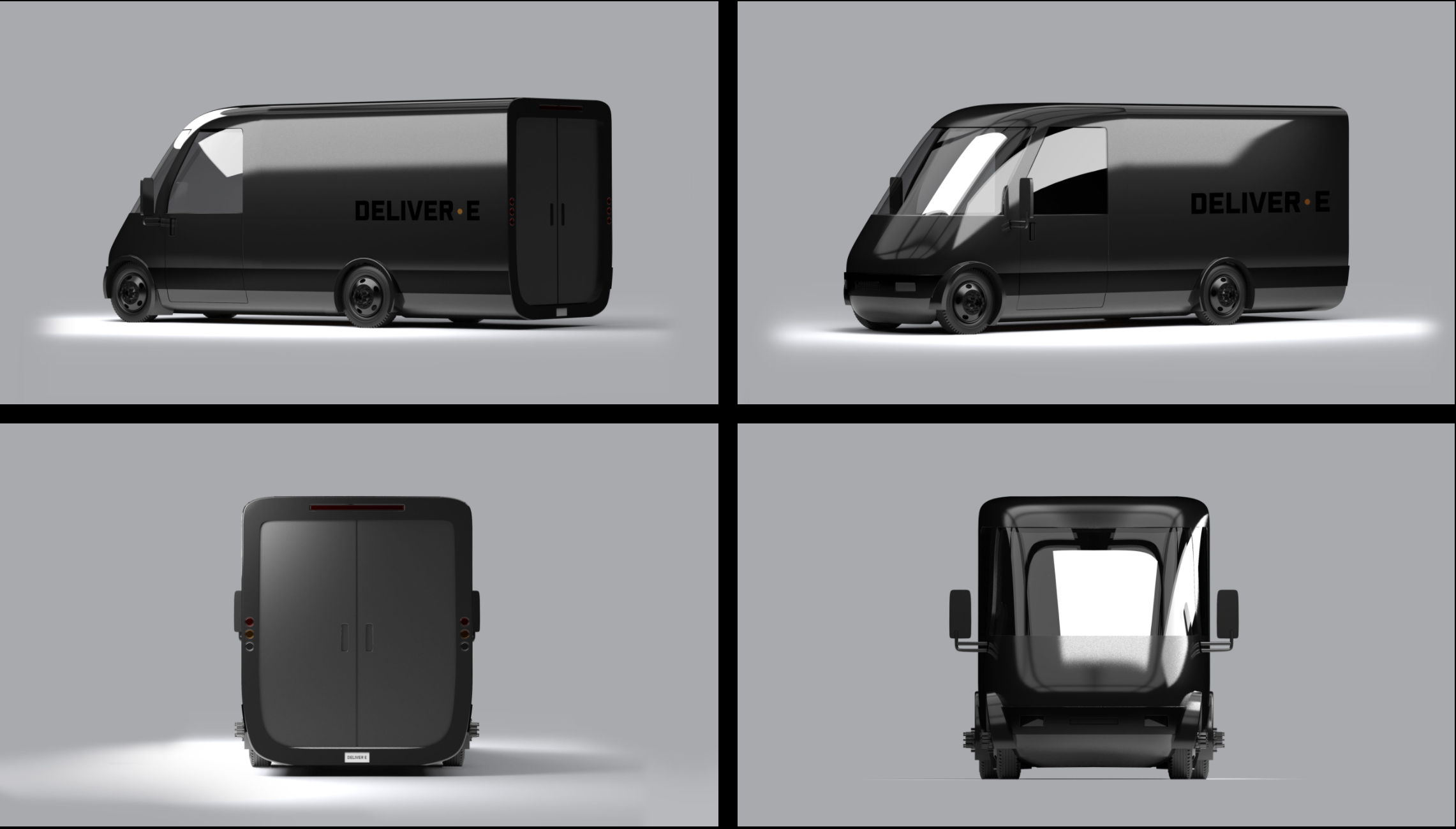 (sources:https://bollingermotors.com/deliver-e-vans/)
Bollinger Motors Competition
Tesla:
Tesla develops a full range of electric vehicles. Tesla's cybertruck is a competitor of Bollinger's pickup truck. The base price for a single-motor, rear-wheel-drive Tesla Cybertruck is $39,900, not including destination charges. The Dual Motor all-wheel drive version starts at $49,900 and the top of the line Tri Motor all-wheel-drive Cybertruck costs $69,900.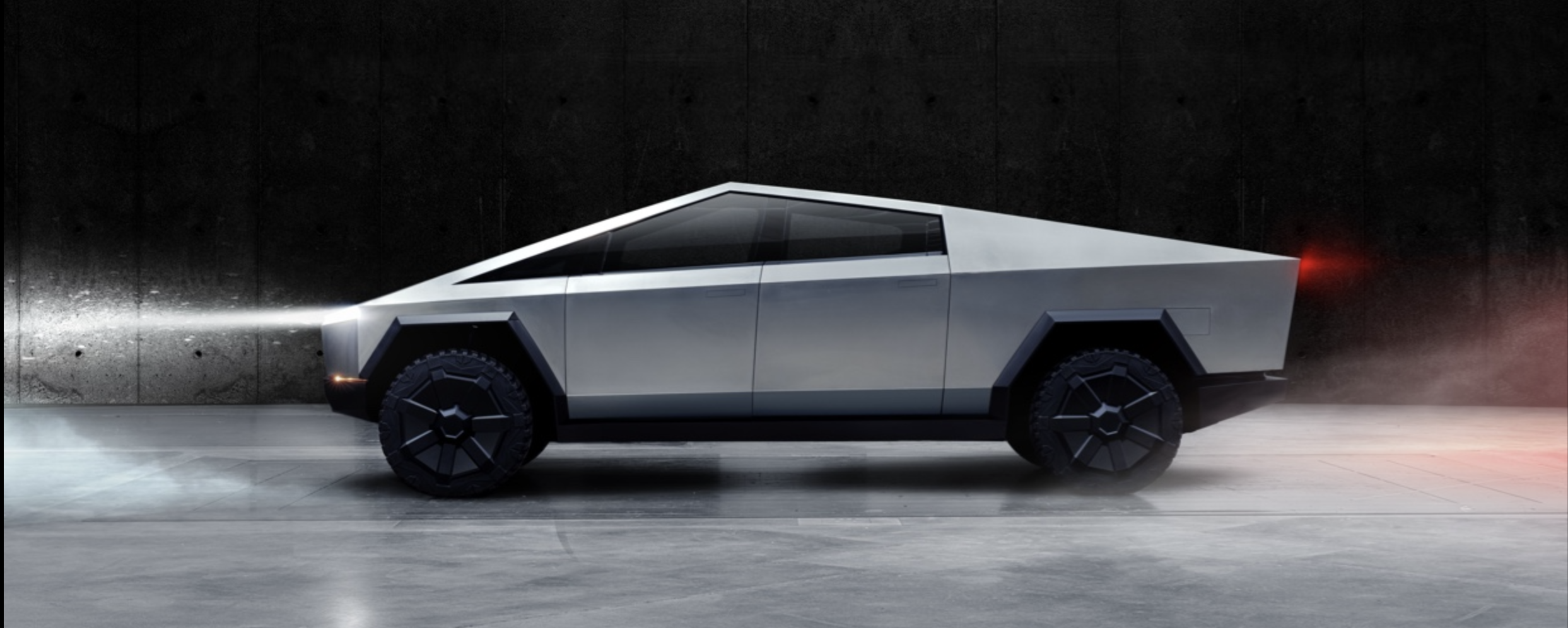 (sources:https://www.caranddriver.com/tesla/cybertruck)
Rivian:
Founded in 2009, Rivian Automotive is an automotive technology company developing an integrated portfolio of products and services to advance the shift to sustainable mobility. Rivian announced in May that it had closed 200 million debt financing with Standard Chartered Bank. The company will begin producing electric vehicles at the former Mitsubishi Motors plant in Normal, Ill., by 2020. Rivian will debut its two creations at November's Los Angeles Auto Show – a full-size pickup and three-row SUV.


(sources:https://rivian.com/r1t)

(sources:https://rivian.com/r1s)
Bollinger Motor Business Needs
Production:
Bollinger Motors currently have 2 models of vehicles showcased on its site – B1 (SUV) and B2 (Truck). The company has built actual working prototypes of B1, while there are only renderings of B2 right now. The two companies now plan on finalizing their work on the Bollinger B1 by the end of 2018, on target for a late 2019 start of production. Bollinger announced on Mar. 28, 2018 that it has chosen Optimal, Inc. of Plymouth, MI to "help bring the Bollinger B1 all-electric, all-wheel-drive Sport Utility Truck to production."
According to sales statistics made available by Bollinger in early 2018, over 12,000 people had pre-ordered the B1 as early as February of this year. The number updated to 19,000 in August. Deliveries are expected in 2020.
Charger Network:
B1 is equipped with a 120 kWh battery pack. With added storage capacity and functionality, B1 achieves 200 mile EPA Range, compared to Tesla's motor X achieving up to 289 miles of range from a battery pack that has 20 percent less capacity than the B1. Therefore, it is essential for Bollinger Motors to sort out the issues on the charger network before its product deliveries. On Aug 16, 2018, Bollinger tweeted, "@elonmusk Can we use your charging stations?" Back in 2015, Tesla CEO Elon Musk had hinted at the possibility that Tesla would open up its Supercharging stations to other EV manufacturers.
Conclusion
Lions Financial specializes in working with companies in the electric automotive industry which is growing at a rapid pace. We support companies in the areas of management consulting and refining business plans for venture capital financing. For companies in the electric automotive industry we support issues that deal with Due Diligence, Valuations, Mergers and Acquisitions, and Business Exits.
To find out more about how we can help you contact us https://lions.financial/contact/
If you would like to learn more about additional business consulting and capital markets services:
https://lions.financial/services-capital-markets-due-diligence-and-valuation/
https://lions.financial/services/capital-markets-sale-of-business/
https://lions.financial/services/capital-markets-mergers-and-acquisitions/