What is AXA Venture Partners' (AVP)?
AXA Venture Partners' (AVP) is a global technology venture capital firm. Its target sectors include enterprise software, fintech/insurtech, consumer technologies, and digital health.
What are the investments in venture capital deals?
Based on Crunchbase, the majority of investments are in the software and technology industry. Other invested industry includes health care, financial services and machine learning, etc.
Figure 1:Investment by Number of Investments

What are the investment strategies of AVP?
The company implements two types of investment strategies, direct investment and fund of funds. AVP has finished 3 rounds of funding as of January 2019 to support these investment strategies. AXA Strategic Ventures Fund I, a €200m venture capital fund for investment in innovations relevant to insurance, asset management, financial technology and healthcare service industries. A Diversified fund with $175m in a fund-of-funds scheme for investments in selected VC funds.  AVP Early Stage II, a $150 million early-stage fund.
Under direct investments, Early Stage portfolio includes companies such as BioBeats (£1.6 million), Blockstream ($55 million series A funding) and Hint ($10 million series A funding), Early Stage portfolio accounts for the majority of AVP's direct investment. In addition, AVP's Growth Equity portfolio includes companies such as Cognism ($12 million funding), Contrast Security ($30 million series C funding) and Force Manageer ($12 million series B funding).
Figure 2:Overview of Investment Strategies
What is the relationship between AXA and AXA Venture Partners?
AXA Venture Partners is backed by AXA, the insurance, and asset manager. By connecting with AXA, AVP has access to AXA's expertise insurance and asset management industry, and AXA acts as a potential customer, partner, and distributor of AVP. For example, AVP's portfolio companies have access to additional support, such as AXA's team (Risk managers, financial advisors, and data scientists), network, and client base. AXA's lines of expertise include property & casualty, life & savings, health, and asset management which can provide a distinctive business portfolio for AVP. This relationship between AXA and AXA Venture Partners is a key value proposition of AVP.
Before 2018, AVP was known as AXA Strategic Ventures.
What is Corporate Venture Capital?
AXA Venture Partners can be referred to as corporate venture capital (CVCs). One type of venture capital funds comes from large corporations like AXA. Corporate venture capital is becoming increasingly common in the venture capital industry. Many large corporations like AXA are setting up their venture capital fund.
What is the benefit of Corporate Venture Capital?
As a corporate venture capital, AXA Venture Partners can gain the following benefits.
Product & market fit: the parent company can provide customer access for product and market fit. Therefore, companies that invested by CVC can have access to a wider client base.
Expertise & knowledge: the parent company can provide domain expertise to support companies invested by CVC. AVP's portfolio companies can gain support from AXA's risk managers, financial advisors, and data scientists.
Capital: CVC's are generally able to invest more capital with the support from the parent company, as shown in the figure below, CVC's can raise more funds on average than ordinary venture capitals.
Figure 3:CVC Deals Outsize VC Deals on Average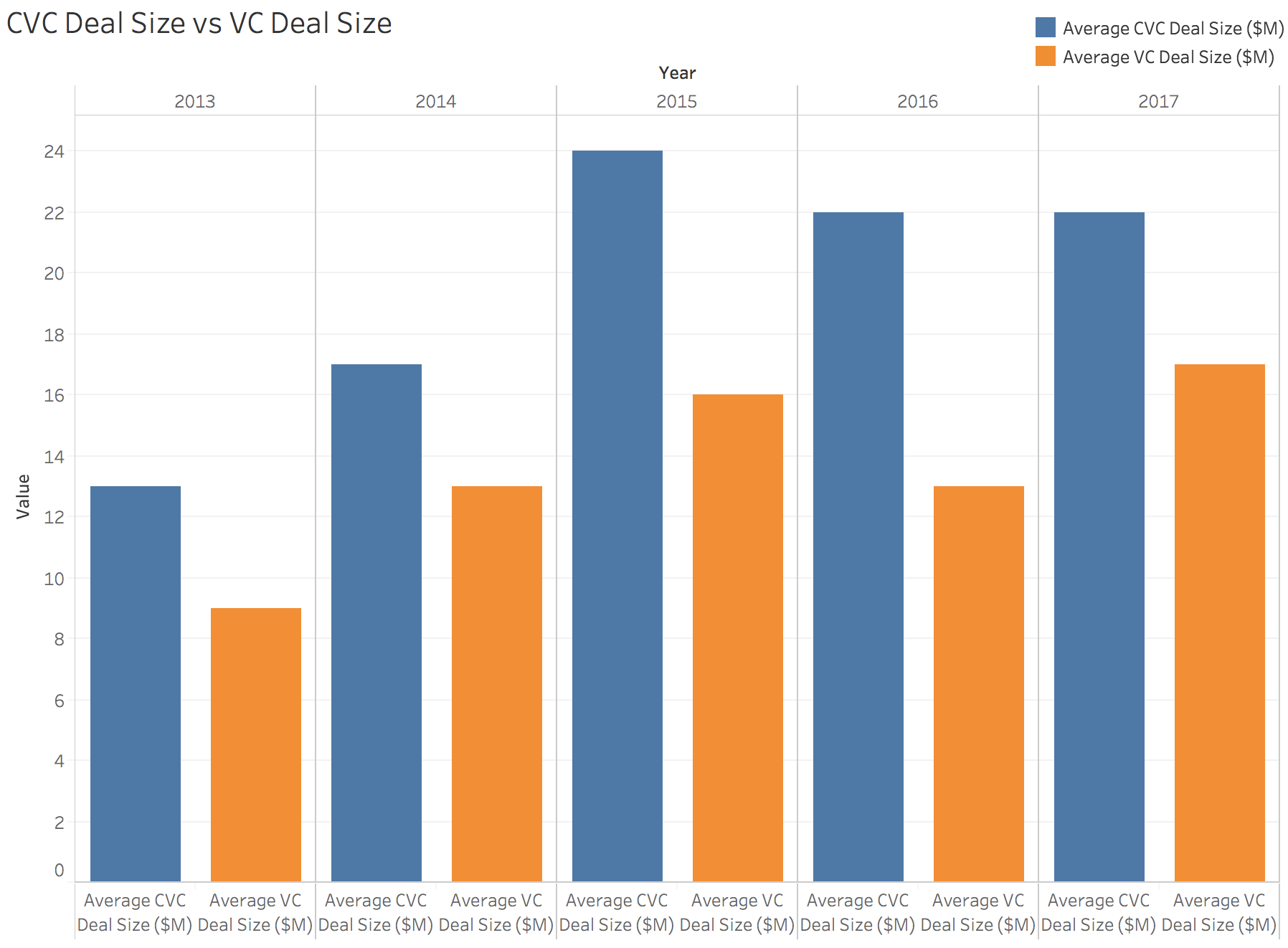 How is CVC activity growing?
Due to numerous benefits of corporate venture capital, global CVC-backed deals and funding have been growing since 2014, and they reached record highs in 2019. VC-backed transactions and funding with CVC participation reached yet another record high in 2019, growing at 8% and 3% YoY, respectively.
However, growth has slowed significantly. The growth rate was considerably slower than the 33% increase in deals and a 53% increase in funding in 2018. Due to the Covid-19 in 2020, global CVC backed funding fell by nearly 30% in the second quarter of 2020.
Figure 4:Global CVC Activities Reached New Record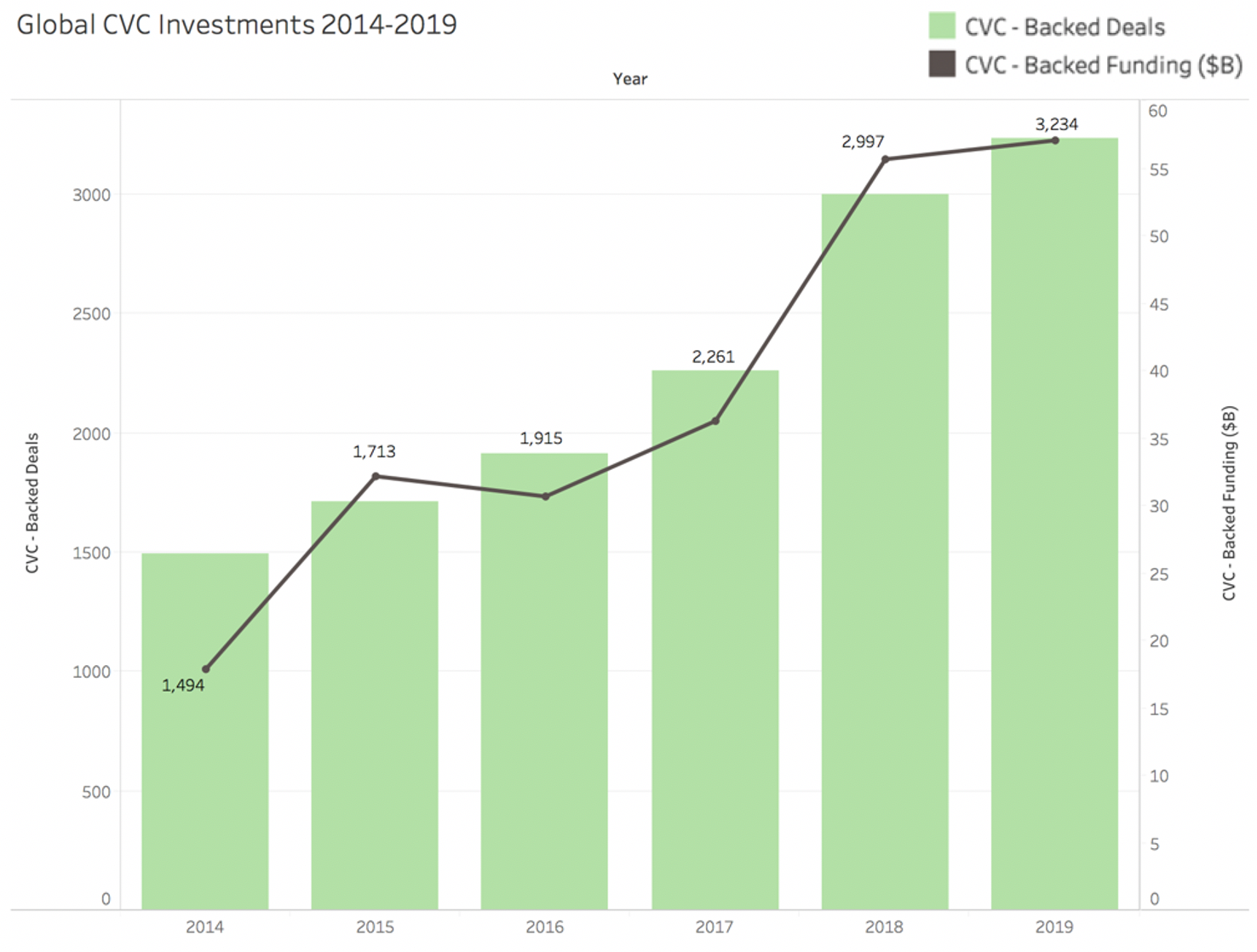 What are the target industries of CVC investment?
Corporate venture capitals focus on investment in artificial intelligence, healthcare and mobile companies. CVC-backed funding to AI companies reached $10.6B in 2019, compared to $6.2B in 2018.
What is the investment history of AVP?
According to Crunchbase, AVP has been making consistent investments since 2015, and they were lead investors in nearly half of these investments. During the second quarter of 2020, the spread of COVID-19, 9 deals were made, the highest number of deals made since 2015.
In addition, although AVP has strong connections to insurance industry, its portfolio tends to be highly diversified, instead of focusing heavily on insurance industry related companies.
Figure 5:Investment Made Over Time

The following table summarizes all recent deals made by AVP in 2020.
Figure 3: Recent Investments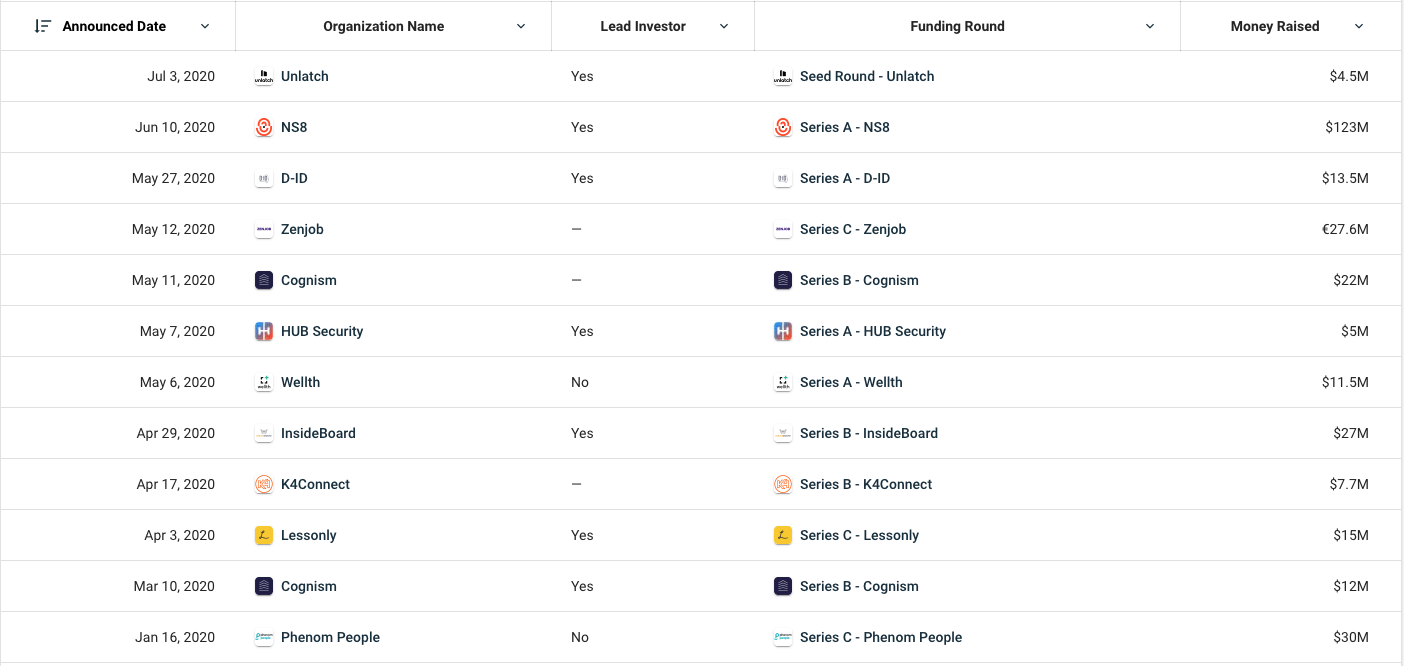 NS8
AVP has invested $123 million in NS8 during its series A funding as a lead investor. This investment is AVP's most significant investment in 2020 and the largest funding that NS8 has raised since it was founded in 2016. The company is valued between $500 million to $1 billion as of June 2020. Other major investors of NS8 include Blu Venture Investors, TDF Ventures, etc.
NS8 is a fraud prevention platform that combines behavioral analytics, real-time scoring, and global monitoring to help online businesses minimize risk. The platform can be applied in payment gateway, online merchants, event ticketing, and e-commerce platforms to detect fraud across all manner of online transactions.
The platform offered by NS8 is charged at three different prices, $29.95/month for starter edition, $100/month for full edition, and custom pricing for enterprises.
NS8 analyzes activities like how quickly a user navigates between pages, whether they use a mouse, and how many times a page is loaded, information that provides clues to the user's motives or whether the user is in fact a bot.
Phenom People
AVP invested $30 million in Phenom People during its series C funding. Phenom has estimated revenue between $1 million to $10 million, with post-money valuation in the range of $100 million to $500 million.
Phenom is a global HR technology company with a purpose to help a billion people find the right job and discover their true potential. The company platform is built on artificial intelligence (AI), which drives personalization, automation, and accuracy for candidates, recruiters, employees, and management. The platform's features include university recruiting for candidates, talent and skills gap analytics for management, CRM, campaigns for recruiters, career pathing, and internal mobility for employees.
Zenjob
AVP has also invested €27.6 million in Zenjob, a company similar to Phenom, which provides an online job portal to connect workers and employers such as hotels, supermarkets, and offices, the investment amount in Phenom People and Zenjob are close to each other. However, Zenjob focuses more on providing recruiting services as a staffing agency, while Phenom focuses more on applying artificial intelligence and machine learning.
SecurityScorecard 
Another AVP's significant venture capital investment is a $50 million in SecurityScorecard during its series D funding. AVP's investment accounts for nearly half of the total funding ($112.2 million) raised by SecurityScorecard. This company is valued between $ 100 million to $500 million as of Jun 2019. Other investors include Intel Capital, Two Sigma Ventures, etc.
SecurityScorecard's patented technology is used for self-monitoring, third-party risk management, board reporting, and cyber insurance underwriting. SecurityScorecard allows companies to find and fix cybersecurity risks across their externally facing digital footprint. The company's product & services include security ratings to rate, understand, and monitor security risks. SecurityScorecard also provides professional services to enable organizations can improve their cybersecurity posture through advisory services.
Policy Genius
Policy Genius is an online platform to retrieve insurance quotes using a 3-min questionnaire and get help from certified insurance experts. The startup covers level term life insurance, disability insurance, renter's insurance, and even pet insurance.
AVP took part in Policy Genius' Series A round of funding, $5.3M in June 2015, Series B round of funding, $15M in 2016, and Series D funding with an undisclosed amount. The investment follows AVP's vision of making the insurance industry more digitally enabled and transparent. This financing will enable Policy Genius to accelerate growth by strengthening its existing product lines, refining individual insurance quoting engines and scaling its marketing and production teams.
What are the Exits that AVP completed?
AXA Venture Partners has completed 5 exits among its venture capital deals, some of its notable exits include the following.
Limelight
Limelight Health, a healthcare and healthcare insurance company, delivers the efficient and compelling quoting, underwriting, and proposal solution for insurance carriers, PEOs, and employee benefits brokerages. Its first product was a mobile-first iPad app: quoting multi-carrier medical insurance for the small group market, targeting insurance brokers who sell insurance to employers.
In July 2015, AVP participated in Limelight Health's Series A round of funding ($3M) designed to grow the sales and engineering team, enhance the product and expand internationally. AVP also participated in Series B and Series C rounds of funding.
Since AVP is backed by AXA, Limelight can introduce their products to AXA and gain additional clients or resources from AVP's parent company. AVP invested in Limelight Health to power its entry into the U.S. market, targeting the group benefits market, and this investment brought first full-time W2 employees and began additional product development.
Followed by investment from AVP, new investors of the company include Aflac Ventures, Plug & Play Ventures, Wanxiang Healthcare, and Portage Ventures.
One Inc
One Inc, an information technology company, offers a single platform for processing premiums and claims payments. One Inc.'s platform includes policy administration, billing, rating, agency management, customer relationship management, document management, payment processing, data warehousing, business intelligence, e-signature, and many other functions essential to insurance companies.
The $20M investment from AVP will be used to strengthen the company's technology platform. AXA and One Inc will collaborate and redefine how insurance companies approach technology.
This investment is another example of how the invested company can have the opportunity to gain resources and support from the parent company of AVP.
BioBeats 
An artificial intelligence company creates digital products to tackle mental health globally. BioBeats takes the data from wearables that monitor the health of employees and patients and puts it into a biometric machine-learning platform that delivers insights to healthcare providers or employers.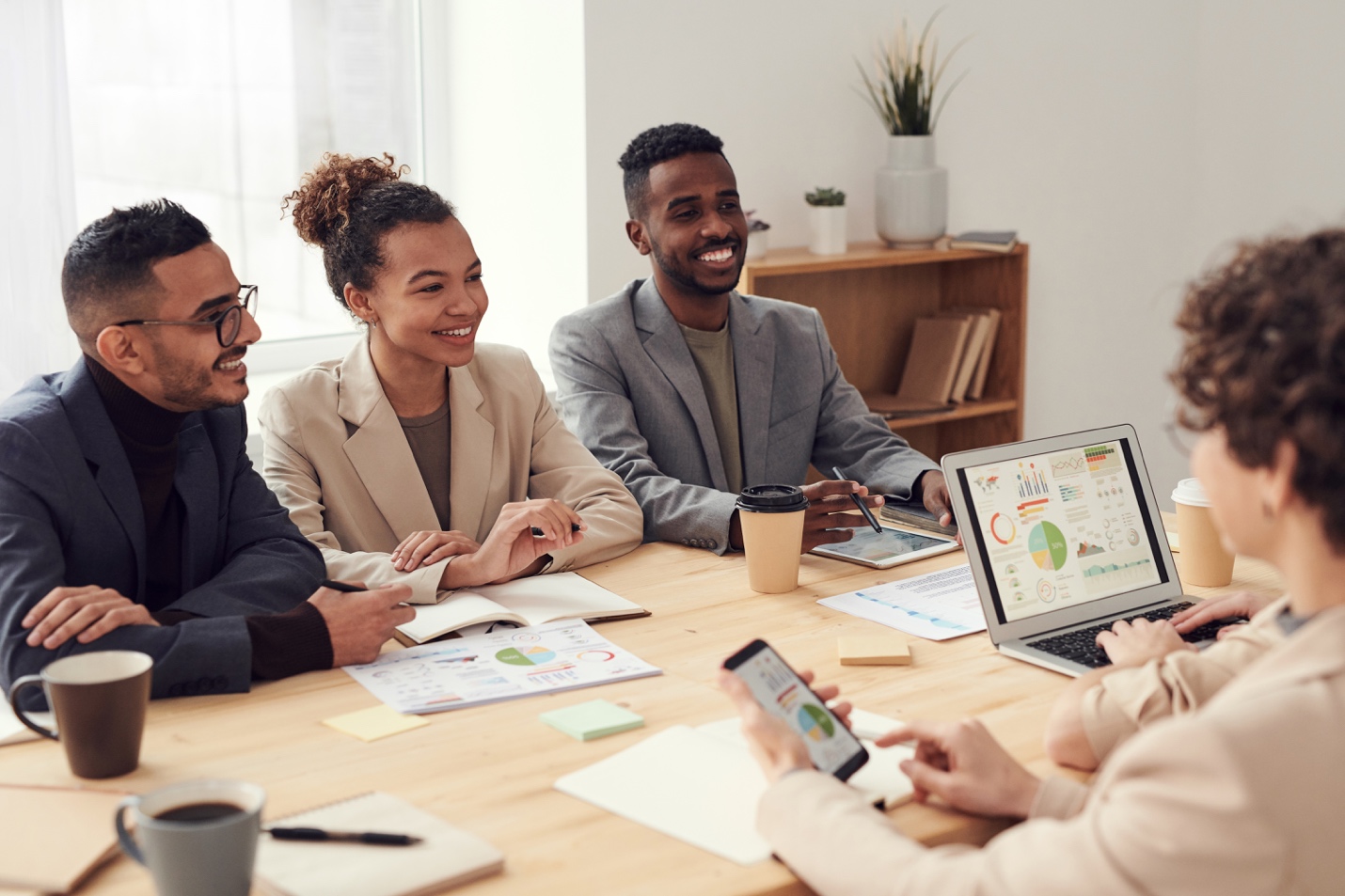 Who is the management team at AVP?
François Robinet, Managing Partner
François Robinet led AVP's investments in Security Scorecard, Happytal, InsideBoard, Futurae, Tanker, and Unlatch. He was the CEO of AXA Rosenberg (Joint venture between AXA and founding team doing equity management based on quantitative models in San Francisco), CEO of AXA Life Invest, and CRO of AXA. François has experience in portfolio management, private equity investment, insurance sector, and operational experience.
François has an MS from Stanford University and a Master from ENSAE. He holds a Ph.D. from CHEA and is a certified actuary
Manish Agarwal, General Partner, New York 
Manish led AVP's US and Israeli early-stage investments, including PG, Limelight, Mindoula, and K4Connect. He was the Head of Financial Protection for Equitable, responsible for the company's life insurance business. He had worked for AXA US for over 15 years. He also led Equitable's investment in Planmember and the disposal of the MONY closed block.
Manish earned his M.S. and Ph.D. at Carnegie Mellon University.
Alex Scherbakovsky, General Partner, San Francisco 
Alex focuses on growth-stage investment at AVP. Before AVP, Alex was the Principal at New Enterprise Associates (NEA), his investments included Braintree (online and mobile payments) and Box (enterprise collaboration SaaS). Previously, he invested in enterprise software, fintech, and Internet companies. Alex also held operating roles at Microsoft, Trilogy, and management consultant role at Monitor Group.
Alex graduated from Stanford with MS in Engineering and AB in Economics; he also received his MBA from Harvard.
Imran Akram, General Partner, London 
Imran focuses on growth-stage investments. Prior to AVP, Imran was a London based Partner at DN Capital, leading investments including Auto1 (used car marketplace) and Quandoo (restaurant reservations). His private equity investment career started with General Atlantic, and he was part of the team that launched mid-market growth equity firm Fidelity Growth Partners Europe. His current and prior portfolio includes GoodData (SaaS BI), Currencyfair.com (foreign exchange), Wahanda (wellness marketplace), Innogames (online gaming and mobile gaming), and GlobalCollect (online payments). He worked in Citi Group's European Securitization team and Bain & Company's strategy consulting team.
Imran received a First-class degree in Engineering, Economics, and Management from Christ Church, Oxford.