Such Company Overview
RyanAir, is an Irish ultra-low-cost carrier founded in 1984. It is headquartered in Swords, Dublin, Ireland, and has its primary operational bases at Dublin and London Stansted airports.
Founders
 Tony Ryan
An Irish billionaire, philanthropist, and business man
Established Guinness Peat Aviation in 1975, which led to the development of the international aircraft leasing industry
Retained a stake in RyanAir and held airline investments in Asia
Liam Lonergan
Christopher Ryan
Owned a major Irish travel agency
Board of Directors
Mick O'Leary – Group CEO
O'Leary became the chief financial officer of Ryan  Air in 1988. He became a chief executive officer in 1994. Under O'Leary's management, Ryan Air further developed the low-cost model originated by Southwest Airlines. The business model envisioned by O'Leary uses receipts from onboard shopping, internet gaming, car hire. And hotel bookings to supplement the ticket revenue from selling airline seats. Savings are also made by negotiating discounts with airports for reduced landing fees. In many cases, regional airports have made no charges to secure flights that bring passengers and wealth into their area. On June 30th, 2022, he held 44,096,725, 3.9% of the ordinary shares.
Neil Sorahan CFO of Ryanair 2014.10 – present
He has been RyanAir's Finance Director since June 2006 and Treasurer since January 2003. Before joining Ryanair, Neil held various finance and treasury roles at CRH plc (an international group of diversified building materials businesses).
Tracey McCann Group CFO 2020.1 – present
Previously served as Ryanair's Director of Finance (FP&A). She joined Ryanair in 1991 and has held various senior finance roles.
Product Positioning
Switching from 'low fares and reliable service' to 'low fares and low emissions' in reaction to growing consumer concerns about the impact of flying.
Pain Point: The stages of the booking process and the actions and elements each shows.
Risk Factor
General: 
RyanAir is exposed to market risks relating to fluctuations in commodity prices, carbon pricing, interest rates, and currency exchange rates.
Fuel Price Cost:
Jet fuel is subject to wide price fluctuations due to many economic and political factors. And events occurring worldwide that RyanAir can neither control nor accurately predict, including increases in demand, sudden disruptions in supply, and other concerns about global supply. As well as market speculation. Oil prices in the fiscal year 2022 increased compared to the fiscal year 2021. And increased significantly following Russia's invasion of Ukraine in February 2022.
Because of RyanAir's low fares and RyanAir expansion plans, which could hurt yields, its ability to pass on increased fuel costs to passengers through increased fares or otherwise is somewhat limited. The expansion of RyanAir's fleet has resulted in and will likely (in coming years) continue to increase RyanAir's aggregate fuel consumption.
Exchange Rates:
As international prices for jet fuel are denominated in U.S. dollars, RyanAir's fuel costs are also subject to certain exchange rate risks. Substantial price increases, adverse exchange rates, or the unavailability of adequate fuel supplies, including, without limitation, any such events resulting from international terrorism, prolonged hostilities in Central Eastern Europe, the Middle East, or other oil-producing regions or the suspension of production by any significant producer, may adversely affect RyanAir's profitability. In the event of a fuel shortage resulting from a disruption of oil imports or otherwise, additional increases in fuel prices or curtailment of scheduled services could result.
RyanAir enters into hedging arrangements providing substantial protection against fluctuations in fuel prices, generally through forward contracts or fuel call options covering periods of up to 24 months of anticipated jet fuel requirements. RyanAir is exposed to risks arising from fluctuations in fuel price and movements in the euro/U.S. dollar exchange rate because of the limited nature of its hedging program, especially in light of recent volatility in the relevant currency and commodity markets. Any movements in fuel costs could have a material adverse effect on RyanAir's financial performance. In addition, any strengthening of the U.S. dollar against the euro could hurt the cost of buying fuel in the euro.
Covid-19:
Since wariness among the public of travel by aircraft due to the perceived risk of health impacts, as well as cancelations of conventions, conferences, sporting events, concerts, and other similar events, the closure of popular tourist destinations and the increased use of videoconferencing, have resulted in an unprecedented decline in business and leisure travel. While restrictions have been gradually eased globally, there is no indication of when they may be fully lifted, whether and when they may be fully or partly reimposed, or when demand may return to pre-pandemic levels.
RyanAir began experiencing a substantial decline in international and domestic demand related to Covid-19 during the quarter that ended on March 31, 2020. This reduction in demand continued throughout the fiscal year 2021 and into the first half of the fiscal year 2022, with the second half adversely impacted by the Omicron variant.
The Company took several actions in response to decreased demand and EU flight restrictions, including grounding a substantial portion of its fleet throughout fiscal years 2021 and 2022, reducing flight schedules, and reducing capital and operating expenditures.
RyanAir's reduction in expenditures, measures to improve liquidity, or other strategic actions that it may take in the future in response to Covid-19 may not be effective in offsetting decreased demand, which could result in a material adverse effect on the Company's business, results of operations, financial condition, and liquidity.
In addition, RyanAir has incurred, and may continue to incur, significant Covid-19-related costs for enhanced aircraft cleaning and additional procedures to limit transmission among its personnel and customers.
Cyber Security Risk:
RyanAir is subject to cyber security risks and may incur increasing costs in an effort to minimize those risks. Almost all of RyanAir's reservations are made through its website and mobile app, and security breaches could expose it to the risk of losing or misusing customer information, litigation, and potential liability.
Nevertheless, the security measures which have been or will be implemented may not be effective, and RyanAir's systems may be vulnerable to theft, loss, damage and interruption from several potential sources and events, including unauthorized access or security breaches, cyber-attacks, computer viruses, power loss, or other disruptive events. Ryanair may not have the resources or technical sophistication to anticipate or prevent rapidly evolving cyber-attack types.
Complex Data Protection Laws and Regulations:
Ensuring compliance with data protection laws is an ongoing commitment that involves substantial costs. It is possible that, despite Ryanair's efforts, governmental authorities or third parties will assert that Ryanair's business practices fail to comply with these laws and regulations. Suppose its operations violate any of such laws and regulations. In that case, RyanAir may be subject to significant civil, criminal, and administrative damages, penalties, fines, and reputational harm, which could adversely affect its business, financial condition, or results of operations.
Debt and Fixed Obligation:
RyanAir has significant debt and fixed obligations, and insufficient liquidity may adversely affect the Company's financial condition. RyanAir carries and will continue to carry, for the foreseeable future, a substantial amount of debt related to aircraft financing commitments and commitments for maintenance and other obligations. Although the Company has historically been able to generate sufficient cash flow from operations to pay debt and other fixed obligations when they become due, the impacts of Covid-19 and other risks described in this report may limit the Company's ability to do so in the future and may adversely affect its overall liquidity.
Seasonally Grounded Aircraft:
In prior years, in response to typically lower traffic and yields from November to March, higher airport charges and/or taxes, and, at times higher fuel prices, RyanAir adopted a policy of grounding a certain portion of its fleet during the winter months. Ryanair carries out the majority of scheduled heavy maintenance during the winter months, which also results in the grounding of aircraft. The Company intends to continue grounding aircraft in the fiscal year 2023.
While seasonal grounding does reduce RyanAir's variable operating costs, it does not avoid fixed costs such as aircraft ownership costs, and it also decreases RyanAir's potential to earn ancillary revenues. Decreasing the number and frequency of flights may also negatively affect RyanAir's labor relations, including its ability to attract flight personnel interested in year-round employment. Such risks could negatively affect RyanAir's financial condition and/or the results of operations.
Brexit-Related Risks:
RyanAir is exposed to Brexit-related risks and uncertainties, as approximately 17% of revenue in the fiscal year 2022 came from operations in the U.K. However, approximately 12% of RyanAir's non-fuel costs in the fiscal year 2022 were related to operations in the U.K., offsetting some of the gains.
Single Supplier: 
Most of RyanAir's aircraft and certain parts are sourced from a single supplier; therefore, RyanAir would be materially and adversely affected if such a supplier could not provide additional equipment or support. Because RyanAir currently sources the majority of its aircraft and many related aircraft parts from Boeing. If RyanAir is unable to acquire additional aircraft from Boeing, or if Boeing is unable or unwilling to make timely deliveries of aircraft or to provide adequate support for its products, RyanAir's operations could be materially and adversely affected.
 Labor Relations:
In the fiscal year 2021, RyanAir Group airlines concluded agreements with their people and unions on job protection and temporary pay cuts of up to 20%
RyanAir intends to retain its low-fare, high-people productivity model. However, there may be periods of labor unrest as unions challenge the existing high-people productivity model. Which may have an adverse effect on customer sentiment and profitability.
Competitive Analysis Globally
RyanAir is in a good position to compete. First, RyanAir's routes are primarily among the British Isles and continental Europe and a small portion in the Middle East and North Africa. As a result, it is not in direct competition with U.S. and Asia-based airlines. Second, RyanAir is the largest airline in Europe based on the number of passengers carried each year. RyanAir's number is more than 1 ½ of that of the second largest airline, Lufthansa, which operates numerous intercontinental routes. Compared to its closest low-cost carrier competitors, Wizz Air and EasyJet, RyanAir serves almost 4 times the number of passengers than each of those competitors. Lastly, the low-cost model allows Ryanair to compete with the European high-speed rail industry, such as Eurostar.
Balance Sheet
RyanAir had grown its shareholders' equity in 2022 compared to prior years. The amount of debt is slightly lower than the 2020 level, while assets are slightly higher and significantly higher if compared to the 2021 level. One area where we see a meaningful increase in the company's assets is its derivative financial instruments. Which saw a 66% increase as a part of non-current assets and a 1200% increase as a part of current assets year-over-year. Combined, derivative financial assets now account for 10% of RyanAir's total assets. While they only accounted for a little more than 1% in 2021.
RyanAir's 20-F states that they hold those derivatives to maturity and do not actively trade them. For risk management purposes, this asset class includes cross-currency swaps, interest rate swaps, foreign currency forward contracts, and commodity forwards and options. As commodity prices rose significantly year-over-year while the dollar and the euro reached parity this year. It makes sense that those derivatives appreciated significantly.
Capitalization Requirement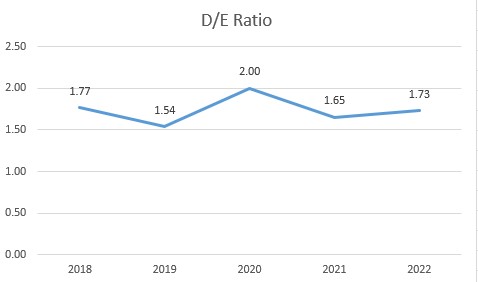 Source from Investor.Ryanair
We calculated and graphed the debt-to-equity ratio of RyanAir from 2018 to 2022. The company's D/E ratio has been bouncing between the 1.5 to 2.0 range, suggesting it typically derives 60-67% of its capital financing from debt. However, this situation will likely change in the future as the European Central Bank begins to raise its key interest rate. To combat inflation, the interest rate has been raised from effectively 0% over the past 5 years to 1.25%. Which will make debt financing less attractive. Similarly, the cost of equity would decrease due to a decline in the market risk premium. A function of both lower expected market return and a higher risk-free rate.
Stock Market Analysis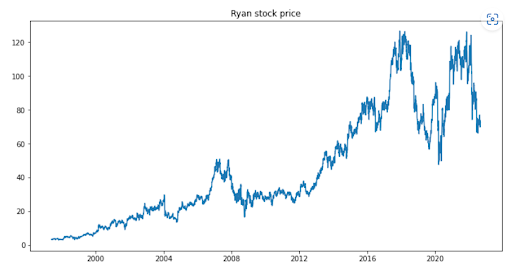 Initial Valuation: 21.83 million dollars
IPO share price: 2.83 dollars
Stock price growth since IPO: 2654.48%
Source from yahoo finance
Stock Price Analysis—Yearly Highs/Lows
1997-10-07: 3.87======1997-10-27: 2.75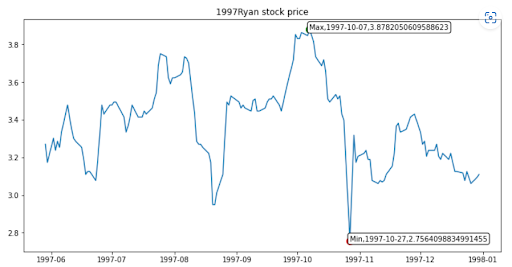 1998-07-14: 5.52======1998-01-28: 2.88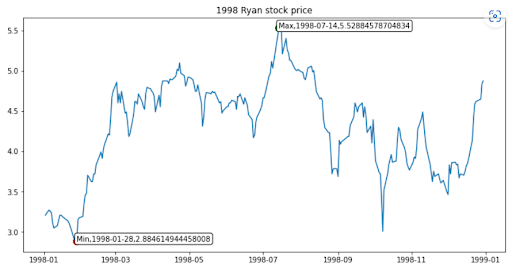 1999-11-17: 7.22======1999-01-19: 3.91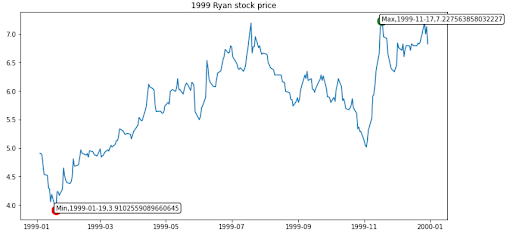 2000-12-29: 14.27======2000-01-04: 6.95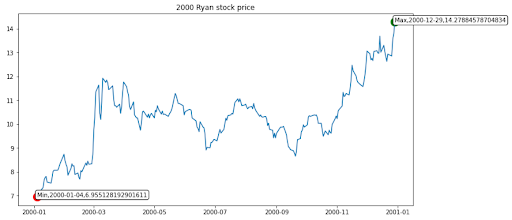 2001-12-13: 15.90======2001-09-24: 8.97
2002-11-22: 24.61======2002-05-21: 14.35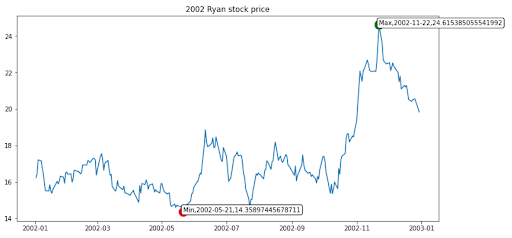 2003-10-21: 26.69======2003-03-12: 17.63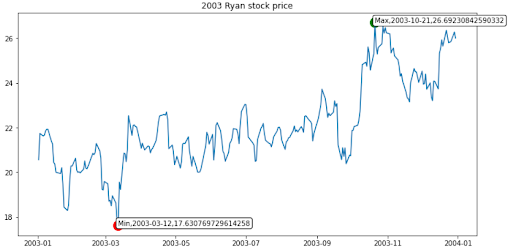 2004-01-16: 29.68======2004-10-11: 13.41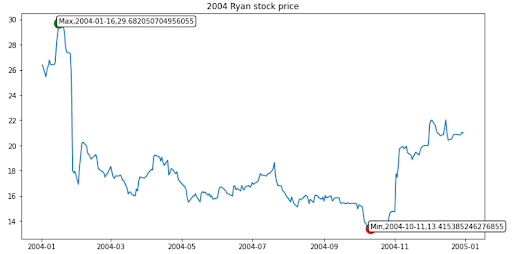 2005-12-21: 29.47======2005–05-02: 20.30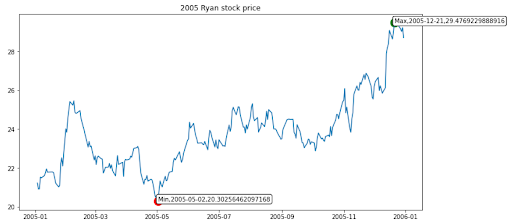 2006-12-29: 41.79======2006-05-02:23.96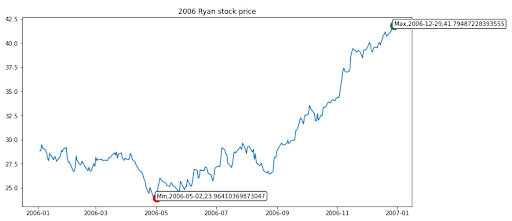 2007-04-25: 50.83======2007-07-27: 37.13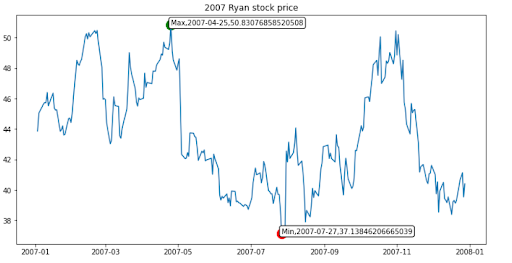 2008-01-02: 38.63======2008-10-09: 16.43
2009-06-04: 36.21======2009-03-24: 22.32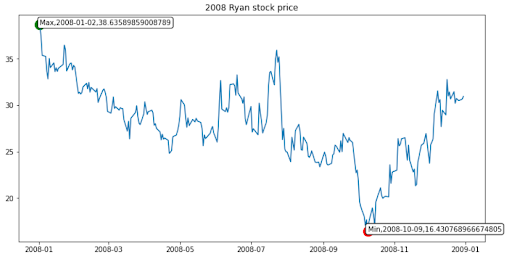 2010-10-25: 33.93======2010-05-25: 23.15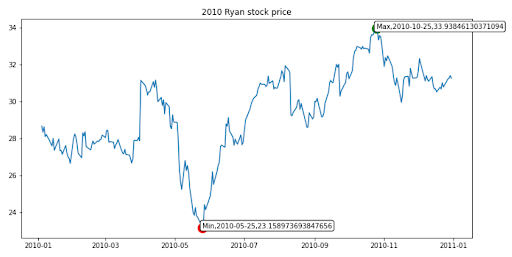 2011-01-11: 32.81======2011-09-22: 24.82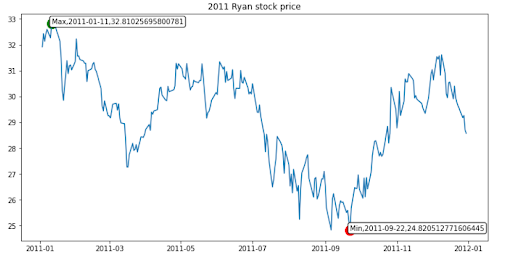 2012-04-03: 37.83======2012-01-03: 28.48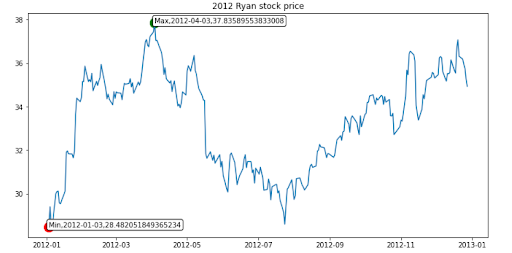 2013-08-25: 55.43======2013-01-02: 35.30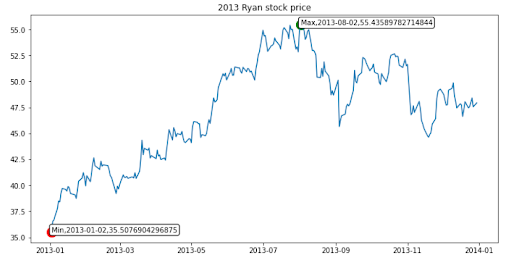 2014-12-29: 72.66======2014-01-02: 48.19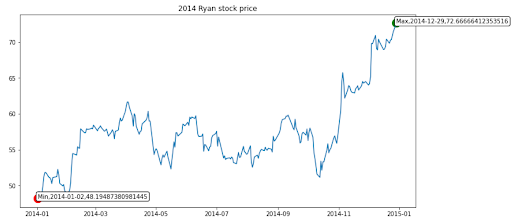 2015-12-29: 87.63======2015-02-13: 63.03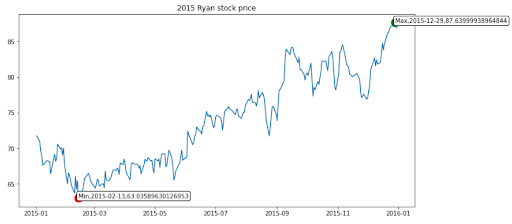 2016-06-02: 87.41======2016-06-27: 66.81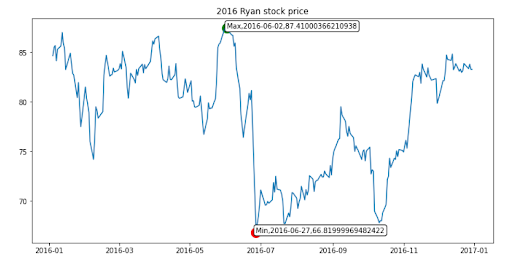 2017-11-29: 126.69=====2017-03-07: 78.66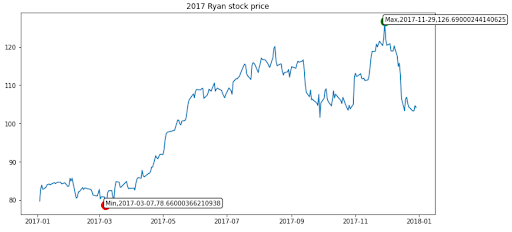 2018-03-19: 126.38=====2018-12-24: 67.94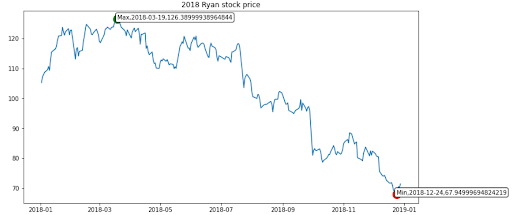 2019-12-19: 87.83======2019-08-26: 56.66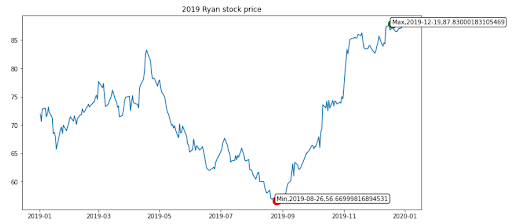 2020-12-07: 117.63=====2020-03-18: 47.50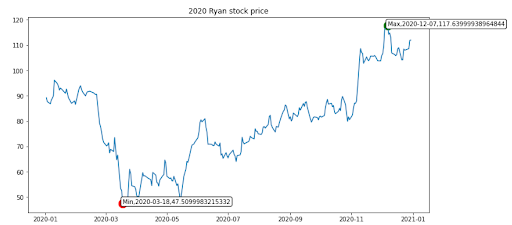 2021-11-08: 126.12=====2021-01-29: 95.06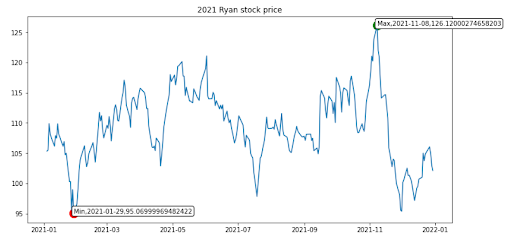 2022-02-10: 124.12=====2022-07-11: 66.18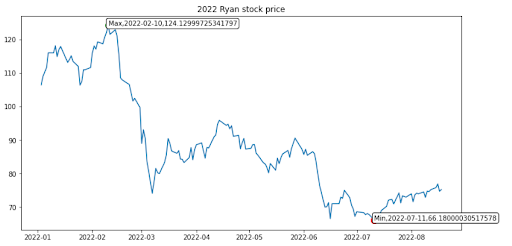 Source from investopedia
P/E Ratios
As shown in the following graph: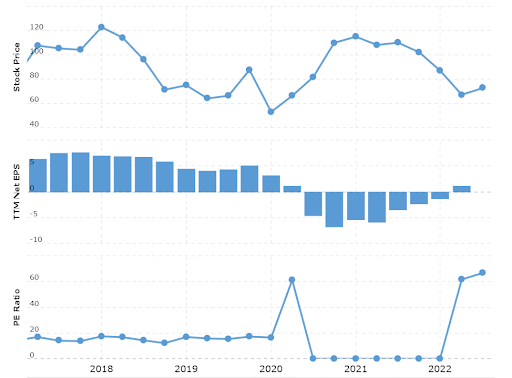 Source from investopedia
Moving Average Analysis
As shown in the graph below, currently RyanAir is moving under the 52-weeks simple moving average line, indicating potential to move above this line.
If we use the help of 100-days simple moving average, currently the 52-weeks line is below it and implies that we should wait for a long term entry point.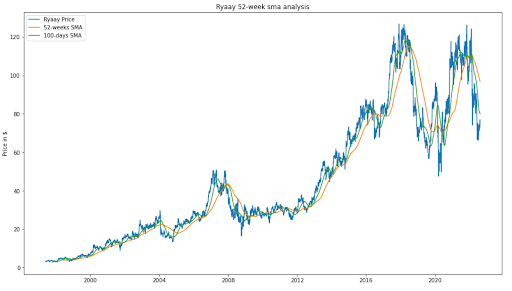 Source from investopedia
Index Analysis
Source from investo pedia
For index analysis, we compared Ryanair to three indices. The first one is SPY, which is essentially the S&P 500 Index that covers the broader U.S. market as well as large cap stocks. Secondly,  IETP, which is an exchange index denoted in Euro and covers the 20 largest companies in Ireland, of which Ryanair is a component. The last one is JETS, which covers the airline industry and serves as a competitor index.
For this part of the analysis, we calculated the covariance, correlation, variance, and beta of Ryanair with respect to each index using the 5-year monthly change in prices. We found that Ryanair had the largest correlation with the Irish market, which makes sense. Also, looking at the 5-year monthly beta, we can see that Ryanair endures higher systematic risk than both the broad U.S. and Irish market, however, it has lower systematic risk than the U.S. airlines industry, which makes it a potentially good investment within the sector.
Further, we graphed and compared the 5-year cumulative return of Ryanair stock and the 3 indices. It is clear that the airline industry as a whole underperformed the market in the past 5 years. However, Ryanair outperformed its sector after the start of the coronavirus pandemic. As you can see on the graph, Ryanair has a higher stock price than it had pre-pandemic yet the airline industry has yet to recover the stock price to its pre-pandemic level.
Mergers and Acquisitions
Buzz, a low-cost brand airline (Poland) In 2003, the company agreed to acquire Buzz. For a measly $22 million (€20.1 million) Ryanair acquired the airline and its assets, namely six Boeing 737s and four Bae 146 aircraft, which were all on lease.
Later, Ryan also acquired additional slots at London Stansted Airport (STN). As well as access to numerous European airports that are "ripe for growth over the coming years," according to Ryanair's report.
Aer Lingus(failed) Its next attempt at an acquisition, unfortunately, did not pan out. In September 2006, the company started its acquisition of Aer Lingus shares, initially acquiring a 19% stake at the airline. With the 19% secured, Ryanair announced its intention to acquire the Irish full-service carrier fully. However, the European Commission (EC) had other ideas and blocked the merger of the two Ireland-based airlines. As the merger would have "significantly impeded effective competition in the common market." So Ryanair never acquired Aer Lingus.
LaudaMotion(2018) Laudamotion, Austria's No. 1 low fares airline. Ryanair Acquires 100% Shareholding. Laudamotion now becomes a 100% subsidiary of Ryanair Holdings Plc, the Group which owns Europe's largest airline. Malta Air (2019) Malta air, a start-up carrier based on the Mediterranean island. Malta Air is a low-cost airline that operates out of Malta. Also, it is a joint venture between Ryanair and the Government of Malta.
SWOT Analysis
Strengths of Ryanair
Largest Low-cost Airline in Europe – Ryanair runs a fleet of over 450 aircraft, making it Europe's largest low-cost airline. It is working to rebuild Europe's aviation and tourist industries by restoring connection and expanding its passenger network to 225 million by 2026.
Aircraft of the Modern Era –  Ryanair exclusively operates Boeing 737-800 aircraft. This aerodynamic fleet allows them to keep expenses down while maintaining high safety requirements. Furthermore, it has placed a $9 billion order for 75 Boeing 737 MAX jets to assure public safety and to address the issues posed by the coronavirus.
Low Airport Prices – Ryanair is one of the airlines pressuring airports to reduce fees as they determine where to fly when passengers start to return in large numbers. The airport's primary source of revenue is from landing fees for the use of its runways. As well as from the many services they provide, such as shop space, catering, and vehicle parking.
Weaknesses of Ryanair
Bad Reputation – In December 2020, researchers surveyed over 6500 travelers and found that Ryanair was labeled as the "World's Worst Short-Haul Airline" at the final stage of the poll. Moreover, expressed dissatisfaction with a variety of issues. Including additional surcharges, uncomfortable seats, a lack of in-flight entertainment selections, and bad customer service.
Strikes –  Eighty per cent of union members were dissatisfied because of the inadequate compensation structure. As a result, they staged a 48-hour strike, which Ryanair was unable to call off.
Unloyal Customers – Customers are enraged with Ryanair's refund policy. Customers are also dissatisfied with Ryanair since they only issue time-limited coupons. Instead of cash, vouchers are given.
Opportunities for Ryanair
Assistance from the Government: The Bank of England's covid care financing facility is proving to be beneficial to a number of businesses. A total of 53 businesses have expressed interest in receiving. Furthermore, these advantages exist, and one of them is Ryanair. Ryanair has borrowed 800 million euros via this arrangement.
Talent Availability: Coronavirus robbed many individuals of their livelihood. Ryanair has the highest chance of hiring worthy candidates with exceptional abilities. Furthermore, thousands of talented workers, including pilots, ground employees, cabin crew, and engineers, are eager to compete and re-enter the workforce.
Shares Market – Morgan Stanley forecasts a surge in Southwest Airlines stock after the government eased travel restrictions and restored normal air activity.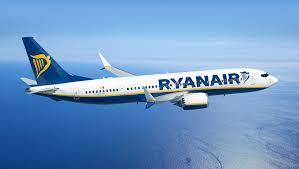 Threats to Ryanair
Regulations of Government – Ryanair has no influence on government regulations. As the government may quickly shut down all airline operations if the rules are breached.
Restrictions due to COVID-19 – Many nations are unsure and inconsistent about how to handle the Divide crisis.  Every organization hesitates to take any action unless it has a defined and consistent recovery strategy.