Company Overview
Expedia Group, Inc. is an American online travel shopping company for consumer and small business travel, which engages in the provision of travel products and services to leisure and corporate travelers. It operates through the following business segments: Retail, B2B and trivago. The Retail segment provides a full range of travel and advertising services to worldwide customers through a variety of consumer brands including: Expedia.com and Hotels.com. The B2B segment offers Expedia business services organization including Expedia Partner Solutions and Egencia. The trivago segment generates advertising revenue primarily from sending referrals to online travel companies and travel service providers from its hotel metasearch websites. The company was founded in 1994 and is headquartered in Seattle, WA.
Founders
Rich Barton founded online travel company Expedia Inc. He served as CEO through Expedia's IPO in 1999, and stayed in the position until 2003, after the company was acquired for $3.6 billion. The founder percentage of the company is not revealed by the public.
Board of Directors
Michael Davis Velasco, Chief People, Inclusion & Diversity Officer, Leads people and culture strategy for company, including attracting and retaining talent and creating an inclusive and diverse workplace.
Sarah Gavin, Senior Vice President, Global Communications and Corporate Brand, Oversees corporate communication, corporate brand experiences and events, reputation readiness and response and employee communication experiences globally.
Ariane Gorin, President, Expedia for Business, responsible for Expedia Group's global B2B business covering an ecosystem of travel suppliers, organizations that advertise on the Expedia Group platform, and partners that are powered by Expedia Group technology.
Jon Gieselman, President of Expedia Brands, focused on brand marketing, growth marketing and marketing technology services across all Expedia Group consumer brands.
Jeff Hurst, Chief Operating Officer of Expedia Brands , works closely with Jon Gieselman to continue building and evolving Expedia Group's consumer brands.
John Kim, President of Expedia Marketplace, oversees strategy, product, technology and operations for all Expedia Group's lines of business lodging, air, car, cruise and activities.
Rathi Murthy,  Chief Technology Officer and President of Expedia Services, focuses on evolving the company's technical strategy and underlying platform.
source: https://www.expediagroup.com/who-we-are/leadership/default.aspx
Executive Team
Barry Diller , Chairman and Senior Executive, Serves on boards of The  Coca-Cola Company and MGM Resorts International, also a member of The Business Council.
Peter Kern, Vice Chairman and Chief Executive Officer,  Currently serves on Board of Directors of Tribune Media Company, and CEO and Chairman of Board of Directors of Hemisphere Media Group, Inc., a publicly-traded Spanish Language media company, and as a member of Supervisory Board of trivago NV, a majority-owned subsidiary of Expedia Group.
Eric Hart, Chief Financial Officer,  prior acted as Chief Strategy Officer where he was responsible for Expedia Group strategy and business development as well as global M&A and  investments.
Robert Dzielak, Chief Legal Officer and Strategy, currently is also a member of the Supervisory Board of trivago, NV
Source from Expediagroup
Product Positioning
Expedia is an online travel agent that helps travelers plan and book travel. Expedia tries to make their products more variable and useful. They acquired lots of companies to expand their types of products.  Expedia provides Flights, car rentals and vacation packages and cruises. We care about the customer's experience very much. Expedia also provides excellent and clear websites for customers to use. Even the beginner can easily use Expedia websites to book the hotels and flights together. Besides, customers can do bundle booking on the websites and reduce the confusion about dealing with too many travel plans. Compared with Bookings, Expedia is more focused on America.
Competitive Analysis Globally
Asia and Europe:
In Europe, direct bookings had hovered around 20% of revenue from 2017 through 2019 but in 2020 that figure jumped to 30% and 32% for the first five months of 2021. In Asia it's from about 25% in 2017 to 2019 to 37% in 2020 and 41% in the first five months of 2021.
According to data from D-Edge clients, the jump in direct bookings has been primarily at the expense of Expedia Group, which dropped from 19% market share in Europe in 2019 to 10% in 2020 and 7% for the start of 2021. In Asia, Expedia Group went from 16% in 2019 to 8% in 2020 and 6% in the start of 2021.
Booking.com is the biggest player in the European OTA market with a 67.7%  share in 2019, according to Statista. Expedia and HRS had the second and third largest shares of the market, at 12.8% and 6.3% respectively.
As for Airbnb, while the company's overall market share for hotel distribution is small, it has been steadily growing.
Trip.com, formerly known as Ctrip, is the largest OTA in China with a 36.6% share of the online travel market. In next place comes Qunar, which is also owned by Trip.com, with a 16.5% share. Ctrip, the leader in China's online travel market and currently the second largest OTA in terms of market capitalization, has also said that it is focusing on capturing more markets in Asia, as many of them have greater scope for growth than many established markets in the West.
In India, MakeMyTrip is the leading OTA. Excluding the four major international OTAs – Booking.com, Expedia, Airbnb and Agoda – that also operate successfully in the Indian online travel market.

US:
Source: Investopedia
The United States is the largest travel market in the world, accounting for $2.1 trillion in 2019.  In the same year, the number of international tourist arrivals to the U.S. reached nearly 80 million after being on the increase for more than a decade. The two OTA giants, Expedia and Booking Holdings, continue to dominate in the US, representing 92% of the OTA market, says Phocuswright, although US online travel agency bookings fell sharply by 59% during 2020 as a result of the global pandemic.
The consolidation of the North American online travel market – with the help of acquisitions such as Orbitz, Travelocity, and HomeAway – strengthened Expedia's position in the U.S.
10 K Research
COVID-19 Pandemic: 
Since the first quarter of 2020, the governments of many countries have implemented various containment measures. Such restrictions, along with the significantly heightened cancellation levels and negative impact on the number of new travel bookings, have led to materially adverse cash flow and overall liquidity position.
The pandemic has impeded global economic activity for an extended period and could continue, even as restrictions are moderated or lifted and vaccines become more widely distributed.
Industry Factors: 
Expedia operates in an intensely competitive global environment and may be unable to compete successfully with its current or future competitors.
Declines or disruptions in the travel industry could adversely affect Expedia's business and financial performance. Factors include political instability, geopolitical conflicts, trade disputes, significant fluctuations in currency values, sovereign debt issues, macroeconomic concerns, bans on travel to and from certain countries, and climate change can dramatically and suddenly affect consumer travel behavior and decrease demand.
Financial Risks: 
Expedia may experience constraints in liquidity and be unable to access capital when necessary or desirable. If liquidity is materially diminished, Expedia may be unable to timely pay debts or leases or comply with material provisions of its contractual obligations.
Expedia has significant indebtedness, which could adversely affect its business and financial condition. As of December 31, 2021, there's outstanding long-term indebtedness, excluding current maturities, with a face value of $7.8 billion. In addition, it places Expedia at a competitive disadvantage compared to its competitors with less debt; and limits its ability to borrow additional funds.
Operational Risks: 
Expedia can be negatively affected by changes in search engine algorithms and dynamics or other traffic-generating arrangements and payments-related risks.
Expedia works closely with various business partners and relies on third parties for many systems and services, which their activities could be harmful. International operations involve additional risks, and its exposure to these risks will increase as the business expands globally. Acquisitions, investments, divestitures, or significant commercial arrangements could result in operating and financial difficulties.
It relies on the performance of our employees. If it cannot retain or motivate its current employees or hire, retain, and motivate qualified new personnel, its business will be harmed.
Expedia may not achieve some or all the expected benefits of its plans to increase our operational efficiencies, and its restructuring efforts may adversely affect our business.
Legal and Regulatory Risks: 
A failure to comply with current laws, rules, and regulations or changes to such laws, rules, and regulations and other legal uncertainties may adversely affect Expedia's business, financial performance, results of operations, or business growth.
The application of existing tax laws, rules, or regulations is subject to interpretation by taxing authorities. The enactment of legislation implementing changes in the taxation of domestic or international business activities, the adoption of other corporate tax reform policies, or changes in tax legislation or policies could materially affect its financial position and results of operations.
Technology, Information Protection, and Privacy Risks
Expedia relies on information technology to operate its businesses and maintain its competitiveness. Failing to invest in and adapt to technological developments and industry trends could harm the company.
System interruption, security breaches, and the lack of redundancy in its information systems may harm its businesses; it also faces risks related to our ability to maintain data and hardware security concerning remote working during the COVID-19 pandemic. Expedia is subject to privacy regulations, and compliance with these regulations could impose significant compliance burdens
Governance Risk: 
Mr. Diller may be deemed to beneficially own shares representing approximately 27% of the outstanding voting power of Expedia Group. As of December 31, 2021, Mr. Diller may be deemed to have beneficially owned 100% of Expedia Group's outstanding Class B common stock, representing approximately 27% of the total voting power of all shares of Expedia Group common stock and Class B common stock outstanding. In the future, Mr. Diller's ownership percentage in Expedia Group could increase if he buys additional shares of Expedia Group common stock in open market purchases or if Expedia Group repurchases shares of its common stock. Expedia Group buys out Liberty Expedia Holdings in an all-stock deal. The deal was closed on July 26, 2019. Until now, Expedia has been controlled by the investment vehicle run by Expedia Chairman Barry Diller. After the agreement, Diller will own approximately 29 percent of Expedia's voting power.
Increased focus on its environmental, social, and governance responsibilities has and will likely continue to result in additional costs and risks and may adversely impact its reputation, employee retention, and willingness of customers and partners to do business with Expedia.
Risks Related to Ownership of Stock
The market price of Expedia's common stock is highly volatile. It could continue to be subject to wide fluctuations in response to capital or governance structure changes, common stock repurchases, price and volume fluctuations in the stock markets. Volatility in stock price could also make it less attractive to confident investors or invite speculative trading in common stock or debt instruments. 
Operating Metrics: 
The COVID-19 pandemic and measures to contain the virus, including government travel restrictions and quarantine orders, have significantly impacted the travel industry. Additionally, there continues to be uncertainty over the impact of the Omicron or other new variants of the virus, including the efficacy of the vaccines against such variants, which has contributed, and may continue to contribute, to delays in economic recovery. Showing on the cash flow statement, Expedia experienced a negative Free Cash Flow to the Firm during 2020.
The operating results are affected by specific metrics, such as gross bookings and revenue margin, which are necessary for understanding and evaluating Expedia's performance. Gross bookings generally represent the total retail value of transactions booked for agency and merchant transactions, recorded at the time of booking, reflecting the total price due for travel by travelers, including taxes, fees, and other charges, and are reduced for cancelations and refunds. Revenue margin is defined as revenue as a percentage of gross bookings. The increase in worldwide gross bookings in 2021 compared to 2020 reflected improvements in the travel environment. Revenue margin in 2021 was lower than 2020 due in part to significant lodging cancellations in the prior year period, which reduced gross bookings, creating an unusual mix of bookings and revenue.
Revenue can be evaluated from different categories. Overall, it increased 65% in 2021 compared to 2020. Expedia's retail, B2B, and trivago segments' revenue increased compared to the prior year, reflecting improvements in travel trends during 2021. As of Service type, Lodging revenue increased 59% in 2021, Air revenue increased 141% in 2021, driven by an increase in air tickets sold by 43%, and Advertising and media revenue increased 49% in 2021 due to increases at both Trivago and Expedia Group Media Solutions.
As for expenses, the cost of revenue primarily consists of direct costs to support customer operations; it decreased by $127 million during 2021 compared to 2020, primarily due to a decrease in bad debt expense, which was significantly elevated in 2020 due to the initial impacts of COVID-19.
Selling and marketing expenses related to direct and indirect costs increased by $1.7 billion in 2021 compared to 2020, primarily due to direct costs as marketing spending increased in response to improved demand. Technology and content expenses increased by $6 million in 2021 compared to 2020, and General and administrative expenses increased by $116 million in 2021 compared to 2020, mainly due to an increase in stock-based compensation of $107 million. Depreciation decreased by $24 million in 2021 compared to 2020. Interest income decreased in 2021 compared to 2020 because of lower rates of return. There's an operating income of $186 million compared to an operating loss of $2.7 billion in 2020. The improvement in 2021 was primarily due to growth in revenue above operating costs.
Capitalization Requirements
Cash Holding: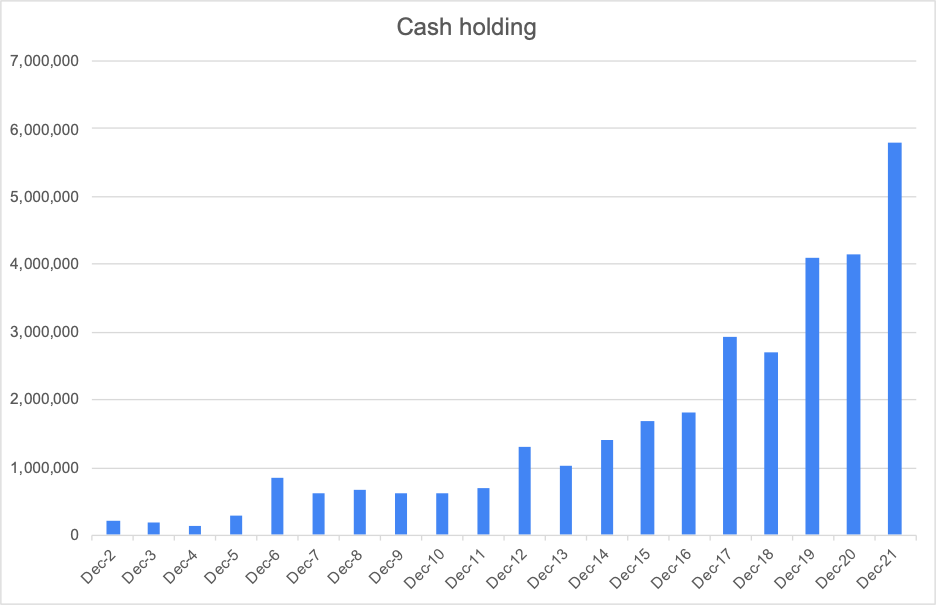 Source Yahoo Finance
From the graph, we can see that the cash amount Expedia had in 2020 is pretty much the same as 2019, around 4,138,000.
However, we can see the cash amount is a lot higher than 2018. In that case, it is inferable that during the pandemic period of time, Expedia prefer to hold cash, rather than investing their money.
Debt & equity: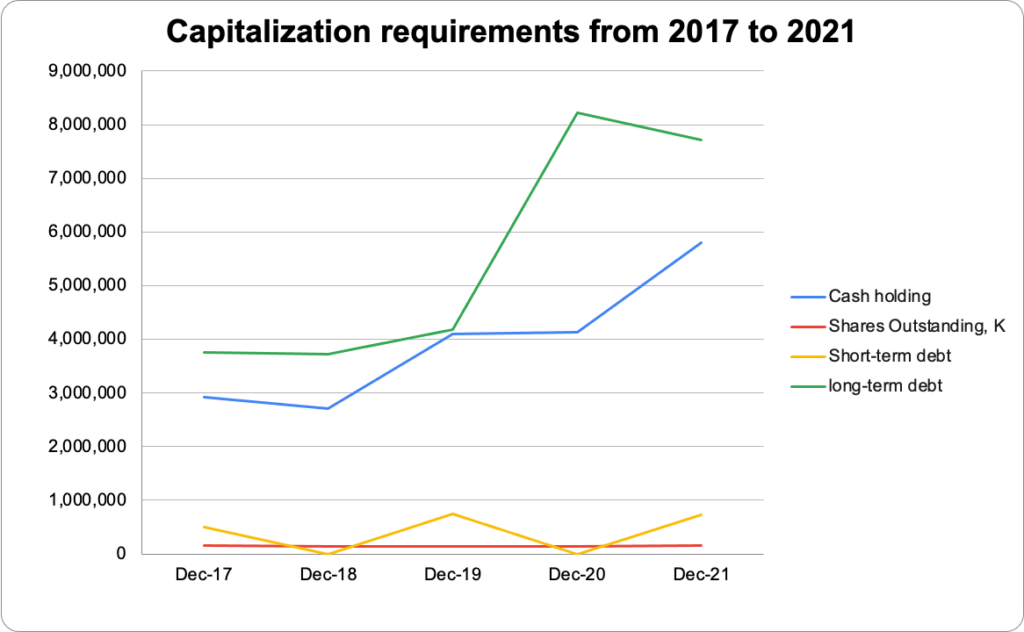 Source Yahoo Finance
As we can see from the graph, the pandemic in 2020 hit Expedia badly in a way that their incomes are not as much as their expenses. Therefore, they had to borrow money from the bank to support their daily operations. They borrowed a large amount of long-term debt and zero short-term debt. Compared to 2019, the long-term debt amount in 2020 is much higher.
The shareholder's equity from years to years are similar without huge changes.
Break-Even Analysis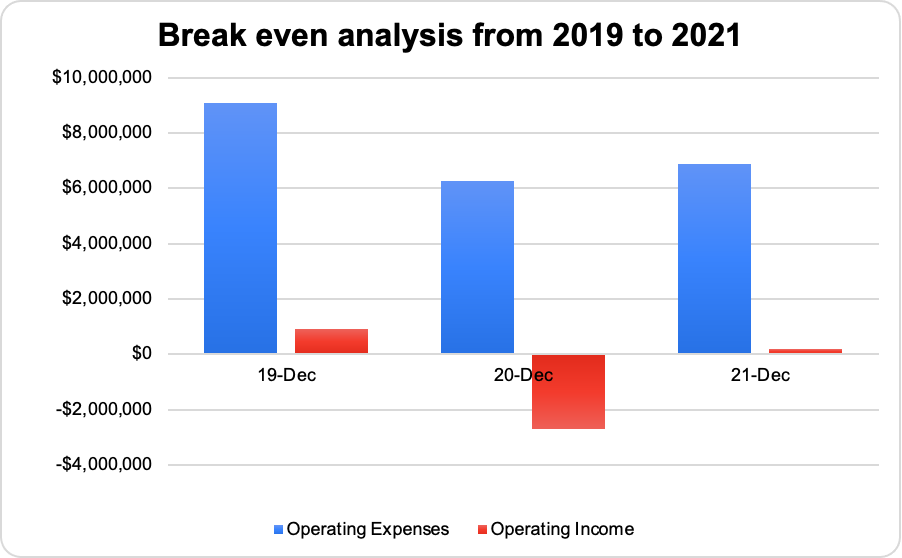 In the chart, it shows the operational expense and operating income ranging from 2019 to 2021.
It is clear that the pandemic that happened in 2020 had impacted Expedia badly, because its operational income is much lower than 2019 with a below zero amount, even though the operational expense did not as high as 2019.
According to the CNBC news in April 2020, Expedia came out with some solutions for it to raise money during the period of pandemic, in which their expenses were way larger than their amount of incomes. Because they also had to pay for the losses of guest cancellations, besides normal expenses. They were both raising debt financing and cutting back on costs to help it ride through the crisis.
First of all, Expedia raised a total of 3.2 billion in new capital. The business is seeking 1.2 billion through a permanent preferred stock private placement and 2 billion through additional debt financing. According to Expedia, the equity investment will come from funds run by affiliates of Apollo Global Management and Silver Lake, and each will receive a seat on the board of the business. Expedia stated that it anticipates the additional money would improve its financial adaptability and liquidity position. The Covid-19 problem has particularly hurt the tourism sector as a whole. Airlines and hotels alike have been forced to deal with a tremendous surge of cancellations, and airports look to be almost empty.
Second, Expedia has made it clear that it is already reducing expenses. In sharp contrast to the 5 billion it typically spends, Chairman Barry Diller told CNBC that the corporation will not even spend 1 billion on advertising this year.
Cash Flow Projections
Source Yahoo Finance
Mar-22
Dec-21
Sep-21
Jun-21
Mar-21
Cash Flows From Operating Activities
Net Income
-123,000
15,000
-380,000
-758,000
-581,000
Depreciation Amortization
287,000
1,252,000
934,000
617,000
292,000
Income taxes – deferred
-101,000
-145,000
-158,000
-241,000
-175,000
Accounts receivable
-476,000
-721,000
-781,000
-729,000
-300,000
Accounts payable and accrued liabilities
-41,000
777,000
663,000
556,000
126,000
Other Working Capital
2,909,000
2,620,000
2,716,000
4,752,000
2,305,000
Other Operating Activity
536,000
-50,000
469,000
487,000
503,000
Operating Cash Flow
$2,991,000
$3,748,000
$3,463,000
$4,684,000
$2,170,000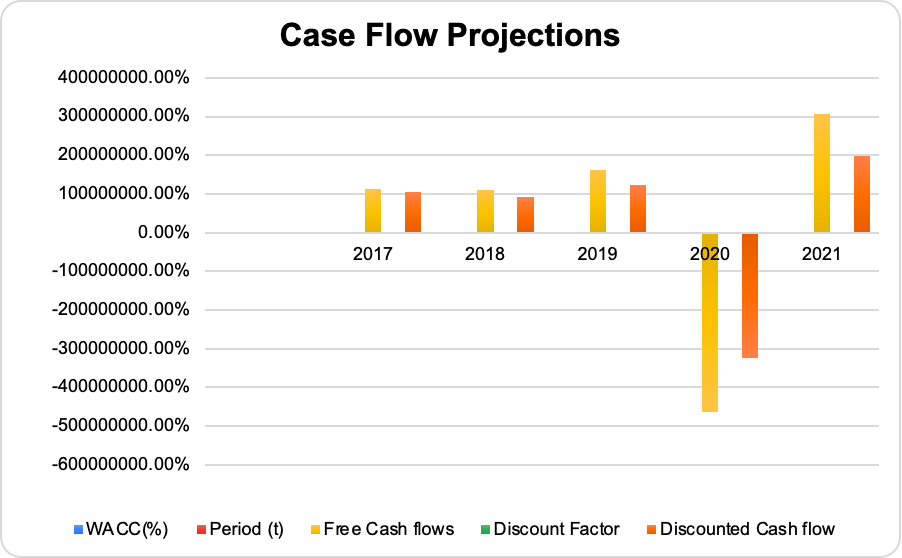 Source Yahoo Finance
The cash flow projections I used were from each quarter of year 2021 and the discounted cash flow of 2017 to 2021.
We can see the operations in 2021 were getting on track normally step by step after the 2020 pandemic. There is more money earned from 2021's daily operations and investments activities when everything is recovering in a good way. More people went out to travel and used the websites of Expedia.
Cash-flow Statement
| | | | |
| --- | --- | --- | --- |
| | 21-Dec | 20-Dec | 19-Dec |
| Sales | $8,598,000 | $5,199,000 | $12,067,000 |
| Cost of Goods | $1,522,000 | $1,649,000 | $2,066,000 |
| Gross Profit | $7,076,000 | $3,550,000 | $10,001,000 |
| Operating Expenses | $6,890,000 | $6,269,000 | $9,098,000 |
| Operating Income | $186,000 | -$2,719,000 | $903,000 |
| Interest Expense | $351,000 | $360,000 | $173,000 |
| Other Income | $127,000 | -$72,000 | $45,000 |
| Pre-tax Income | -$38,000 | -$3,151,000 | $775,000 |
| Income Tax | -53,000 | -423,000 | 203,000 |
| Net Income Continuous | 15,000 | -2,728,000 | 572,000 |
| Minority Interests | 3,000 | -116,000 | 7,000 |
The cash flow statement for the past 3 years is summarized above and also in the excel sheet.
Industry Average Valuation Multiples
The rivalry among the existing players in an industry is intense; Expedia Group competitors Booking.com and Airbnb occupy a significant market share.
Expedia has a portfolio of over 20 brands and more than 200 travel sites, including Expedia.com, Travelocity, Hotels.com, CheapTickets, CarRentals, and Orbitz. Its Vrbo online marketplace competes with the likes of Airbnb in the vacation rental space. It's a bundle booking website, meaning customers can book everything needed for a journey.
Booking Holdings offers online travel and related services in over 220 countries through six primary brands: Booking.com, Priceline, Agoda, Rentalcars.com, KAYAK, and OpenTable. Unlike Expedia, which brings most of the brands from the United States, it gets results for America and other companies from different parts of the world. Despite persistent uncertainty associated with COVID-19 and geopolitical tensions, there is a continued recovery in travel demand given the encouraging summer bookings in Western Europe and North America.
Airbnb, a leading online vacation rental booking marketplace, boasts 4 million hosts and 6 million active listings as of year-end 2021. The company's hosts span over 220 countries and regions, with 85% of hosts located outside the U.S. Like the rest of the companies within the travel industry, Airbnb's business was also disrupted by the COVID-19 pandemic, but it has recovered remarkably. Airbnb's revenue in Q2'21 exceeded its performance in Q2'19 by 10%. It has benefited from robust domestic long-term stays and short-distance travel. In contrast, Expedia has been struggling in the absence of international travel.
As of July 12, 2022,  Expedia has the lowest P/E, P/S, EV/EBITDA, and EV/SALES ratio among its competitors, which implies that Expedia might be more attractive to investors as it's relatively undervalued.
Source Yahoo Finance
Mergers and Acquisitions
    CanadaStays, Holiday Rental Services
Announced on August 22, 2019, Expedia Group Inc has fully acquired CanadaStays, a Canadian vacation rental marketplace travel brand with a strategic partnership with Expedia since 2015. Full terms of the deal have not been disclosed, but Expedia Group says it has fully acquired all shares of CanadaStays stock it did not already own. As a result, CanadaStays will become part of the Vrbo vacation rentals division in a move designed to strengthen Expedia Group's alternative accommodation presence in Canada.
    Liberty Expedia Holdings
Announced on February 4, 2019, and closed on July 26, 2019, Expedia Group Inc acquired Liberty Expedia Holdings Inc for $2.9 billion in stock. Located in Englewood, Colorado, United States, Liberty Expedia Holdings Inc operates as an investment holding company interested in providing travel services and fitness-related products. Expedia will stop being a controlled company after this acquisition, and Barry Diller, chairman of Expedia, will own about 29 percent of the online travel group's voting power. The move makes the company's ownership structure more transparent.
    Apartment Jet, the short-term rental market 
On October 25, 2018, Expedia Group Inc acquired Apartment Jet Inc from Network Ventures, Fulcrum Investing LLC, and BlueTree Allied Angels LLC for an undisclosed amount. Apartment Jet Inc provides software solutions for the rental of guest suite services, and Expedia Group Inc also acquired Pillow Homes Inc in a separate but related transaction.
    Pillow, Short-Term Rental Management 
On October 25, 2018, Expedia Group Inc acquired Pillow Homes Inc. The companies did not disclose the terms of the deals. Pillow is a San Francisco-based startup that has raised $16 million in the capital. Pillow offers online tools that enable multifamily building owners to access information about short-term rental guests and monitor which tenants are renting out of which of their units. The company also helps resident hosts to comply with regulations, licenses, and taxes.
    SilverRail Technologies, Software, $148M 
Announced on May 11, 2017, and Closed on January 23, 2017, Expedia Group Inc acquired the train-service distributor SilverRail Technologies Inc. The transaction enhances Expedia Inc's technology service offerings. SilverRail Technologies Inc's team would join Expedia Inc as part of the transaction. The deal cost Expedia US$148 million, of which $138 million in cash. Announced on October 19, 2020, a private group led by the management of SilverRail Technologies Inc acquired an undisclosed majority stake in SilverRail Technologies Inc from Expedia Group Inc for an undisclosed amount. Following the transaction, Expedia Group Inc will retain an interest in SilverRail Technologies Inc. SilverRail will continue to supply Expedia Group's business travel unit Egencia with rail options globally.
    Trover, Information sharing platform
On July 20, 2016, Expedia acquired Trover Inc, a portfolio company of Ignition Venture Partners, General Catalyst LLC, Benchmark Capital Management Co LLC, and Concur Technologies, for an undisclosed amount. The acquisition complements Expedia Inc's existing service offerings and expands its market presence and customer base in the United States. Trover Inc is in Seattle, Washington, United States, and develops and markets online applications that collect and organize user-generated travel information. On August 1, 2020, Trover announced that it was shutting down.
    HomeAway, Holiday Rental Services, $3.9B
Announced on November 4, 2015, and closed on December 15, 2015, Expedia Inc acquired HomeAway, Inc for US$3.4 billion in cash and stock. Under the terms of the transaction, Expedia Inc paid $10.15 cash and 0.2065 in Expedia Inc shares for each share of HomeAway Inc. The transaction expands Expedia's service portfolio with the addition of HomeAway's vacation rental website and strengthens its market presence. HomeAway Inc is in Austin, Texas, United States, and provides online and traditional vacation rental services.
    Orbitz Worldwide, Travel Agency, $1.6B
Announced on February 12, 2015, completed on September 17, 2015, Expedia Inc acquired Orbitz Worldwide Inc for US$1.4 billion in cash. Under the transaction's terms, Orbitz Worldwide Inc shareholders received US$12 in cash for each share they owned. The purchase price represents approximately 29% over the volume-weighted average share price of Orbitz Worldwide Inc for the five trading days up to February 11, 2015. Orbitz Worldwide Inc is in Chicago, Illinois, United States, and provides online travel-related reservations. With the completion of the transaction, Orbitz Worldwide, Inc. stock is no longer being traded on the New York Stock Exchange.
    AAE Travel, Travel Agency
Announced on August 14, 2018, Expedia Southeast Asia Pte Ltd, a subsidiary of Expedia Group Inc, acquired the remaining 25% stake, not already owned, in AAE Travel Pte Ltd from AirAsia Exp Pte Ltd, a subsidiary of AirAsia Group Bhd, for SGD82.6 million (US$60 million) in cash. The acquisition strengthens Expedia's market presence in the Asian travel market. Incorporated on June 3, 2011, as a joint venture between Expedia Group Inc and AirAsia Group Bhd, AAE Travel Pte Ltd is located in Central Singapore, Singapore, and provides online traveling services.
Travelocity, Travel Agency, $280M
Announced on January 23, 2015, Expedia Inc acquired Travelocity.com LP from Sabre Corp, a portfolio company of TPG Capital LP, for US$280 million in cash. Travelocity joins Expedia's growing travel website portfolio with brands like Expedia.com, Hotels.com, eLong, Hotwire, Trivago, CarRentals.com, Venere.com, and Egencia. As of 2014, Expedia has been powering Travelocity's U.S. and Canadian websites and its hotel supply and customer service programs.
Auto Escape Group, car rental,
Announced on June 26, 2012, and closed on June 29, 2014, Expedia acquired Auto Escape Group, one of Europe's leading online car rental reservation companies, from private equity fund Montefiore Investment and certain members of the Auto Escape Group's management team. The acquisition enhances the service offerings of Expedia Inc and expands its market presence in Europe. Auto Escape Group forms a crucial part of the CarRentals.com brand's global strategy and team after the acquisition.
Wotif, Travel Agency, $657M
Announced on July 6, 2014, and closed on November 14, 2014, Expedia Inc acquired Wotif.com Holdings Ltd, an Australian-based online travel company, for approximately AUD703.1 million (US$658.1 million) in cash, plus AUD21.3 million (US$19.9 million) in contingent payment. Under the terms of the agreement, Expedia Inc paid AUD3.06 (US$2.86) in cash and a special dividend of AUD0.24 (US$0.22) for every share in Wotif.com Holdings Ltd. In addition, an AUD0.10 (US$0.09) benefit was also received by the shareholders. Wotif Group is well-positioned in the Asia-Pacific region with a portfolio of leading travel brands. The acquisition allows both companies to expand their operations in the Asia-Pacific region.
Trivago GmbH, Hotel Metasearch Engine, $632M
Announced on December 21, 2012, and closed on March 8, 2013, Expedia Inc acquired a 63% majority stake in trivago GmbH, a German metasearch company, for EUR477 million (US$632.2 million) in cash and stock. Under the terms of the deal, Expedia Inc paid EUR434 million (US$574.5 million) in cash and issued 875,200 shares spread over five years. Trivago GmbH is located in Dusseldorf, Nordrhein-Westfalen, Germany, and operates a website that provides price comparisons and hotel information. The acquisition was part of a push by Expedia to expand its presence in Europe.
Mobiata, Mobile App Developer,
Closed on November 18, 2010, Expedia acquired developer Mobiata, the creator of the popular mobile travel application FlightTrack. The terms of the deal were not disclosed. Mobiata creates many travel mobile applications, including FlightTrack, TripDeck, HotelPal FlightBoard, and FareCompare. Expedia described the acquisition as its "most significant investment to date in addressing the mobile travel market."
Venere, Hotel Booking Engine,
Announced on July 15, 2008, Venere.com has established relationships with approximately 29,000 hotels and bed and breakfast properties throughout Europe and the U.S. The transaction will add more than 10,000 incremental hotel properties in Europe, the Middle East, and Africa to Expedia, Inc.'s global hotel offering. Acquiring Venere brings a well-known, respected European consumer brand to the Expedia portfolio.
VirtualTourist, Travel Agency
Closed on July 1, 2008, TripAdvisor LLC, a subsidiary of Expedia Group Inc, acquired VirtualTourist.com Inc for an undisclosed amount. VirtualTourist.com Inc operates a website that provides user-generated travel content. VirtualTourist.com is one of the largest online travel communities in the world and a premier resource for travelers seeking an insider perspective on travel information, from Las Vegas hotels to New York City restaurants.
OneTime, Travel Agency
Closed on July 1, 2008, TripAdvisor LLC, a subsidiary of Expedia Inc, acquired OneTime.com Inc for an undisclosed amount. OneTime is a leading travel comparison website where users compare prices from more than 60 popular travel websites, direct suppliers, and metasearch engines each month. It will operate under the same management, and employees will be retained at the exact location. VirtualTourist and OneTime, based in Manhattan Beach, Calif., generate revenue through online advertising, operating profitably. Specific terms of the transaction are not being disclosed, and there are no plans for integration of the businesses or the Web domains. Closed on December 21, 2011, Expedia Inc spun off its TripAdvisor business unit into a separate public company for US$3.7 billion in stock through a stock distribution or reclassification.
SYNERGY GIBI travel, Travel Agency
Closed on June 30, 2008, Expedia Inc. has agreed to buy Synergi Global Travel Management for an undisclosed amount and will rebrand its Expedia Corporate Travel division as Egencia. Synergi Global, Egencia's first Canadian acquisition, is a corporate travel management, meeting, and incentives company. The acquisition of SYNERGY Global Travel Management Canada allows Expedia Inc to expand its Canadian presence and allow SYNERGY to expand its products and services.
CarRentals, Car rental Search Engine,
Closed on March 14, 2008, Expedia Inc acquired CarRentals.com for an undisclosed amount. CarRentals.com, a provider of online rental car services, will continue to operate under its current format, although it will report as a direct business unit of Expedia Inc's brand Hotwire. This acquisition allows Expedia Inc to broaden the choices and value to budget-conscious consumers. Based in New Jersey, CarRentals.com is the premier car rental booking company on the web, offering advanced technologies to consumers and rental car partners. The terms of the deal were not disclosed. Expedia confirmed that it expects to make no material changes to CarRentals.com operations, its employee base or brand name, and the senior leadership team will remain intact. In addition, supply partners to Hotwire and CarRentals.com will continue under current working relationships with each brand. Under this new agreement, CarRentals.com will report as a business unit directly to Expedia, Inc.'s leading discount travel brand Hotwire.
Egencia, Travel agency
Announced on March 29, 2004, Expedia is getting into the European corporate market by acquiring Egencia, a VC-backed French firm. Terms are undisclosed. Announced on May 4, 2021, and closed on November 2, 2021, American Express Global Business Travel (GBT), the world's leading business partner for managed travel, has completed the acquisition of Egencia, the leading digital travel management platform. As part of the transaction, Expedia Group has become a shareholder in GBT. Expedia has also entered into a long-term agreement to provide accommodation supply to GBT. The transaction was subject to consultation by Expedia Group Inc and Egencia LLC with their employee representatives, as well as customary closing conditions, including regulatory approvals.
New trade Technologies, Reservation Software,
Announced on October 15, 2002, and completed on October 28, 2002. Expedia, Inc. has signed a definitive agreement to acquire all the assets of Newtrade Technologies Inc., a Montreal-based developer of software and information distribution services that help hotels deliver their rates and availability to the market more efficiently. The terms of the deal were not disclosed. The new trade is a private company recognized by the OpenTravel- Alliance (OTA) as a leader in developing open-standard technology that enables connectivity between hotel reservation systems and electronic distribution channels; closed on October 14, 2002. As part of Expedia, New trade will provide this new technology to Expedia's merchant hotel partners to improve their quality of connectivity and give hotels unprecedented flexibility and control over their information distribution and inventory management.
Classic Vacation, Travel agency, $78M
Announced on January 23, 2002, and closed on February 21, 2002, the purchase price is about $48 million, plus the assumption of approximately $30 million in liabilities. The acquired liabilities are principally working capital accounts, such as customer deposits, which are expected to require little or no additional funding by Expedia. Classic Custom Vacations is a leading wholesaler of premier vacation packages to Hawaii, Mexico, North America, Europe, and the Caribbean. This acquisition provides Expedia Inc with the opportunity to expand its distribution channels for its wholesale inventory to include traditional travel agencies.
Vacation spot, Internet service provider,
Announced on January 31, 2000, closed on March 21, 2000, Expedia, Inc. will issue approximately 2.6 million shares and options, valued at approximately $82 million, in exchange for all of the outstanding shares, options, and warrants of VacationSpot.com, Inc VacationSpot.com, Inc. is the leading reservation network for vacation homes, rental condos, inns, and bed-and-breakfasts around the world, operating the VacationSpot.com and Rent-a-Holiday.com Web sites. In addition, the company's Web sites offer over 25,000 unique properties in more than 4,000 vacation destinations and more than 100 countries worldwide.
Travelscape, Internet service provider,
Announced on January 31, 2000, closed on March 21, 2000, Expedia, Inc. will issue approximately 3.0 million shares, options, and warrants, valued at approximately $95 million, in exchange for all outstanding shares, options, and warrants of Travelscape.com, Inc. Expedia, Inc. is also assuming the long-term debt of approximately $8 million as part of the transaction. As of December 31, 1999, Travelscape.com, Inc. had a cash position of approximately $4 million. Travelscape.com, Inc is the leading branded Internet hotel consolidator with discounted rate contracts at over 1,200 hotels in 240 cities worldwide; said the company would continue to operate under its present management. No layoffs or staff changes are planned. The acquisitions firmly position Expedia as the leader in Internet lodging with 65,000 lodging properties worldwide, guaranteed the lowest hotel rates in 240 cities, and a combined run rate of approximately 2 million room nights per year.
Stock Price since IPO
The initial public offering price for Expedia was 24.6 dollars per share in 1999. The volume was 11 million. Market cap was 270.6 millions in 1999. Expedia is registered under the ticker VIE:EXPE.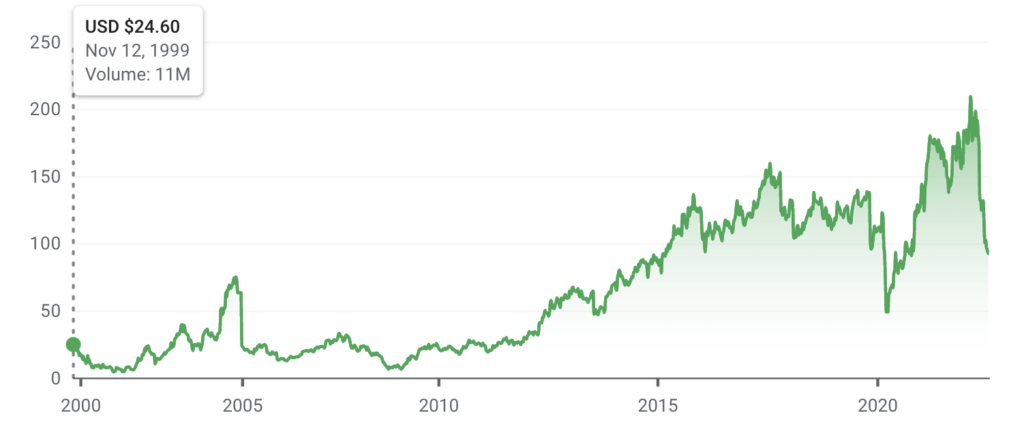 Source investopedia
The initial public offering price for Expedia was 24.6 dollars per share in 1999. The volume was 11 million. Market cap was 270.6 millions in 1999. Expedia is registered under the ticker VIE:EXPE.

2002-IAC brought Expedia for 1.5 billion
2005-IAC spun off Expedia Inc, which own its travel group of business
2007-2009-Global Financial Crisis due to the house market bubble decreased the price for about 48%
2015- Chinese stock market crash caused stock market bubble, decreasing the price for 44%
2020- Covid-19 dropped the stock price for about 40%
2022-Market cap is 15.375 billion, increasing 55%. The stock price on Jul 15 is 92.35 dollars.
Market Research 
Target Customers for the Company 
Business segment: 

Expedia offers Last-minute Deals when companies or traveling employees travel in the next 2 weeks. Many available hotel deals come with free cancellation. The hotels and airplanes would be very cheap which is incentivizing employees to become expedia members and accumulate the points to get more benefits. Besides, business segments help the company reduce the cost of business travel and provide quick flight time to increase the effectiveness of business.

Vacation Segment: 

Considering most people travel with families on vacation, Expedia focused on providing leisure and luxury for customers by organizing the website well. They set "vacation rental" to offer all the activities customers want. To stress out the customer's travel plan, Expedia also put all the things in one place so that the customers can view the hotel's information more easily and order more quickly.

  Personalized Offers: 

The popularity with college students is growing recently. For tribes-groups of people with similar interests and life stages, such as students and military, Expedia  provides attractive discounts and great vacation packages during different spring break and holidays.

How do they acquire target companies?
According to the above acquisition information, Expedia acquired about 23 companies by millions of dollars in cash, options and warrants and to capture more market share and expand travel empire and differentiate Expedia's offering in the market. Some acquisition terms of transaction were not disclosed. From different acquisitions, Expedia added hotels, car rental, flight services and provide cheap prices and great travel experiences for customers. Expedia also acquired companies, like Traveldoo,  to provide technology and innovation for expedia business. From the stock map above, Each time the acquisition can also improve the stock price and create more benefit for expedia.
What types of marketing does the company do to increase their brand  recognition 
Product: 
Expedia offered the largest catalogs across all segments to provide various services, such as vacation packages, car rentals, flights and hotels. Customers can also choose their services from over 150000 hotels and over 300 airlines. Expedia's mobile and website are very convenient for customers and ease the travel pressure of customers. Expedia also can accept feedback and provide solutions for customers from time to time. The technology of expedia is also excellent and provides customers good experience to search information, plan book travel from expedia.
Price:
Expedia acquired CheapTickets to provide cheap hotels, cheap cruise, last-minute trips and cheap vacation rentals. We also offers discounts and seasonal sales to attract customers and gain the loyalty of customers as well. Expedia also provides premium services mainly targeted towards the high-end customers.
Place:
Expedia is distributed and explores its service to different countries. For instance,  Expedia acquired Wotif, an online travel site in Australia and New Zealand, to gain more market share in different countries. 
Promotion:
Expedia uses promotional and advertising strategy to attract the customers. Expedia launched lots of ad campaigns. For instance, Friend Trips, a popular campaign that incur more than 2 millions friends invited by people to travel, helps expedia to gain more reputation and increase the bookings. Expedia actively manages their social media. They post their news frequently and listen to customer's advice. Expedia follows customers via regular twitters as well.
Brand Positioning:
Expedia is one of the world's leading full-service online travel brands. After Covid-19 years, Expedia decided to change their brand positioning from transactions to focus on who you travel with. Moreover, Expedia committed to provide services for travelers and to be the ultimate travel companion for travelers. Expedia refreshes its websites and mobile applications to provide a clear and simple layout to empower customers to book trips. Moreover, we want to support different kinds of travels and make a promise that Expedia will suit their needs.
SWOT Analysis
Strength:
Expedia Group is one of the world's largest online travel companies; it also offer a broad range of hospitality and online travel services. The company portfolio is also well developed in collaborations with airlines and hotels. With such a diverse portfolio, Expedia can also target the broadest segment of customers, including travelers, suppliers, and advertising agencies. The company accommodates multiple brands like Brand Expedia, Hotels.com, Expedia Partner Solutions, Trivago, etc. Over the years, such a strong brand name gained the loyalty of its customers through exceptional services. Furthermore, Expedia is present across 32 countries in the global market space, which becomes a major strength as it determines the business's reach to the target market and ensures easy accessibility.
Weakness: 
Expedia competes in rapidly evolving and intensely competitive markets. Such intense competition from other service providers means narrow margins and slow market share growth. Also, it's challenging to continue gaining market share. On the other hand, reputation and customer loyalty are highly dependent on the suppliers making. Expedia vulnerable to damage and claims. In addition, Expedia relies heavily upon the intellectual property and proprietary information in content, brands, domain names, website URLs, software code, and proprietary technology in connection with their license agreement with third parties. Those third parties may obtain Expedia's property without authorization or develop similar intellectual property independently.
Opportunity:
As the gross bookings represent a single-digit percentage of total worldwide travel spending. The international markets represent tremendous opportunities for Expedia Group. With an increasing demand for digital travel bookings, Expedia has  also completed many mergers and acquisitions deals; over the years, it has invested more into mobile technology and apps so that the bookings are more convenient for customers who still use traditional methods of bookings and are reluctant to use the internet for financial transactions.
Threats: 
As the COVID-19 pandemic has severely restricted the level of economic activity around the world. Also they had a remarkable effect on the global travel industry. The fluctuating global economy caused by the COVID-19 pandemic or other factors harms Expedia's business.