British Airways is a part of International Airline Group.

In April 2010, firm merger plans were put in place. The newly combined airline was to be called International Airlines Group (IAG).

British Airways (BA) is the flag carrier airline of the United Kingdom. It is headquartered in London, England.

The airline is the second largest UK based carrier, based on fleet size and passengers carried, behind easyJet.

BA was created in 1974 after a British Airways Board was established by the British government to manage the two nationalized airline corporations, British Overseas Airways Corporation and British European Airways, and two regional airlines, Cambrian Airways and Northeast Airlines.

On 31 March 1974, all four companies merged to form British Airways.

British Airways serves over 170 destinations in 70 countries.
Chairman Sir John King:
John Leonard King, Baron King of Wartnaby (29 August 1917 – 12 July 2005) was a British businessman, who was noted for leading British Airways from an inefficient, nationalised company to one of the most successful airlines of recent times. 
CEO Colin Marshall
Colin Marsh Marshall, Baron Marshall of Knightsbridge (16 November 1933 – 5 July 2012) was a British businessman and member of the House of Lords. Marshall was hired by Lord King of Wartnaby in 1983 as CEO of British Airways (BA) and was instrumental in the reform of the company prior to its successful privatisation in 1987.
Alex Cruz
Chairman
Executive Board
Mr. Alex Cruz is currently the Chairman of the company.
Sean Doyle
Chief Executive Officer
Senior Management
Since: 2020
Mr. Sean Doyle has been the Chief Executive Officer of the company since October 2020. Prior to this, he served as Chairman, and Chief Executive Officer at Aer Lingus Group PLC from January 2019.
Rebecca Napier
Chief Financial Officer
Senior Management
Since: 2019
Mrs. Rebecca Napier has been the Chief Financial Officer of the company since 2019.
Michelle Lydon
Chief People Officer
Senior Management
Since: 2022
Ms. Michelle Lydon has been the Chief People Officer of the company since February 2022. Prior to this, she served as the Group Human Resources Director at QinetiQ.
Colm Lacy
Chief Commercial Officer
Senior Management
Since: 2022
Mr. Colm Lacy has been the Chief Commercial Officer of the company since January 2022. Previously, he served as Head of Revenue Management, Pricing & Ancillaries of the company.
IAG comprises 5 airline brands and 3 affiliated companies:
Two full service carriers:

Two value carrier:

Two low cost carriers:

IAG Platform companies:

British Airways

Iberia

Aer Lingus

Iberia Express

LEVEL

Vueling

loyalty currency Avios

IAG Cargo

IAG GBS (Global Business Services)

IAG Tech.
Source from Brtshairways.com
IAG comprises 25,000+ Patents:
Aerospace & Defense
Artificial Intelligence & Machine Learning
Battery (Solid State, Lithium Ion, etc.)
Display (Flexible, OLED, Mini LED, Micro LED, etc.)
Energy, Oil & Gas
Financial Technology (Blockchain, Cryptocurrency, Payments, etc.)
Internet Advertising
Semiconductor (Memory, Processing, Packaging, etc.)
Telecommunications
Wireless (5G, LTE, WiFi 6, etc.)
Virtual, Augmented, and Mixed Reality
Competitive Analysis Globally – U.S. Top Five
IAG.L's total debt is relatively small in the U.S, but its Debt-to-equity ratio is very high.
IAG.L has the lowest EBIT in the U.S. and it has a relatively low gross profit compared to others.
Source from market share 
IAG.L has the highest cash flow compared to US companies, which means it has more opportunities to implement new strategies in the US.
Competitive Analysis Globally - Asian Top Five
IAG.L is in the low EBIT of Asia, but it has a relatively high gross profit compared to others.
IAG.L's cash flow is relatively high compared to Asian companies, which means it has more competitors in Asia.
Competitive Analysis Globally - European Top Five
The total liabilities of IAG.L are about the same compared to Europe, but its Debt-to-equity ratio is very high.
IAG.L is in the lowest EBIT in Europe and has a relatively low gross profit compared to others.
IAG.L's cash flow does not compare favorably with European companies, which means it will have relative difficulties competing in Europe.
COVID-19 Pandemic
In 2022, countries that have lifted COVID-19-related travel restrictions are steadily increasing. According to World Tourism Organization (UNWTO)'s recovery tracker, the number of countries with no COVID-19-related travel restrictions has increased from 8 to 82 between March 2022 and September 2022. Among these countries, countries that belong to the European continent are significantly higher than countries of other regions including Africa, America, Asia Pacific, and the Middle East. This will greatly reduce the financial risks caused by COVID-19 for BA considering the majority of their passengers are traveling between European countries and other regions. 
Source from market share
BA's stock performance, however, has not recovered from the pandemic's impacts. According to London Stock Exchange's report on British Airways' annual closing price, there is a significant overall decline between 2019 and 2020, and the stock performance slowly decreases between 2020 and 2022. Considering the pandemic started at the beginning of 2020 and people are forced to cancel their travel plans due to COVID-19 restrictions, it is likely that the significant decline is caused by the pandemic. However, 2022 is when many countries started to lift their COVID-19 restrictions, so the stock performance in 2022 doesn't reflect the trend of BA'a future stock performance. With many countries lifting their travel restrictions, BA will likely experience growth in stock performance in the future. 
Source from market share
Customer Demand 
Customer demand for flights increased in 2020. According to UNWTO, while 2020 experienced a drastic decline in occupancy rates, international tourist arrivals, and actual air reservations, they shared a slow growth between 2020 and 2022. IAG's 2020 6-month report stated that British Airways' capacity was limited to 669.1% in quarter 2, which has significantly increased since quarter 1 which had a limit of 57.4%. BA is planning to increase the capacity limit to c.75% in quarter 3 of 2022. These limits were set in response to the challenging operational environment at Heathrow Airport. IAG also stated that BA's commitment to purchasing sustainable aviation fuel has increased from $400 million to $865 million for the next 20 years. BA's significant increase in its commitment to fuel purchasing is a sign of its expansion and its confidence in the growth of customer demand in the next few years.
Source from market share
Financial Performance
BA's significant financial changes in 2022 are defined by an increase or a decrease that is 30% or more. With many countries lifting their travel restrictions in 2022 and BA largely increasing its capacity limit, there were drastic changes in the company's revenue and operational expenses. IAG's 2022 performance summary demonstrated that there was a significant increase in IAG's passenger revenue (556%), total revenue (323%), available seat kilometers (246%), and passenger revenue per ASK (93%). There was also a significant decrease in its operating loss (-78%), loss after tax (-68%), basic loss per share (-68%), and non-fuel costs per ASK (-44%). Based on the performance summary, IAG's operational performance this year is performing extremely well.
Source from investopedia
IAG's consolidated income statement, however, gives a more comprehensive narrative of IAG's 2020 financial performance. Firstly, fuel, oil, and emission charges increased drastically between 2021 and 2022 (416%). Since fuel price is a huge risk factor for BA, this increase will negatively affect BA's financial performance in the long term. However, BA's amazing operational performance this year could compensate for the increase in fuel price. Furthermore, there was a significant increase in employee costs (68%), handling, catering, and operating costs (260%), landing fees and en-route charges (195%), engineering and other aircraft costs (121%), selling costs (178%), and currency differences (256%). The significant increase in the total expenditure on operations did not cause more operating losses in 2022 than in 2021. So far, the operating loss between 2022 and 2021 decreased by 78%. 
Finally, IAG's net change in fair value of financial instruments was increased by 242%, net financing credit relating to pensions was increased by 1200%, net currency retranslation charges were increased by 1415%, and other non-operating credits were increased by 80%. They resulted in a significant increase of 35% in total net non-operating costs. However, loss before tax decreased by 64% and tax in 2022 decreased by 34%, so the loss after tax in 2022 reduced by 68%.
IAG.L's total current assets increased by 35%, but total liabilities increased by 55%. Net income for the year was -1539 million, an increase of 47.5% compared to last year. This represents a gradual turnaround in the impact of the pandemic and is expected to result in positive net income next year.
IAG.L holds a larger amount of cash since the beginning of the pandemic

In the comparison between 2019 and 2020, IAG.L holds 41% more cash and property and equipment did not change much.

IAG.L's decision to hold more cash than equipment to ensure their liquidity is justified.

During the pandemic, they had much lower revenues, but still had significant fixed costs and debt
IAThe global pandemic increased IAG.L's debt, but increased their equity.


IAG.L's D/E ratio is very high, about 5-6x in 2021, and IAG.L's D/E ratio is even higher than its competitors.
International Consolidated Airlines Group S.A. (IAG.L)
High D/E ratio is risky because it means the company borrows more capital to fund its operations, make less profit, and get less investments. At the same time, they have more debts that need to be paid, especially when the interest rate is increasing. It's a signal that IAG.L may be in financial distress and unable to pay debtors.



Source from marketshare
Revenue:15.6B with 85% increase 

Operating cash flow is 4.2B with 3079% increase

Free cash flow is 1.66B with 242% increase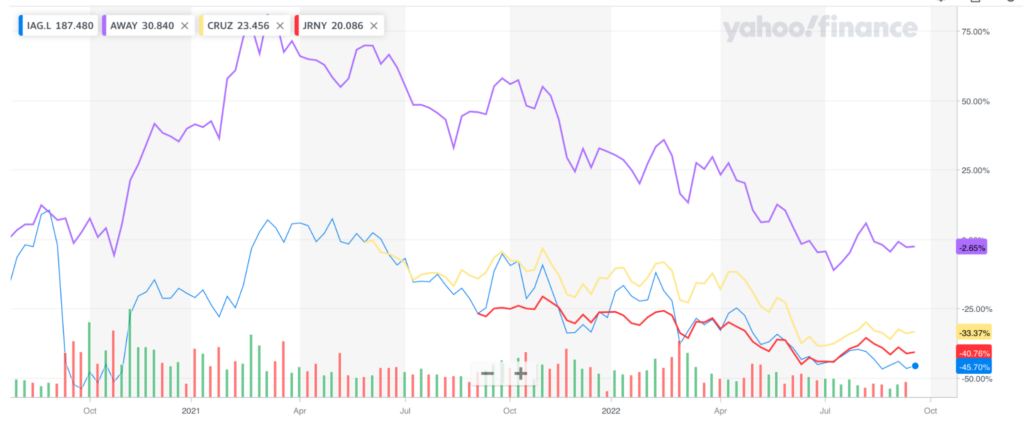 Source from yahoo finance
The performance of IAG.L is in the leading position compared to all other indices, but overall they are all decreasing.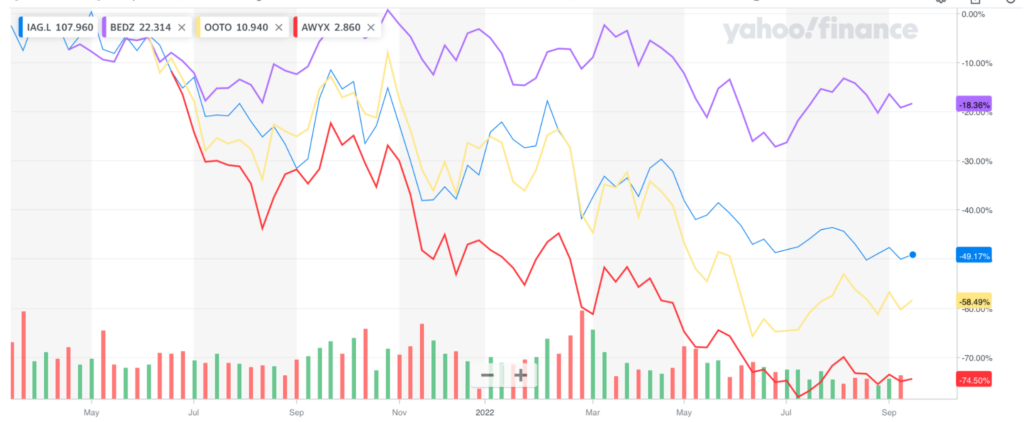 The performance of IAG.L is in the leading position compared to all other indices, but overall they are all decreasing.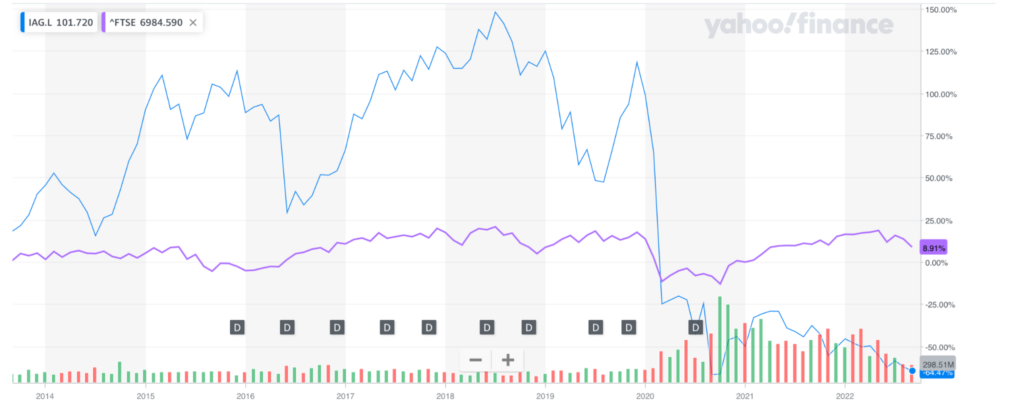 FTSE 100
IAG.L outperformed the FTSE 100 until the covid pandemic, but fell wildly after the covid pandemic.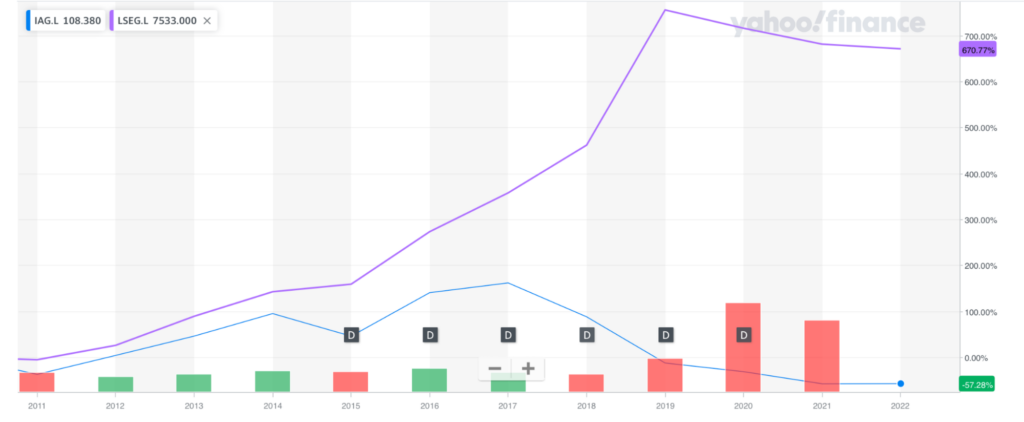 London Stock Exchange 
IAG.L has been underperforming the London Stock Exchanges.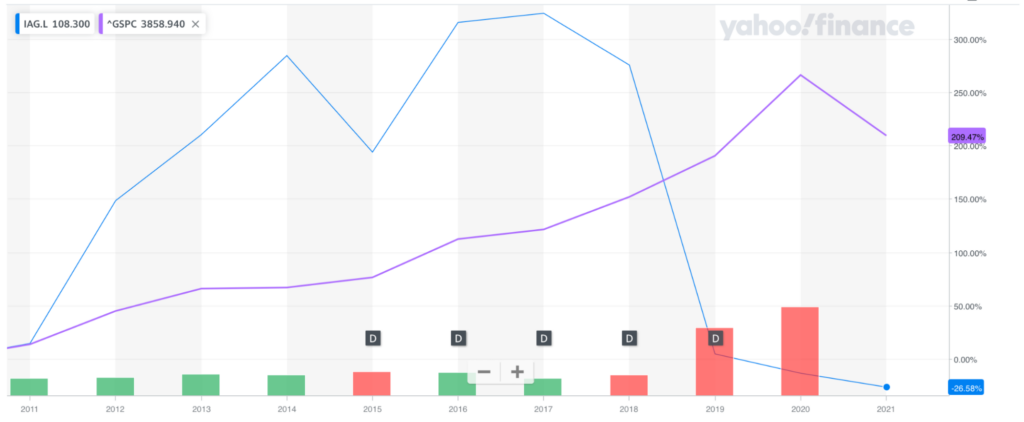 IAG.L outperformed the S&P 500 until the covid pandemic, but fell wildly after the covid pandemic, and pulled away after the covid pandemic.
The merger between BA and Iberia was an almost two-decades-long process. On July 18th, 1997, Iberia confirms a preliminary deal on a pact with BA. Since then, much progress has been made over the years. On January 24th, 2011, the merger between BA and Iberia was completed upon the listing of the shares in the International Airlines Group (IAG). Shareholders of BA and Iberia approved the merger which values the pair at a combined 7.1 billion EURO. According to IAG's 2011 annual report, the Group will have a fleet of 406 aircraft, serving more than 250 destinations and carrying around 57 million passengers a year. Upon the completion of the merger, BA shareholders get a 56% stake in the new company. A key benefit of the merger is Iberia's greater access to South American routes and BA's more extensive North American operations.
IAG's strategic objectives include stronger instra-Europe profitability, growing share of Europe to Africa routes, stronger Europe to Asia position in critical markets, leadership across the Atlantic, competitive cost positions across our businesses, and leadership in their main hubs.
The merger was a success. In 2011, IAG's combined revenue was increased by 10.4% with a combined operating profit of 485 million EURO. Their net synergy benefit was 74 million EURO. This was an amazing financial performance considering the two companies just completed their merger in 2011. IAG's stock price experienced an overall decreasing trend between 2011 and 2012, but it experienced growth between 2013 and 2015. The stock price in 2015 had surpassed the average stock price before the completion of the merger. Furthermore, the long-term benefit of the merger stemming from their increased passenger capacity and more variety of routes were further demonstrated in the next years.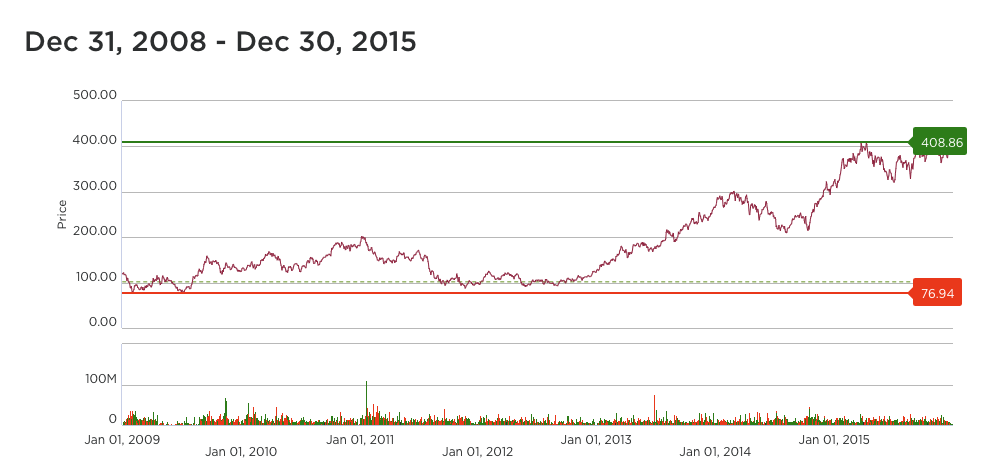 Source from yahoo finance

Operational Revenue is far more than operational expenses. To reach the break-even point, they can increase the quantity of their services and consider expansion.


Source from investopedia 
According to the DCF model, the equity value per share is 3.27, and the current value per share is 2.46. So the stock is undervalued. 
Multiples
EV/revenue < 1: might be undervalued
P/B > 1: trading at a premium to its book value
10 < EV/EBITDA < S&P 500 average(17.12): unhealthy
ROA: negative ROA -> not a favorable investment
ROE: negative ROE -> negative net income
D/E: very high -> higher risk to lenders and investors
Current ratio < 1: low ability to pay its short-term liabilities
Who is the target customers for company?
Most of customers of the British airways are in the age group of 20 to 50 years and are frequent fliers of the airlines. And most of them are corporate or from upper middle or upper-income social group.
How do they acquire targeted customers?
BA is leading brand in the airline industry with large number of fleet size and international flights.
It has developed certain strategies to promote its brands at both national and international level. To build confidence and commitment, BA has its customer friendly strategies. It aims to become most responsible airlines and in terms of fleet size, international destinations and international flights, BA is the largest airline based in the UK.
BA has utilized computing and mobile technology to provide effective services to customers.
Strategies example:
Introduction of mobile application services for business class customers, upgrading the customer experiences.
Provide texting and mobile services for business class customers during on-flight hours.
Modernize the current fleet of airplanes.
What type of marketing does the company do to increase their brand recognition:
BA has its Segmentation Targeting and Positioning (STP) model.
 

Segmentation
Demographic variable: income, gender, age, education -> pricing strategy.
Psychographic variables: lifestyle, attitudes, business leisure or other means -> food, drink, spacious seating, and friendly on-board staff.
Geographic: region, density of customers -> segment the domestic flights in UK and EU.
Behavioral: based on how people use product or services, how loyal they are and what benefits they are looking for.
 

Targeting
BA choose specific market segment (targeting). Target market selection can be facilitated by according to several patterns such as: organization may target single market with single product and target various market segments with different product.
Single segment concentration is followed by BA and offer four different service packages to different customer segments. Economy, premium economy, first class, and executive are four levels of services offered by BA to target different customer segments. BA target a segment of citizens involving primary market of ABC1, which preferred high class services provided by BA.
 

Positioning
BA has mainly focused on metropolitan areas where the most business owner work and live. BA has positioned its brand very well and customers also view its services as high quality. Attractive positioning of products and services is the major success factor for BA. In order to achieve long-term growth BA need to position its products and services effectively. 
Most popular airlines in the UK Q4, 2021: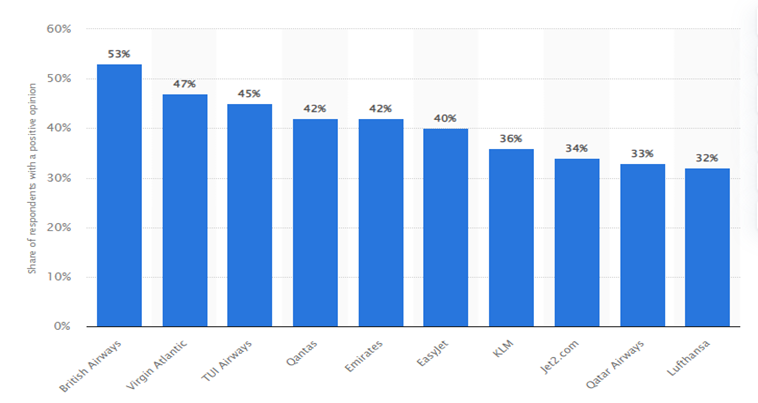 Source from market share
British Airways ranking in the world:

STP Model (see next page):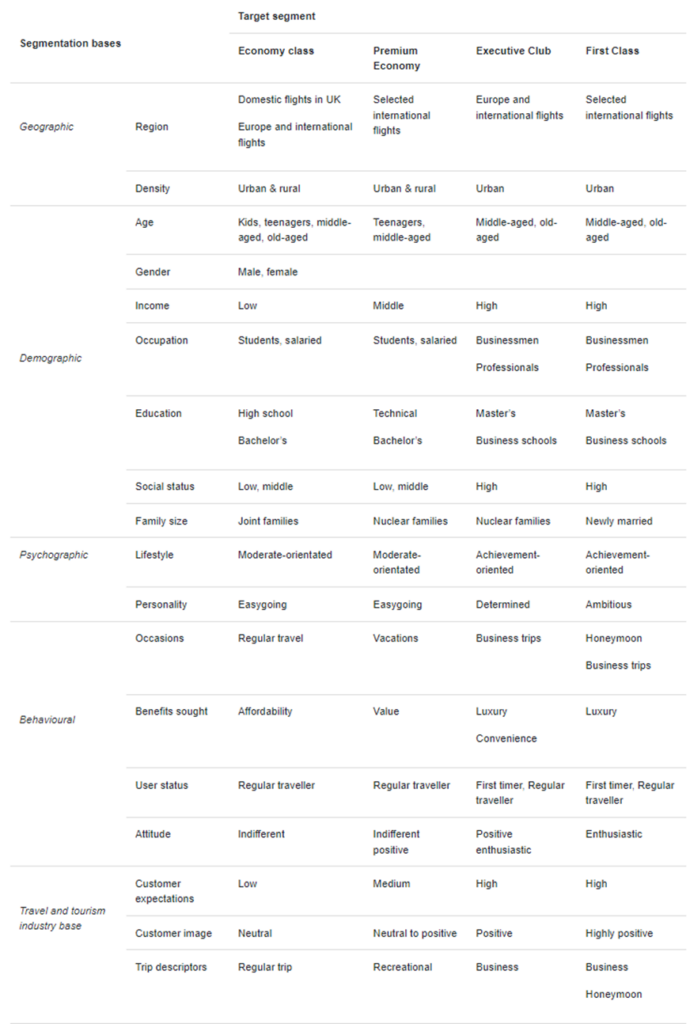 Strengths:
It is leading brand in the airline industry with large number of fleet size and international flights

British airways has strong fleet of aircraft

The company has operated in all continents and has international destinations worldwide

Customers have shown great brand loyalty and trusted the brand

 Agreement between the US led the foundation of new subsidiary called

open skies

, which provide quality services to customers

The greatest strength lies in its operational staff that handles customer very well
Weakness:
Increase in fuel prices -> Increase in ticket prices which affect the revenue

The Slowdown of UK's economy also affected BA financial stability

Opening of new terminal at Heathrow airport has created problems

Costs like from staff and the landing charges have also affected BA operational activities

Tough competition given by competitors
Opportunities:
Reduction in the cost of aircrafts have reduced operating cost of all airlines and created several opportunities in the market

BA has opportunities to expand in emerging markets like China, India, and Middle East region

The company has expanded its global operations by exploring new markets

In emerging economies, the company can also start various flights on international routes
Threats:
In European markets BA has faced tough competition

Airlines industry have also affected due to global recession and COVID-19

Rising fuel cost is the great threat faced by BA.

Due to tough competition from other market players BA must spent large amount of money in marketing and promotions